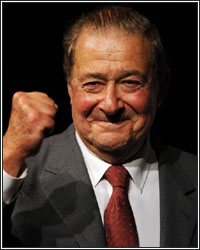 According to Hall of Fame promoter Bob Arum, former middleweight champion Julio Cesar Chavez Jr. will make his return to the ring on June 22, headlining a card in Texas that will be televised on HBO. "Julio is going to fight in June. We wanted him to fight June 15th. The Nevada Commission, what else is new, takes the position that the suspension doesn't run out until the morning of June 16th, so they won't let him fight June 15th. So instead, HBO has given him the date of June 22nd, and we're going to do that fight in Texas," Arum revealed in a video recently posted by Elie Seckbach.

The news is significant because on that same date, undefeated WBC lightweight champion Adrien Broner is supposed to be moving up two weight division to challenge WBA welterweight champion Paulie Malignaggi at the Barclays Center in Brooklyn, New York. Many assumed that fight would take place on HBO, but judging from Arum's comments, it looks like FightHype's previous report about Broner vs. Malignaggi possibly landing on Showtime could come to fruition.

"Not a tune-up fight, but he's going to fight on HBO June 22nd. We're looking at...Lou [DiBella] has a fighter that's a good middleweight. I forget his name. And also [Bryan] Vera," Arum reiterated. Does that mean Adrien Broner will be calling himself "Mr. Showtime" instead of "Mr. HBO" in the near future? Time will tell, but it definitely looks like HBO has some issues to sort out regarding the June 22 date.
[ Follow Ben Thompson on Twitter @fighthype ]