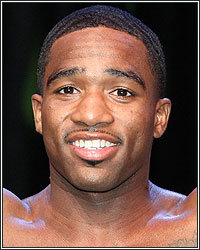 It looks like "Mr. HBO" will be staying at home for now. Sources say HBO is still working hard to finalize the intriguing matchup between undefeated WBC lightweight champion Adrien Broner and WBA welterweight champion Paulie Malignaggi. According to Golden Boy Promotions CEO Richard Schaefer, a deal for that bout was "basically done" and the two fighters would square off on June 22 at the Barclays Center in Malignaggi's hometown of Brooklyn, New York. Although the network details had yet to be finalized, Schaefer was sure the fight would land on HBO. According to Hall of Fame promoter Bob Arum, however, it looked like Julio Cesar Chavez Jr. would be the one fighting on HBO on the June 22 date.

In a recent video interview, Hall of Fame promoter Bob Arum revealed the next fight for the former middleweight champion. "Julio is going to fight in June. We wanted him to fight June 15th. The Nevada Commission, what else is new, takes the position that the suspension doesn't run out until the morning of June 16th, so they won't let him fight June 15th. So instead, HBO has given him the date of June 22nd, and we're going to do that fight in Texas," he explained. So if Chavez Jr. was now supposed to be fighting June 22 on HBO, what was going to happen to Broner vs. Malignaggi?

According to our sources, it looks like Broner vs. Malignaggi will be keeping June 22, while Chavez Jr. will be moved to a later date (potentially the following week on June 29). Word on the street is that a meeting between executives at HBO and Golden Boy Promotions took place earlier today to resolve the confusion. So it looks like HBO isn't quite ready to let go of their young future star...at least not yet.
[ Follow Ben Thompson on Twitter @fighthype ]