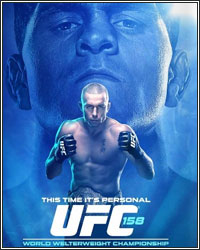 From Montreal Quebec Canada, UFC 158 explodes this weekend with a Welterweight title fight that's two years in the making. The main event features one of MMA's biggest stars and best champions finally having the opportunity to stifle the trash talk of one of the sport's most infamous bad boys, who also just happens to be a bad ass and highly dangerous fighter. If that ain't enough, the card also features the top two contenders in the division trying to climb their way into title contention. For one of those fighters, it's about redemption and staying relevant with the elite. For another, it's about a long-awaited title shot and respect. Let's take a closer look at how it will unfold and who will come out victorious.

Georges "Rush" St. Pierre (23-2-0) vs. Nick Diaz (27-8-1)

UFC 137, which took place in October of 2011, was supposed to be when these two rivals first squared off. So the short story goes like this (take a breath): Diaz fails to show up for a press conference to promote the fight, Dana White pulls him off the card and gives the title shot to Carlos Condit, GSP blows out his knee, Condit faces and beats Diaz for the Interim Welterweight Title, only to lose it to GSP on his return while Diaz served a 1-year suspension for testing posting for pot. Whew! Got that?

But wait; there's more. Going back almost 5 years, Diaz had started calling out St. Pierre when he was just a "good fighter" for Elite XC and St. Pierre was already the UFC Champ. To contemplate why St. Pierre would ask for this fight when Diaz is coming off of a loss and is clearly not the number 1 contender is simple. This is unfinished and personal business. Diaz doesn't just talk trash, he makes it personal and will both complement and insult St Pierre with a triad of expletives all in one sentence. Diaz and his counterpart brother (Nate), will talk trash and give their opponents the finger while they're in the cage, and even if their losing. Contempt for their opponents is a mindset. Disdain of other competitors seems to be a way of life. So, along with being a worthy and dangerous adversary, Diaz has seemingly managed to get under the skin of the always cool and composed champion so much so that St. Pierre actually fired back with his own insults in a recent conference call. So has Diaz gotten inside Rush's head? For sure, at some level, but remember, no one, and I mean no one, is better at executing their game plan come fight time than GSP.

The contrast in styles here will make for an exciting fight. Diaz, with his truly excellent and pinpoint accurate boxing and crazy submit-you-from-anywhere Jiu Jitsu, has vanquished 27 opponents and won his own Welterweight Title while fighting in Strikeforce. He's won 13 by KO and 8 by submission while winning his last 11 out of 12. His recent loss to Condit was close, controversial, and clearly frustrating. St. Pierre enters the bout on a 10-fight win streak and about to go into his 10th straight title fight. They come at him like new gun slingers walking into the saloon; each one as the next great threat to his throne. One by one, the tactician and his team, led by head trainer Firas Zahabi, have devised and executed strategies that have exploited every challenger's weakness. To be sure, this preparation will be no different, but if Rush starts to take command, look for him to make his statement in a very violent method of personal vengeance.

The Pick: I have to go with the Champion here. Look for Rush to come out and start this as a striking battle, but quickly go to his "best in class" takedowns. Diaz is dangerous off his back, but has never faced the kind of relentless submission pressure and come-from-every-angle ground and pound that GSP possesses. St. Pierre knows what it's like to come off a long layoff, having just done it in his recent title defense against Condit, so he'll try and take control early before Diaz gets a chance to find his range, timing, and a get in a groove.

The X Factor: At first glance, it may be Diaz's boxing or his jiu jitsu off his back, but a more telling factor may be mental. If in fact Diaz has gotten St Pierre emotional, it can lead to the champ making a mistake, and that's truly where the previously mentioned skill set can and will take advantage in what could be a fight changing moment.

Carlos "The Natural Born Killer" Condit (28-6-0) vs. Johny "Bigg Rigg" Hendricks (15-1-0)

The Natural Born Killer is a high-level Muay Thai striker with 13 knockouts and he's never been KO'd. The Bigg Rigg is a 2-time D-1 wrestling Champion, so if you've never seen him fight, you might think he'll want to take this fight to the ground. Martin Kampmann may have thought that same thing until he was KO'd 46 seconds into the first round by one punch. Facts are that Bigg Rigg has knocked out 8 of his 15 opponents, with 4 of those coming in under 1:35 seconds of the first round. Yet this fight brings a diversity of styles consistent with the fighter's physique.

At 6'2", Condit is built like a Muay Thai fighter should be; long of limb, but still athletic and chiseled. At 5'9", Hendricks is thick necked, powerful and stocky. Like many successful grapplers in MMA, he's been able to develop that "wrestlers strength" into a power punchers arsenal. What makes Condit so dangerous is his ability to game plan, read fighters, and take advantage of his foot work and length while landing punches and kicks from angles that seem, at times, to defy gravity and convention. On the other hand, Hendricks has what many wrestlers never get when it comes to striking and that's timing. His ability to read his opponent's moves and fakes and time his punches and takedowns, coupled with his power, creates instantaneous peril.

Condit's loss to GSP at UFC 154 was bitter sweet. The high kick he landed in the 3rd round floored and stunned the champ, and that was his moment, but he couldn't capitalize and thus came up short. He came away from that with much respect from the champ and kudos for being his toughest opponent. That served as little gratification and even more motivation to get back in title contention and one more shot at a man he truly believes he can beat.

While Hendricks has been begging for a title shot, and rightfully so, a win here will assure him that he can no longer be denied his opportunity at becoming a UFC Champion. The Bigg Rigg is just one fight away from the biggest payday and showdown of his life.

The Pick: Hendricks wins this one, but he'll most likely have to grind it out. Condit has a strong chin and has been hit by the best of them. The better game plan for Hendricks is to borrow a page from GSP and use his takedowns and ground and pound to neutralize the taller man. Condit's good off his back, but St. Pierre proved that mixing up good striking and then going to the ground was the way to grind out a victory.

The X Factor: Everything about The Natural Born Killer is the X factor. He can strike from everywhere in rapid fire succession and get out of harm's way before his opponent's blood starts to flow from a newly opened wound. This can lead to a long and frustrating night for a power punching wrestler.

Jake "The Juggernaut" Ellenberger (28-6-0) vs. Nate "The Great" Marquardt (35-11-2)

The UFC is touting the return of Nate the Great as a re-invented, re-committed and better fighter. After being cut by the UFC in June of 2011, Marquardt dropped from middleweight to welterweight. His debut at 170 resulted in a 4th round KO of Tyron Woodley to claim the vacant Strikeforce Welterweight Title. This sounds like another "fighter drops to the correct weight class for his body and becomes a force to reckon with" story, except the UFC is not putting much press behind his last fight in Strikeforce. when he lost his title to Tarec Saffiedine via unanimous decision. Since losing his only title shot to Anderson Silva at UFC 73, he's climbed back into title contention several times only to be derailed by Chael Sonnen and Yushin Okami. Thus the enigma of which Nate the Great will show up come fight time continues. A victory here though against #6 ranked Jake Ellenberger announces his return in Great style and will surely create rumblings within the division's top contenders.

The Juggernaut has won 11 of his last 13, losing only to top contenders Kampmann and Condit. Along the way, he's dispatched the likes of Diego Sanchez and Jake Sheilds. Once again we have a former champion wrestler with major KO skills; 17 to be exact. For Nate, this fight is about redemption, and if you've been cut by the UFC once, you certainly don't want to run the risk of coming back with a loss.

Ellenberger's loss to Kampmann in June of 2012 was a setback on a rapidly rising career that seemed just a fight away from a title shot. A victory over Marquardt assures that his next opponents, although formidable, will be closer and closer to the top of the heap.

The Pick: Ellenberger wins this and it just might be with a knockout. For him to do that, he'll have to put and keep Marquardt against the cage and use his dirty boxing knees and wrestling.

The X Factor: Marquardt has crazy power and great technique in his striking. Both of these men have a ton of experience and that means no matter how bad either one of them is hurt or losing, they can turn the tables at any moment.

And for a few more of the evenings more interesting clashes:

Chris Camozzi (18-5-0) defeats Nick Ring (13-1)

Rick "Horror" Story (14-6-0) beats Quinn Mulhern (18-2-0)

Patrick Cote (19-8-0) comes out on top over Bobby Voelker

Mike "The Martian" Riccin (8-3-0) wins over Colin "The Freakshow" Fletcher (9-2-0)

Thanks for reading and supporting. Have a powerful day!