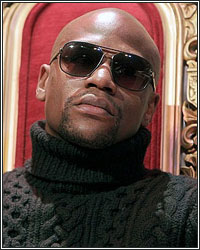 In anticipation of his upcoming fight against Robert "The Ghost" Guererro on May 4th, SHOWTIME sports televised an hour long special, "30 Days In May", chronicling the 30+ days from the time Floyd Mayweather fought Miguel Cotto to the time in which he was released from prison on misdemeanor battery charges. The main question going into the documentary was not what or who we were going to get, but at what quality? Most fight fans that have followed Mayweather's Hall of Fame career have associated the lead up to his mega-fights with a 4-part series HBO put out called 24/7, narrated by the smooth voice of actor Liev Schreiber. This program was the standard for all sports documentaries, and with good reason; it gave you, the fight fan, an in-depth, up-close look into the everyday life of your favorite fighters.

The thing that separated this document from any sports document I have ever seen was its raw, real feel. It didn't feel scripted the way some of the 24/7 episodes did. You got to see a much more versatile look at all the phases that make Floyd Mayweather the champion and the man. HBO would, for the most part, give you bits and pieces of the man's life, but only the ones they wanted you to see for what they felt would sell. Mayweather himself expressed his own certain displeasure for the content of most of the episodes that had his involvement in them. This sport is about drama says the voices of HBO's Larry Merchant and Jim Lampley, right? Well, what more drama could have been produced by the sport's biggest name and moneymaker going to a rival network? I agree with Mayweather's opinion that he wasn't given fair and just due by the network's color commentary team, or "housemen" if you prefer. The man produces the biggest Pay-Per-View's for your network every time he goes out. Whether he boxes and demonstrates the skill that makes him in elite company in the sport's history or whether he goes and stands toe-to-toe with an opponent and beats them at their own game, HBO never seemed to care. That seems reason enough to tell them to stick it, an idea that Mayweather himself first discussed during the documentary, which was shot several months before the change in networks was announced. The other part is money, something Floyd Mayweather is an expert in. What Floyd Mayweather and SHOWTIME showed us in a single hour of suburb television is that Floyd Mayweather is as unique and as individual an athlete as has ever walked this earth and SHOWTIME was the first to really capture that in its bare essence.

It baffles me just how easily HBO let Mayweather walk away to rival SHOWTIME on a 6-fight deal for some 200+ million dollars. Admittedly, most fighters don't spend an entire career fighting on one network, so this shouldn't come as a huge surprise, should it? The answer is no, unless that fighter is the biggest name and the biggest money-making machine not only in the sport of boxing, but in the world of sports period. According to Forbes, Floyd Mayweather was the highest paid athlete in the world in 2012, earning 85 million dollars in one calendar year. What is more impressive is if you break down his dollars per hour, Mayweather made 85 million dollars for roughly 47 minutes of work. That, my friends, is ASTONISHING! How did they not make a push to make a deal that would allow him to be a part of their programming until he decided to hang up his gloves?

SHOWTIME will help Floyd Mayweather reach another level of superstardom, but it is SHOWTIME themselves that will gain the most from making the most brilliant move they have ever made, signing Floyd Mayweather. For as much as a name brings you, it is the power and draw over a rival that can define you. For the first time ever, SHOWTIME boxing is and will be the superior boxing programmer in the world and they have Floyd Mayweather to thank. The feeling is mutual I'm sure. Love him or hate him, you will miss him when he is gone and this relationship with SHOWTIME could be a relationship that changes the face of boxing forever. It's good to be the king, Mayweather and SHOWTIME agree.