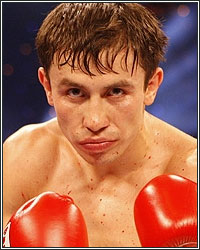 At this time last year, Gennady Golovkin was just another star in the abyss. Gaining popularity in his native Kazakstan and Germany, nobody except the most intangible boxing observers saw him fight live. In one year, he's had three fights and already Gennady Golovkin has become a near superstar. In his September 2012 US television debut, he mangled talented Polish contender Gregorz Proksa straight into a brutal fifth round knockout. Springing right back into January he picked apart tough Philly-based Gabriel Rosado over 7 rounds. Most recently, he participated in a big Monte Carlo pay-per-view to dismantle durable Japanese fighter Nobuhiro Ishida, delivering him his first knockout defeat over a short three rounds.

Clinging onto the WBA and IBO world Middleweight championships, Gennady Golovkin (26-0-0 23 KO's) is hungry for more. He is now scheduled to return on HBO's "Boxing After Dark" tripleheader in New York. His opponent is not in ink, although Tom Loeffler said in a statement that Matthew Macklin is a "very possible" opponent, and social media chat ups by both have nodded the idea along.

The information I have gathered pertaining to the HBO card is brief, but it looks like Lou Dibella/Rodney Berman prodigy Thomas "Tommy Gun" Oosthuizen will provide chief support along with another to-be-announced televised fight. Golovkin-Macklin is a mouthwatering fight. Macklin is known for his readiness throughout every bout. Always he presses the action. Against a man with the firepower of Golovkin, that puts him in danger, but he'll take that risk. Again, While the Middleweight clash is reportedly "Likely", it is not done as of now.

Follow FightHype for more.

Corey Quincy is a developing boxing writer for Fighthype.com. Follow him on Twitter at Quincyboxingfan.