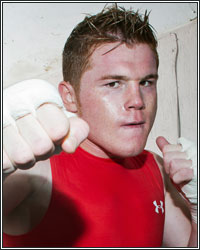 It's Monday. Welcome back for another edition of Observe and Fight, The Boxing Observer's compilation of observations and random thoughts from the week that was in boxing. Get caught up on some of the most recent events you may have missed out on, including Canelo Alvarez's victory over Austin Trout, more Mayweather vs. Guerrero build-up, a preview of this weekend's big fights, and much more. Without further ado, check out the latest observations from The Boxing Observer, David Kassel.



Whether or not you believe Canelo Alvarez beat Austin Trout Saturday night, give credit where credit is due. I'll be 100% honest with everyone, I had Austin Trout winning 114-113 based on punch output alone, but I am okay with a judge who had this fight 114-113, or 115-112 as Ray Danseco did. I thought Canelo took rounds off and tried to win with flurries, HOWEVER, I do believe that Canelo came out as a completely different fighter than anyone expected. Canelo was much more defensively sound and showed he has the ability to slip punches and make himself difficult to hit. Canelo added a new wrinkle to his arsenal and made it clear that he worked hard during his 200+ days off since his last fight against Josesito Lopez. Another thing to remember is while Austin Trout made this fight entertaining during most portions of the 12 rounds, it is clear that Canelo was the only man in the ring who was able to do any serious damage. Canelo hurt Trout, not only in the 7th round with the knockdown, but with repeated huge shots that wobbled the previously undefeated fighter.Trout, on the other hand, was unable to even stun Canelo at any point throughout this fight. I usually favor fighters who push the action, which is why I had Trout winning the fight. That is also why Trout landed more shots, but I also understand judges who favor the fighter who seems to land the clear, more effective shots, which was certainly Canelo Alvarez. The question some fans and judges ask themselves is, "Who would I have rather been at the end of a particular round?" Anyone who watched that fight could see that Austin Trout took some serious shots and Canelo didn't seem bothered by any of Trout's punches. I didn't mind seeing Canelo win this fight because he made Austin Trout work, and the fight was close enough that it could have gone either way. One thing is for sure though, Canelo Alvarez is getting better and better with each and every performance, and the longer Floyd Mayweather waits to step in the ring with him, the more difficult it will be for him to beat Alvarez. Alvarez MUST work to improve his stamina to last 12 rounds with the likes of Mayweather, but if he keeps improving as he showed on Saturday night, he could be a future #1 pound-for-pound fighter in the world.


Where does Canelo go from here? It's pretty obvious Canelo wants Floyd Mayweather next. While I think that fight makes the most sense for Mayweather, seeing as Canelo is getting better and better, I don't see it happening. In my opinion, Canelo's next fight will be on pay-per-view against a man who was ringside Saturday night, Miguel Cotto. Mexico vs. Puerto Rico. Two of the biggest names and proven ticket sellers in the sport of boxing going head-to-head. I could see this fight easily doing over 600,000 buys in a stadium venue much like the Alamodome (but don't expect to see this fight take place in Texas). While Canelo vs. Cotto would be a complete mismatch in favor of Canelo, boxing is all about money, and there is no better money-making fight for Canelo, outside of Mayweather, than Miguel Cotto. Cotto is on the back end of his career and is looking for a few more paydays. He'll get one, on top of a major beatdown, against Canelo Alvarez. Fans should expect to see this fight take place before they see Mayweather vs. Canelo.


I refuse to comment on the Texas State Athletic Commission. Fighters should only go to Texas, from now on, if they are looking for a major payday. Enough said.


Austin Trout will go back to the drawing board, but he is certainly still a Top 4 154-lb fighter. Anyone who believes Trout hurt himself with his performance is absolutely crazy. The only thing we saw from Trout was a lack of huge punching power, which wasn't that big of a secret based on past performances. Trout is still an excellent boxer who doesn't mind engaging to make fan-friendly fights. He is not going to be a big draw, but he will still draw a massive amount of respect and should be favored against almost anyone in the junior middleweight division. "No Doubt" Trout is going to take some time off as he is getting married at the end of May, but I wouldn't be surprised to see him back in the ring against the likes if a Carlos Molina in a title eliminator bout. Another possibility for Trout is to move up to middleweight to face a fighter like Peter Quillin should Quillin successfully defend his title this Saturday night against Fernando Guerrero. Trout still has a TON of options and with Al Haymon on his side, anything is possible. One other outside possibility is Trout facing Gennady Golovkin in the Fall, but a lot of pieces have to fall into place for that to happen.


Mayweather vs. Guerrero is heating up! The All Access show is starting to make people believe Robert Guerrero has a chance of upsetting the pound for pound king, much like 24/7 gave fans (like myself) the slight hope that Ricky Hatton could beat Mayweather. Vegas oddsmakers are loving this pre-fight buildup. Guerrero does have a chance in this fight because he is a boxer, and all boxers always have a puncher's chance, but there is not a single category, if broken down, that Mayweather does not have an edge. Speed, power, defense, stamina, experience, chin, intangibles. They all go in favor of Mayweather. I just don't see any way, unless he lands a lucky punch, in which Guerrero can beat Mayweather. Guerrero is a world-class boxer, and what he has done moving up 6 weight divisions in a matter of a few years is simply amazing, but it is an entirely different beast stepping through the ropes with Floyd Mayweather. This is not Andre Berto or Selcuk Aydin.


Guerrero already looks tired and weight drained. One thing I have noticed about Guerrero is he looks like he is not sleeping well. He has bags under his eyes, which is the sign of either not sleeping well or draining himself. He always looks tired and his father said it himself, once they shed weight, they will then work on the speed. Guerrero weighed 159 pounds at the 30-day weigh-in, meaning he is trying to pack on the pounds before shedding water weight and re-hydrating after the weigh-in. Juan Manuel Marquez tried the same thing when he fought Mayweather and lost a lot of speed in the process. In my mind, Guerrero is going about this all wrong. Unless Guerrero got lazy and put on these pounds by being out of shape (which I don't believe is the case, and if it is, this fight is already over) he should have come into this fight weighing around 150 pounds. While he would be around the same weight as Mayweather, he would not lose any speed, which he will desperately need come fight night. Of course, I could be way off base, but, in my mind, Team Guerrero is not employing the right strategy coming into the Mayweather fight.


Someone please tell Oscar de La Hoya to slow his roll. "The jab is the key to unlocking the Mayweather code," stated de La Hoya Saturday night. What? If Oscar de La Hoya is so sure he has the key to beat Mayweather, he should have trained Victor Ortiz himself. He should be training Robert Guerrero right now, and he should begin training Canelo Alvarez tomorrow because he clearly has all the answers to beating Mayweather. If it's so simple, why hasn't it been done yet? It might be a promotional ploy, but knowledgeable fight fans are shaking their heads today.


Juan Manuel Marquez vs. Timothy Bradley, September 14th! While nothing is official, it sure seems as if Marquez is standing firm on his commitment not to face Manny Pacquiao for a 5th time, which leaves only Bradley as a viable opponent for the Mexican legend. Brandon Rios' name could also be mentioned, but I expect to see him take on a lesser-known welterweight, or a Ruslan Provodnikov-type, before stepping up to Marquez. It seems as if the Thomas & Mack Center is the venue chosen, and I'm wondering if this will be a pay-per-view fight. Floyd Mayweather has also locked in a September 14th date in Las Vegas, although I'm not so sure he'll be fighting in September as originally anticipated. Should Marquez vs. Bradley happen in September, expect Bradley's zero to go as Marquez should win convincingly en route to a unanimous decision.


Does this mean Bob Arum is retiring? Remember way back when (in February) Arum stated, "If I can't make the deal under those circumstances, then I don't deserve to be in the business"? While I'm not completely sold that Marquez vs. Bradley is a done deal, nor am I completely ready to believe that Pacquiao will be facing Mike Alvarado in his next bout as has been rumored, all Bob Arum haters should not get their celebration outfits on quite yet. Both of these fights are entertaining, and both will do big numbers, but Arum is correct by saying that Pacquiao and Marquez won't make more money fighting anyone except each other (besides fighting Floyd Mayweather, which we know won't happen). I wouldn't rule out the possibility of a 5th fight between Pacquiao and Marquez, and I wouldn't be so sure that it still won't happen before this year. As the old saying goes, "Don't count your chickens before they hatch," fight fans. Call me naive, but I still think we'll see Pacquiao vs. Marquez in September or October.


We will see some great action this weekend and should expect to see some Knockout of the Year candidates! Both HBO and Showtime have big fight cards on Saturday night, and every fighter involved has the potential to score a sensational knockout. Starting with HBO, Top 5 pound-for-pounder and middleweight kingpin Sergio Martinez puts his title on the line against undefeated Martin Murray in front of 50,000 screaming Argentinian fans inside a soccer stadium. The atmosphere may make Canelo vs. Trout in the Alamodome look like child's play. HBO will also broadcast the live heavyweight showdown between knockout artists Chris Arreola and Bermane Stiverne. I would bet my first born child that this fight doesn't go the distance. Also fighting in Argentina is Luis Carlos Abregu, from Argentina, against Canadian Antonin Decarie. Showtime is broadcasting a triple-header of its own, also a split-site, as Amir Khan takes on Julio Diaz from Sheffield, England in what should be an explosive return home for Khan, and live from the Barclays Center in Brooklyn, New York is a rescheduled championship doubleheader. In the first fight fight, undefeated middleweight titlist Peter Quillin takes on Fernando Guerrero, while undefeated junior welterweight champion Danny Garcia faces former undisputed welterweight champion Zab Judah in what should be a very spirited affair. Every single one of these 6 bouts has the potential for an explosive knockout and all should have an electric atmosphere. I would personally love to be in Argentina for the Martinez fight, but I'll settle for sitting on my couch watching a great night of action on the two premiere networks for boxing.


I'm jumping off the Tyson Fury bandwagon. I thought Fury could eventually build himself up to beat one of the Klitschko brothers, but after his performance against Steve Cunningham, there is absolutely NO WAY I ever see it happening. With all due respect to Steve Cunningham, who fought a great fight and is an even greater gentleman, he is not a legitimate heavyweight contender. Cunningham floored Fury in the 2nd round with a shot that, if landed by a legitimate heavyweight, would have knocked Fury out. Fury had to use some serious illegal tactics to get past a fighter whom he outweighed by 45 pounds and had a 6-inch height advantage over. Newsflash...those tactics will not work against the Klitschkos. Fury would get knocked out cold against either Wladimir or Vitali. No question about it. If Fury wants to win a heavyweight title, he should focus his efforts on securing a fight with Alexander Povetkin. That's the only way I see Fury winning a heavyweight belt right now. And what the hell was all that singing about after the fight? He sounded like a wounded coyote in the ring. Simon Cowell would have been flabbergasted.


Nathan Cleverly looked solid, but he still isn't ready for Bernard Hopkins. Cleverly has a wonderful skill set and the potential to be very dangerous, but he is a very vanilla fighter. After watching Cleverly, Saturday, successfully defend his light heavyweight belt against Robin Krasniqi, I found myself thinking how much he would struggle against the crafty veteran Hopkins. Cleverly is just not slick enough and Hopkins would expose him badly.


Holy Omar Figueroa Jr.! All I could say was "WOW!" on Saturday night when I saw Figueroa's 1st round knockout win over Abner Cotto. I knew Figueroa was the favorite coming in, and I expected him to win, but not in that fashion. It didn't really seem like there was one clear knockout shot that landed on Cotto either. It looked like Cotto took 10 rounds worth of punishment in the 1st round alone. That's a scary thought. Figueroa just catapulted himself into lightweight title contention with his performance on Saturday. One fight I would LOVE to see, although it may be too soon, is Figueroa taking on former lightweight champion Juan Diaz. I think Diaz needs one or two more fights, since coming back from his 3-year retirement, to get back in the swing of things, but what a fight that could turn out to be.


A rumor surfaced last week that Adrien Broner was knocked out in sparring by Errol Spence. I'm not going to read too much into this because it is just a rumor. I still favor Broner in a welterweight fight over Paulie Malignaggi, but I think Paulie will make this fight difficult for Broner through the first 5 or 6 rounds. I still expect Broner to be the bigger man in the ring and eventually wear Malignaggi down with this power.


I would like to take this time to offer my sentiments to the victims of the Boston bombings last Monday and the Texas fertilizer plant explosion on Wednesday. Countries throughout the world suffer these types of unnecessary attacks and tragedies, and for those attacks that are planned, I just don't understand what goes through someone's mind when he/she feels this is the only way to get the message across. My heart goes out to all the families around the world who have suffered a loss for a ridiculous cause. We need to come together and end the violence in a peaceful manner.

That's all I've got for this week. Email any questions or comments to
dkassel@fighthype.com
and I will answer them throughout the week. Your email may be featured in the next "Observe and Fight." Follow me on Twitter @BoxingObserver, and be sure to "Like" The Boxing Observer on Facebook.
[ Follow David Kassel on Twitter @BoxingObserver ]