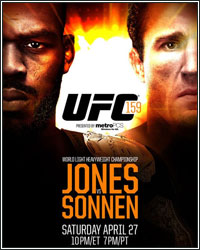 Well, if there's gonna be an ass whoopin', it might as well be in Newark! That's where UFC 159 unfolds and explodes from the Prudential Center. It will feature arguably the best pound-for-pound fighter in the world against unquestionably the best pound-for-pound trash talker in the world, along with two hard-hitting Heavyweights going toe to belly and two hard-hitting middleweights going fist to fist. If that ain't enough, then you've got the best light heavyweight that no one wants to pay attention to against a world-class jiu jitsu ace. Let's take a closer look at who's talking trash about and who's about to get their ass whooped.

Jon "Bones" Jones (17-1) vs. Chael "The American Gangster" Sonnen (28-12-1)

There are those that have criticized the UFC for this fight. How does a man get knocked out in his last fight, which was for the middleweight title, and then move up to light heavyweight for a title shot against arguably the best pound-for-pound fighter in the world? How does a man get two title shots in two divisions when he's only won 50% of his last four fights? There are those that hate Chael Sonnen. This guy pisses so many people off that a fan actually tried to take a swing at him during a recent appearance promoting the fight, but to be clear, he was a Spider Silva fan…not a Chael Sonnen fan. Say what you want about Sonnen. Hate him and berate him, but admit it...you'll tune in Saturday night if for no other reason than see him get his ass kicked; or maybe just to see the greatest upset in UFC history. Chael Sonnen is a brilliant one-man marketing, brand-building genius. Back in 2009, he was just another solid UFC fighter that had lost his fight with Demian Maia by getting choked out. Three straight wins later and he's fighting Anderson "Spider" Silva (the other arguably greatest pound-for-pound fighter in the world) for the middleweight title. To promote the fight, he goes where no one else has dared, insulting the Brazilian people, Anderson's manhood, and even making sexually suggestive remarks about his wife. He was bombastic, outrageous and verbose. He became captivating to watch, which in turn made the fight all the more compelling. After dominating Silva for 4+ rounds, he was submitted by the champ in the final seconds. Not to be stopped there, he won a few more fights and continued his verbal onslaught until Silva agreed to one more bout, knocking him out in the second round.

Without hesitation, Sonnen turned his sights and insults on Jones and the light heavyweight title with the same vigor, all the while becoming an MMA announcing media star and further building his brand. Like it or not, champion or not, Chael Sonnen has become one of the biggest names in the sport. He even talked his way onto the Ultimate Fighter reality show to coach against Jones. I, like many, thought it would result in weeks of taunting and insults, while wondering if it would take all that Jones had not to go after him during the taping of the show. Oddly though, Sonnen's rhetoric of degradation never materialized. The two coaches not only got along, but seemed to form a mutual respect. Even more bizarre are Sonnen's recent lauding of compliments that he's showered on the Champ. Here's what he said on a recent conference call to promote the fight:

"I always find it, you know, as great as Jon is, I don't think that he understands how good he is. You know, for him to pay tribute to Mike Tyson and Muhammad Ali earlier was a very nice thing for him to do. The reality is Jon Jones could beat up Mike Tyson and Muhammad Ali in the same day...And when he says he wants to be the best ever, Jon, news flash, buddy, you are the best."

Again, you may not like Sonnen, but if you watched the TUF show, then you had to pick up on just how smart this guy is. Although he probably does respect Jones as a fighter, his public admiration of him comes across as insincere, strategic, and very un-Chael-like. Perhaps this is Sonnen's way of softening the malice that Jones carries into the Octagon and it's the edge that he seeks in order to lull the champ into a moment of hesitation. Will it work? Well, like the song says, "you don't tug on Superman's Cape". With Master Physiologist Greg Jackson in his corner and the focus to be the best champion ever, Jones most likely won't give crushing Sonnen's skull with a vicious elbow or choking him out until he's unconscious a second thought, given the opportunity. For sure we'll have to see how the fighters fight the fight, but come the moment the Octagon door shuts, all talk, good or bad, becomes irrelevant.

The Pick: Soooo, a lot of times, picking the winners of fights are very challenging. Not so much here though. Jones, Jones and Jones wins this one. Look for Bones to do what he does best, which is pick his opponents apart from the long distance and use his nasty dirty boxing against the cage to either submit or elbow Sonnen to his demise.

The X Factor: Jon Jones has never been taken down. Chael Sonnen has great takedowns, as he seemingly did it to Spider Silva at will. If Sonnen can get inside and take the Champ down with that same ease, then this is an entirely different fight and the challenger has a good chance to win.

Michael "The Count" Bisping (24-5) vs. Alan "The Talent" Belcher

I'm not sure which is more out there. Nicknaming yourself as royalty or proclaiming yourself as skilled. What is for sure is that these guys have had a long-running feud, legitimately don't like each other, and are sure to bring some great striking action. Between the two of them, they have 23 KO's and 11 submission wins. Both are also coming off of losses though and need a win here to get back into title contention.

Belcher is a true mix martial artist possessing black belts in Brazilian Jiu Jitsu, Tae Kwon Do, Kickboxing, Judo, Hayastan, and Johnny Cash Tattoos. He would also appear to posses the greater power of the two fighters. Although the Count is known as primarily a kickboxer, his wrestling has improved over the years to the point that he now uses it offensively and quite often when his opponents least expect it. He uses his surprisingly fast takedowns while in the middle of a striking exchange. The animosity between the two, along with a high level of Muay Thai and kickboxing skill, should bode well for an exciting fight.

The Pick: Bisping. He's been here in main events and co-main against numerous big name and highly skilled opponents. A formidable number of top UFC fighters have fallen against the Count, and other than Chael Sonnen, his only losses have come by former champions. He'll use his superior foot speed and cardio to tire out Belcher and then strategically use his takedowns and wrestling to score extra points.

The X Factor: Belcher is a high level and dangerous striker with crazy power in both his hands and legs. If he catches Bisping with one good kick, punch, elbow or knee, it could be all over.

Phil "Mr. Wonderful" Davis (10-1, 1NC) vs. Vinny "Peazo" Magalhes (11-5, 1NC)

Can the #8 ranked light heavyweight fighter in the world get some love? A few years ago, this guy was a rising star with unlimited potential, dispatching guys like Alexander Gustafson, Brian Stann, Antonio Rogerio Nogueira and Tim Boetsch. Then in January of 2012, he loses a title elimination bout by decision to Rashad Evans and then he seemingly get's ostracized by the UFC. His next fight was against Wagner Prado (who?) and he wasn't even on the main event card. That fight was ruled a No Contest due to an inadvertent poke to Prado, so they do the rematch in October of last year at UFC 153 and Davis easily submits him in the second round. As a reward, they give him Vinny Magalhes? What happened to allowing him to fight top 10 opponents in a quest for a championship? He's young, he's ever improving, he's highly marketable, and he's damn good. That's not meant as any disrespect to Magalhes, who is a 3-time world BJJ champion and since moving to California and training with Cesar Gracie, he's improved his striking as well as his overall MMA game. Maybe Mr. Wonderful needs to take a tip from Mr. Sonnen and start trash talking to everyone in an attempt to get a little more publicity and bigger name opponents. Maybe he should start though by changing his nickname.

The Pick: Davis wins this one, and don't be surprised if he takes the 3-time world champion in Jiu jitsu to the ground to do it. On paper, Davis has the edge in striking, which he is consistently getting better and more dangerous at. On paper, Magalhes has the edge on the ground, but Davis is both an All-American wrestler and one of those super world-class athletes. That translates into one very smart and very powerful ground fighter.

The X Factor: Magalhes can submit anyone at any moment. Just make one slight physical or mental lapse and he'll snatch a limb like a hungry anaconda.

Cheick Congo (28-7-2) vs. Roy "Big Country" Nelson (19-7)

These are two big and powerful heavyweights who love to bang. Nelson's consistent feuds with Dana White seem to have diminished for the moment and as long as he keeps fighting at a high level, the criticism to lose weight, or at least his formidable beer gut, may subside. Nelson looks like that redneck guy that one might pick a fight with in a bar because he appears to be all mouth and out of shape. That would be the worst bar experience one ever had, however. He possesses 11 wins by KO and 5 by submission. His Jiu jitsu is excellent and perhaps more impressive is the fact that he'll stand and bang and trade punishment with anyone. He's only been knocked out once in his career and even in his lopsided decision loss to Junior Dos Santos, the Brazilian slugger could not put him out. Moreover, he's on a 2-fight win streak and just may be clawing, punching, and submitting his way back into title contention.

Once one of the most feared strikers in the heavyweight division, Kongo has had his ups and downs as of late. However, after two losses in a row to Frank Mir and Cain Velasquez, he's bounced back with 4 wins, 1 loss and 1 draw in his last 6 fights. At 37 years old and not possessing a great ground game, his window for a title opportunity may have closed. His passion for the sport and his big punch and kicking power though remain dangerous.

The Pick: Nelson! If Congo wants to stand and trade punches, he'll be in for a long night and at some point, Nelson will take this fight to the ground where he'll have the advantage.

The X Factor: Gregory Choplin, who's a former 2-time World Muay Thai Champion and a sparring partner of Kongo upon occasion, told me recently in an interview that even when Congo was trying to go light in sparring and trying not to hurt you, he didn't and it did! Congo has great knockout power and it can come from hands or legs.

In other pugilistic prognostications:

Sara McMann (6-0) remains unbeaten by taking out Sheila "The German Tank" Gaff (10-4-1)

Jim Miller (22-4) beats Pat Healy (31-15)

Cody McKenzie (13-3) gets back on track with a win over Leonard Garcia (19-10-1)

Thanks for reading and supporting. Have a powerful day!