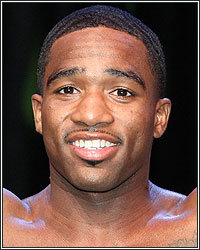 Most people who know Mike Stafford first came to know him as the trainer of Adrien Broner. That is changing rapidly. While Broner is Stafford's most accomplished pupil to-date, he is quickly growing a name for himself as one of the best trainers in the sport, and along with that reputation, has come a growing crop of young fighters looking to make the most of their talents under his tutelage.

One of those fighters is Cleveland's Miguel Gonzalez, now training out of Cincinnati at Stafford's gym at the Mount Auburn Rec Center. Gonzalez, 20-3 (15 KOs), was a 2008 U.S. Olympic team alternate and has made a solid pro career to this point. After losing twice early, he made some adjustments and rattled off 14 wins in a row before losing a year ago in a tough fight to Mike Dallas.

Gonzalez has since relocated to Cincinnati to tighten up his game under Stafford. He will appearing in the co-main event on tonight's special Thursday Night Fights broadcast on ESPN2.

"Me and Mike have built a great relationship," Gonzalez said in an interview with Antonio Castro of the Examiner.com. "He worked with me some while I was an amateur."

Gonzalez isn't the only fighter to seek out the services of Stafford. His fellow Clevelander, Raynell Williams, a 2008 U.S. Olympian, is also training under Stafford now. Two more fighters have made the move to Cincinnati as well - Jamel Herring of Coram, N.Y., and Robert Easter Jr. of Toledo, Ohio. Herring and Easter were both members of the 2012 U.S. Olympic team, Easter as an alternate.

The aforementioned fighters are all in addition to his original group of guys, Broner, Rau'shee Warren, and Brandon Bennett, among others.

Stafford's work does not end with these pro fighters. For the past several years he has been working with the USA Boxing amateur program serving as a coach on the last two Olympic teams. He also gives attention to all the local youth who come to his gym instilling in them the basics of the sport.

To catch Stafford and Gonzalez in their first fight working together in the pros, tune into ESPN2 tonight at 10 p.m. ET. His opponent is Venezuelan Miguel Acosta, 29-6-2 (23 KOs), a tough veteran and former WBA lightweight world champion.