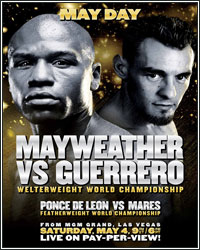 This Saturday, boxing fans around the world are in for a special treat as the biggest name in the sport, Floyd "Money" Mayweather, returns to center stage in his adopted hometown of Las Vegas, Nevada to face fellow multi-division world champion Robert "the Ghost" Guerrero. You don't want to miss the action, and below is what you, the fight fans, need to know leading up to the highly-anticipated showdown.

First up will be the breakdown of Greg Rowe; followed by the breakdown of Michael Samuels.


---

GREG ROWE

DEFENSE: Regardless of who Floyd Mayweather fights, there is, and never will be, any question of whom will have the advantage in this category. Floyd Mayweather is the best defensive fighter, not only in the world today, but in his era. Very few fighters in the history of boxing have or had a better all-around defense than the man they call "Money". Robert Guerrero is a hard-nosed, come-forward, action fighter, who – more times than not – is there to be hit. Much like former Mayweather opponent Ricky Hatton, who looked to have great footwork and defense when hitting the bag and mitts, Guerrero lacks that same style on fight night.

Advantage: Mayweather

EXPERIENCE: Experience is another clear-cut advantage that very few fighters in the sport today can even come close to matching Mayweather, not only because of his skill and willingness to fight anyone, but because he has enjoyed the longevity most only dream about because of his overall skill and ring smarts. Guerrero has fought better competition as of the last few years, but nowhere near the same level of Mayweather, and perhaps he never will. Mayweather's experience isn't just facing big names; it is facing big names on the biggest of stages year after year, fight after fight. Experience will be key and look for it to show up rather quickly.

Advantage: Mayweather

CHIN: Chin is a very close category when measuring these two fighters. Mayweather protects his chin better than any fighter in the sport, but when he gets hit with a decent shot, he stays on his feet and has the intelligence and knowhow to get himself together and composed. Mayweather has never officially been down in his entire career from a punch. He did take a knee against Carlos Hernandez because of a broken hand, but has never tasted the canvas by another man's hand. Guerrero has a very solid chin and has taken big shots from strong, big-punching opponents, and seemed to laugh them off (most notably Andre Berto). The chin of each fighter again will be very important in this fight.

Advantage: Even

POWER: Most will look at this topic and think this one automatically goes to Robert Guerrero. Wrong! Guerrero did show the power to hurt Andre Berto, but in all honesty, that is a formality as most of Guerrero's knockouts have come under the 147-pound division, much like Mayweather. Floyd Mayweather is not known as a big puncher, but I believe that is due more to his style of fighting in recent years, not so much to the point that he can't punch. If Mayweather sat down more on his shots and put his shots together, he could stop anyone, yes, anyone 147 on down, and possibly most guys at 154. Just because he doesn't use it as much as he used to doesn't mean it's not there. I expect to see harder shots thrown by Mayweather come Saturday night and we will see what kind of damage they do.

Advantage: Even

SPEED: No question, another Floyd Mayweather category here, as very few guys possess not only the hand speed Mayweather does, but the foot speed and natural athleticism he possesses, which allows him to move so quickly. Now, this isn't a matter of the Tortoise versus the Hare…or is it? Almost every fighter Mayweather faces says after the fight that they didn't expect him to be that fast. Don't expect Guerrero to be any different. Andre Berto has pretty fast hands, but he does not possess the full package of speed that Mayweather does. Just because you can hit a guy with fast hands by mauling or smothering him, doesn't mean you are going to catch the world's most athletic fly. Expect a mismatch here.

Advantage: Mayweather

FINAL VERDICT: It would be easy to say this is just another fight, Floyd has seen this type of fighter a hundred times and it will be no big deal. And for the most part, I agree with that. Mayweather is 36 years old, and while his body hasn't taken the amount of punishment other 36 year old fighters have, it doesn't mean that at some point in life, age doesn't catch up with you. I expect to see Mayweather box more and fight Guerrero in the same manner in which he fought Juan Manual Marquez. I don't expect to see the Mayweather who faced Miguel Cotto and even though it was a clear cut victory, he seemed to sit more and take more punches than he had in previous fights. Expect Mayweather to box and use his superior speed and skills the first 4 or 5 rounds and then after Guerrero is frustrated and coming in looking to only land that one big punch, Mayweather will start teeing off on him and putting his punches together. I expect the full and complete Floyd Mayweather arsenal in this fight as it is his first fight on Showtime and he always looks to please the masses. Don't expect a boring Mayweather-Baldomir type fight in this one; I believe you will see another top notch performance from the sport's best fighter.

Mayweather by 11th Round KO


---
MICHAEL SAMUELSDEFENSE:
This is seriously a no-brainer. Mayweather is the best defensive fighter on the planet, even at 36 years old. Guerrero's best defense is his offense. He destroyed Berto last year, but it's not like he wasn't hit in the process. Unless Mayweather gets caught early or gets old overnight, he shouldn't have a problem making himself difficult to hit.
Advantage: Mayweather EXPERIENCE:
Mayweather has fought the better competition over a much longer career. He was virtually born to box and it shows. Mayweather has also been a PPV attraction since destroying Arturo Gatti as the B-side in June of 2005. He never falters under the bright lights. This experience is new to Guerrero and it may show come fight night.
Advantage: MayweatherCHIN:
This is a clear toss-up. Mayweather is rarely hit, but has shown to have a pretty good beard (or an amazing ability to recover once hurt) when he has been buzzed a few times (Corley, and most notably Shane Mosley). Guerrero is a warrior and he's not going to go down or stay down unless he's hit by a truck. Mayweather doesn't possess that kind of power.
Advantage: EvenPOWER:
Since moving up in weight from 130 pounds, Mayweather just doesn't knock people out. Guerrero hasn't shown knockout power since moving up to welterweight either, despite dropping Berto and beating him to a pulp last year. Mayweather isn't a huge welterweight, but he has the ability to apply consistent power over the course of a fight that usually breaks a fighter down, when and if he decides to exchange. With his advanced age, he has been sitting down on his punches a lot more, not because he wants to, but because his legs just aren't allowing him to move around the ring for 12 rounds anymore. It will be interesting to see which fighter hurts the other one first. But right nowm, I have to believe Mayweather is the harder puncher, even if he doesn't appear to be. That perception will change for Guerrero when he is in the ring.
Advantage: MayweatherSPEED:
When you think of Floyd Mayweather, you think of speed. I'm not dismissing that notion, but we're not talking about the Mayweather that blitzed through Genaro "Chicanito" Hernandez en route to his first world title, or the guy who destroyed Phillip N'Dou in front of his hometown fans. Mayweather is 36 years old, and while he remains quick and accurate, he's not nearly as fast from a punching perspective as he once was even two or three years ago. Factor in sitting in jail for a year and coming into the first fight of potentially the richest deal in all of sports and it's hard to believe he's going to be as lightening quick as previous fights. Robert Guerrero isn't the fastest guy in the race, but he's certainly not the slowest. He is going to be much faster than Miguel Cotto with both his fists and his legs. Whether or not he uses more of a strategy than just sitting in Floyd's chest remains to be seen, but at this juncture of their careers, I've got to lean towards the Ghost.
Advantage: GuerreroFINAL VERDICT:
No fighter is immune to the aging process. Bernard Hopkins and George Foreman, even Evander Holyfield to a degree, are all exceptions to the rule. Not to say they will go down as better fighters than Floyd Mayweather, but realistically, they are just different types of fighters that rely on different weapons in the ring. Mayweather relies on reflexes, timing, and speed, and all three of those aspects typically start to mend after the age of 35. Mayweather is also very inactive, having fought twice in a calendar year last in 2007. Guerrero is coming for blood and he will outwork Mayweather en route to a split decision.
Guerrero by Split Decision (116-112, 115-113, 11-117)