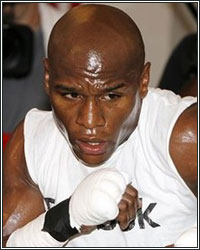 It's Monday. Welcome back for another edition of Observe and Fight, The Boxing Observer's compilation of observations and random thoughts from the week that was in boxing. Get caught up on some of the most recent events you may have missed out on, including a recap of MAY DAY, another dominant performance by Wladimir Klitschko, the over-the-line press conference for Malignaggi vs. Broner, and much more. Without further ado, check out the latest observations from The Boxing Observer, David Kassel.



Floyd Mayweather is the most dominant athlete in the world. Lebron James is the best basketball player in the world, but he has a supporting cast. Lionel Messi is the top soccer player in the world, but Cristiano Ronaldo gives him a run for his money. Tiger Woods was the best golfer in the world, but his mental setbacks caused his physical game to suffer. Serena Williams has her ups and downs in the tennis world, but she does not always put forth a consistent performance. Usain Bolt performs in the Olympics, but doesn't always bring his A-game in lower profile races. Michael Phelps does not dedicate himself 100% to swimming anymore. Brittney Griner does not have the level of competition to substantiate her claim at the top of the list, nor did she win the national championship in women's college basketball this year. Anderson Silva is dominating Mixed Martial Arts, but he has 4 losses to his name. Name another athlete in sports who has built his name as a brand, taken multiple, long layoffs while at the top of his sport, spent a stint in prison, tries to create a new image for himself, and still remains completely dominant at the age of 36. I know this is a big topic for debate, so I ask anyone and everyone to send me your honest opinion, along with the reason why. Remember, this is an editorial piece, so nobody's answer will be wrong. Just keep it classy. Mayweather was dominant, as expected, on Saturday night against Robert Guerrero. Guerrero fell short in the same way 42 other fighters have (Mayweather beat Jose Luis Castillo twice). He was unable to hit Mayweather with anything flush and proved he was too slow for Mayweather. Guerrero may have had a plan A, B, and C, but they were all insufficient because Guerrero lacked the one thing you need against Floyd Mayweather...speed. The fighters who have had the most success against Mayweather are fighters with speed (Jose Luis Castillo was successful in his first fight against Mayweather, but the rematch proved why Mayweather is so dominant). The fact remains that there is no fighter in the business today who can match all the intangibles Myaweather brings to the ring: speed, power, stamina, experience, and a solid chin. At this rate, Mayweather may very well retire undefeated.


Will Floyd Mayweather really fight again in September? According to Fighthype's Ben Thompson, who was granted special access with Mayweather in the hospital after the fight, Mayweather's right hand is not broken (although Mayweather will seek a 2nd opinion to make sure there is no structural damage), which begs 2 questions: is 4 months enough time for his hand to heal fully, and does he have an opponent, other than Saul "Canelo" Alvarez, who can make a September fight worthy of paying $70 for another pay-per-view? Mayweather does not seem keen on fighting Canelo Alvarez with just 4 months of preparation, and Canelo currently seems like the only legitimate threat to Mayweather's throne (although I don't think Canelo has enough stamina to hang with Mayweather for 12 rounds). If Mayweather returns, and I still maintain that Mayweather is questionable at best for a September return, I believe he will fight Devon Alexander (as long as Alexander gets past Lee Purdy) on September 14th. Alexander actually poses some issues for Mayweather because he presents some of the same problems Zab Judah presented Mayweather, speed and the southpaw stance. Those two things posed problems for Mayweather through the first 4 rounds against Judah before Mayweather was able to figure it out. I believe Canelo Alvarez, who was surprisingly absent from ringside on Saturday (unless anyone in Vegas had a Canelo sighting), will fight Miguel Cotto on pay-per-view going head-to-head with Top Rank's main event of Juan Manuel Marquez vs. Timothy Bradley. Although this prediction seems petty, Mayweather's next move may be the smartest business move to date for himself and would really stick it to HBO and Top Rank. I believe Mayweather will wait until Manny Pacquiao announces his next fight date (anticipated for November 23rd on HBO pay-per-view) to announce that Mayweather will also be fighting on that same date. It seems like a low blow, but Bob Arum has already stated that if Mayweather fights on September 14th, he won't go head-to-head with him and will move Marquez vs. Bradley to another date. If Mayweather and Showtime choose to go head-to-head with Manny Pacquiao, will Top Rank remain committed to that date, or will they steer clear of "Money" Mayweather? We may have to wait for the final pay-per-view numbers for Mayweather vs. Guerrero before any decision is made. Only time will tell.


What's next for Robert Guerrero? Guerrero certainly did not lose any fans or hurt himself in any way with his performance on Saturday night. He was simply outclassed by a far superior fighter, which is something most observers expected to happen. He has nothing to hang his head about, and I thought he handled himself very well during fight week and during the post-fight news conference. According to Richard Schaefer, CEO of Golden Boy Promotions, Victor Ortiz may be next. While neither Guerrero or Ortiz had any success against Mayweather, a fight between the two would certainly merit a lot of attention and would be probably be considered a Fight of the Year contender. I would love to see this fight happen!


Speaking of Ortiz, can we please stop allowing him to do interviews? I couldn't tell if his jaw was still messed up or if he has lost a few brain cells in combat, but something just isn't there for this guy. He has a few screws loose.


Can I just say thank goodness we don't have to listen to Ruben Guerrero anymore! It was abundantly clear, especially on Saturday night, that the elder Guerrero was only putting on a show for the cameras as he couldn't keep that smirk off his face while talking trash the entire night. If I am Robert Guerrero, I would have a nice, long chat with my father about his future actions in preparation for my fights. Ruben was very clearly trying to steal the spotlight, even more so than Angel Garcia does for his son, Danny. Running around the ring calling Mayweather a chicken for running after the fight was just plain ridiculous. Thank goodness it's over.


Abner Mares was absolutely spectacular in his featherweight debut on Saturday night. Mares made us all remember why he was an Olympian in Mexico. Mares proved, in his win over Daniel Ponce De Leon, that he can truly win a fight using any style necessary. It will be interesting to see who Mares makes his first title defense against. He can clearly handle the punching power at featherweight, and he carried his power up with him very well. Mares put himself in the mythical Top 10 pound-for-pound ratings in my opinion.


Gabriel Rosado was flat-out robbed on Saturday night! I scored his fight with J'Leon Love 96-93 in his favor. Judge Herb Santos, who scored the fight 97-92 in favor of Love, should really lose his license for not paying attention. There were a lot of close rounds, however, Rosado got the best of the exchanges. Love showed himself well, but he was not ready for this step up. He fell into some bad habits in the 2nd half of the fight and was caught by Rosado too many times. To be perfectly honest, if the two men did fight in a rematch, I would favor Love because I think he will learn from his mistakes while Rosado would not adjust his game plan. Hopefully, we'll get to see this fight again.


Leo Santa Cruz is the man! I would literally pay to watch Santa Cruz fight a brick wall because I think he would eventually break it down. There is no more entertaining fighter in boxing today. Plain and simple.


Congratulations to Wladimir Klitschko on his 14th straight successful title defense. It says something to the nature of the heavyweight division that the heavyweight champion, who made a record-setting title defense, is near the bottom of the boxing news world because Floyd Mayweather stole the headlines, and because the heavyweight division is so feeble. Wladimir and Vitali Klitschko will go down in history as the greatest heavyweight champions who will never get the amount of respect they deserve. It's really a shame. I'm still not convinced Wladimir Klitschko will take on Alexander Povetkin in his next fight because I believe Klitschko could make far more than the $17 million he would make based on the purse bid for that fight.


Paulie Malignaggi and Adrien Broner's press conference went a little bit too far. Broner and Malignaggi may be trying to hype a fight, and maybe they are playing the system by allowing a woman to come between them, but Broner using a woman whom he claims Malignaggi hit, and then Malignaggi playing off of that by saying she is "weekend p***y" is a complete disgrace and both men should be reprimanded. Beating women is a completely despicable offense and shouldn't even be made light of. Even worse, nobody should use that as the basis for pre-fight buildup. Malignaggi and Broner both said while arguing that it was all business and nothing personal. If it's all nothing personal, don't bring the subject of woman beating into the equation. I love these two fighters, and I love the fact they are already going at it, but they are going way too far and need to keep the focus on one another.


Does anyone else find it funny that Michael Koncz, Manny Pacquiao's advisor, is now saying they will agree to any type of blood testing Floyd Mayweather demands? Too little, too late. I still think we may see Mayweather and Pacquiao fight eventually because it's still the biggest money-making fight in boxing. I just think the fight means nothing at this point.

That's all I've got for this week. Email any questions or comments to
dkassel@fighthype.com
and I will answer them throughout the week. Your email may be featured in the next "Observe and Fight." Follow me on Twitter @BoxingObserver, and be sure to "Like" The Boxing Observer on Facebook.
[ Follow David Kassel on Twitter @BoxingObserver ]