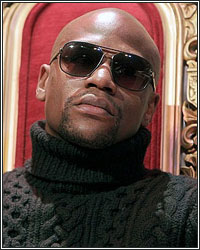 According to Sports Illustrated, for the second year in a row, undefeated pound-for-pound king Floyd Mayweather is once again the highest-paid athlete in all of sports. His projected earnings for 2013, a minimum of $90 million, topped the second highest-paid athlete, LeBron James ($56.5 million), by nearly $34 million. "We are very proud that Floyd has once again ascended to the top of the sports hierarchy. The fact that he's the dominant athlete in the world and is being compensated for all his hard work and dedication to his craft is very gratifying. He's worked extremely hard his whole caeer to get to the pinnacle and he owes all his thanks to all the fans for their support," Mayweather Promotions CEO Leonard Ellerbe commented.

Rounding out the top 5 on the Fortunate 50 list, which only includes U.S. citizens or athletes playing in a U.S.-based league, are Drew Brees ($47.8 million), Kobe Bryant ($46.9 million), and Tiger Woods ($40.8 million). It should be noted that the top earner on the International 20 list is David Beckham ($48.3 million). What's remarkable about Mayweather's earnings is that they only include his revenue from 2 bouts (see the note below), his May 4 showdown with Robert Guerrero and his expected return in September, both of which guarantee him a minimum of $32 million each. After factoring in his cut from pay-per-view sales, Sport's Illustrated projects that Mayweather will earn between $90 and $128 million.

Note: Candidates for the Fortunate 50 must be U.S. citizens or play in a U.S.-based league. Endorsements reflect current deals, and salaries are based on current or most recently completed seasons; for instance, for NFL players the season that ended in February was used. (Ravens quarterback Joe Flacco's new deal, which will pay him $20.1 million next season, isn't reflected.) For auto racing and tennis, prize money came from the 2012 calendar year. Golf earnings are from July 1, 2012 through April 21, 2013. Boxing purses are from August 2012 through May 2013 (but projected money from bouts through September was included since fight deals are done on a yearly basis).
[ Follow Ben Thompson on Twitter @fighthype ]