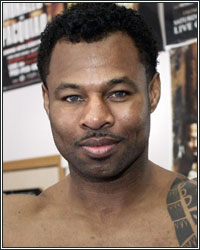 On June 22, WBC lightweight champion Adrien Broner will attempt to jump up two weight classes, from 135 to 147, when he challenges WBA welterweight champion Paulie Malignaggi. It's a bold move that very few fighters in the history of the sport have been able to successfully do. One who has, however, is three-division world champion "Sugar" Shane Mosley, who made the jump from 135 to 147 in 1999 after defending his lightweight title 8 times over the span of 2 years. Broner, who just moved up in weight from 130 to 135 to capture the lightweight title back in November of 2012, only defended it once before making the decision to move up yet again. It's a decision that Mosley thinks could be a mistake for Broner, or at the very least, a much more difficult task than he may think. Check out what Mosley had to say about his own move from 135 to 147 and the factors that might impact Broner on June 22.

SHANE MOSLEY ON BRONER VS. MALIGNAGGI AND MAKING THE JUMP FROM 135 TO 147

BT: Adrien Broner is basically trying to do the same thing that you did in jumping from 135 to 147. Since you've already been there and done that, do you think that's going to be difficult for Adrien to do?

SM: I think it will be. It was very hard. When I fought [Wilfredo] Rivera, he had just fought at 154. He came down to 147 and I came up to 147 and it was a very tough fight for me to go up 2 weight classes and try to knock out whoever. At least Wiflredo was more of a guy that comes to you. He wasn't a runner. Paulie's a different dynamic. Paulie's a mover, a runner, and a boxer. We know Paulie can take a good shot, at least he took a good shot with Cotto and other guys. He got dropped by Cano, but that lets you know that Cano can punch too, you know what I'm saying? Even Cotto didn't drop Paulie, so that lets you know Cano can punch.

BT: When you did make that jump from 135 to 147, was it a case of you having to put on more size to fight at the weight, or did you just naturally walk around at that weight?

SM: Yeah, I was normally there anyway. If you go back, in 1992, I was fighting at 140. Oscar was fighting at 132 and I was fighting at 140. When I made the jump to 147, it was kind of like just going to my real weight. Adrien Broner fought at 126, 130, and then he jumped to 135 and now he's trying to jump to 147. I was never really a 135-pounder from the beginning. I really should have turned pro at 140. I just stretched it down to 135 and then jumped to 147. That's the difference between me and Adrien. That's what scares me about the fight with Adrien because I don't know if it's the same when I did it. I was actually a big guy. Adrien's pretty big. He's looking solid, like he's got muscles, but I don't know if he's naturally that big.

BT: At one point, you were in talks to face Paulie Malignaggi, but Paulie passed on that fight in favor of facing Adrien instead. Ultimately, how do you see that fight playing out?

SM: I'm leaning towards Adrien, but I really don't know. Adrien Broner is young and Paulie is bigger, but he doesn't punch hard, so it's like a Catch 22 with both of them. You don't know what's going to happen. You don't know if Paulie's size is going to give Adrien problems, and Adrien is used to fighting people coming at him, not going away from him. You know, Paulie's a pure boxer. He's not going to go running towards him. Now Adrien Broner has to try to get to him, catch him, and hit him. You don't know what's going to happen.
[ Follow Ben Thompson on Twitter @fighthype ]