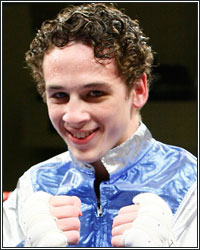 Thomas LaManna's career is on a steep and precipitous upscale. The ill-perceived critics often concerning his boxing ability as weak and average get muzzled as each and every fight progresses. One must question what he will do in the sport of boxing.

His nickname is Cornflake. As you'd guess, he's not all that hard-nosed. He comes out of the small town of Millville, New Jersey, which as you'd also guess is no fighting city. He's not destined to be the next top boxer, but no one can stop his attempts.

His style also doesn't visualize that of an elite fighter. At 6'2", he is just learning to fully utilize his height and time his opponents down the six, eight or ten round distance he is just getting prepared to fight at. He's not bad at what he does. He levels up to his opponents, slips with the punches, rolls with the punches, and quickly bolts back with his crisp right hand.

When Lamanna charges up and presses the tempo, he never fails to stimulate even the most casual viewer. He has an extremely fun style, with the exception of the occasional "off" round he takes when he goes through the full distance. Despite turning in good performances, all in all, Lamanna's game plan and general technique has some variations in each and every fight. "Cornflake" has tried fighting in positions, pushing for a stoppage to keeping a quick workrate and targeting a clearer decision. It is clear he wants multiple dimensions in his boxing game.

His promoter, Vincent Ponte of Gulf Stream Boxing Promotions, plans to keep him well and active. Lamanna fought six times in 2011 and four times in 2012 against challenging opposition. Despite only fighting once in 2013, Lamanna plans to close out with at least 2 or 3 more fights. This run starts out on August 10th at the Boardwalk Hall in Atlantic City, NJ against an opponent to be named.

His father, Vinny Lamanna, is a huge boxing fan. He has managed his career since he was a young boy climbing up the amateur ranks. Some say he has been brought up gently -- others think this plan is just right. Either way, it will be up to him to shape his destiny. We know one thing: he is an overachiever from the start. Who would have guessed he'd have even entered the paid ranks? I am not sure if he even believed he'd be one of the best prospects in the tri-state area. The 21-year-old is following his dreams.

How will his name go down?

Follow him on Twitter at @Cornflakeboxing.