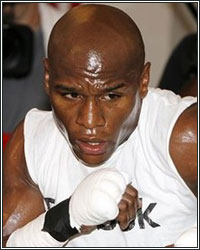 It's Monday. Welcome back for another edition of Observe and Fight, The Boxing Observer's compilation of observations and random thoughts from the week that was in boxing. Get caught up on some of the most recent events you may have missed out on, including boxing promoters missing out on opportunities, the start of training camp for Floyd Mayweather and Canelo Alvarez, a slug-fest on Friday night, a possible slug-fest in the making in October, and much more. Without further ado, check out the latest observations from the Boxing Observer, David Kassel.



Training camps officially begin for the biggest fight of the 2013 calendar year. Floyd Mayweather vs. Canelo Alvarez will certainly draw the largest pay-per-view numbers of the year (it has already surpassed the largest live gate ever). Anyone who has followed the career of Mayweather knows he comes into every fight in the absolute best shape he can be in. This has not always been the case with Canelo (although as he has become a bigger star, he has been very professional). However, for this fight with Mayweather, which will be fought at a catch-weight of 152 lbs., Canelo is already weighing 165 lbs. Being only 13 lbs off weight with 2 months to go, I'd say Canelo knows he is in for the fight of his life, and he is taking absolutely no shortcuts. Hopefully, we will see the best Canelo Alvarez we have yet to see (and history shows we should considering he is getting better and better every time out) because if he is better than ever, it could make for one hell of a fight September 14th.


Boxing promoters are missing out on Golden opportunities. In the past, I have written about boxing's need for a major fight card on the eve of the NFL Super Bowl in the city hosting the event. 2014's Super Bowl is being held in New York City. Can you imagine having a fight card in Madison Sqaure Garden or Barclays Center the night before the big game? Imagine the star power who would be in attendance. This would be a HUGE hit on network television, which would bring in tons of advertising revenue (CBS televised a Saturday afternoon fight for Leo Santa Cruz in December 2012). This week also marks an annual event which brings American sports fans much misery. The Major League Baseball All-Star Game is being held on Tuesday night, but real games do not pick back up until Friday. The Wednesday and Thursday after the All-Star Game are the only two days of the calendar year when none of the 4 major American sports (baseball, basketball, football, & hockey) take place. Considering the lull in professional action, why hasn't a promoter decided not to stage a major boxing event on network television on one of these two days? (I believe Wednesday night would make more sense than Thursday.) I'm actually surprised that Dana White, President of the UFC, has not taken advantage of this golden opportunity since he is notorious for staging events on network television. There is money to be made for promoters, and it's opportunities like these which will help bring boxing back to the public forefront. Promoters need to step out of their comfort zones and think about what is best for the sport of boxing. It might actually benefit their wallets as well.


How good did Edwin Rodriguez look on Saturday? How about a 1st-round knockout over Denis Grachev in the finals of the Monte Carlo Million Dollar Super Four Final. Rodriguez completely dominated and stunned Grachev from the outset before the referee stepped in with 10 seconds left in the round. Great win and Rodriguez improves to 24-0 (16 KO's). After the fight, Rodriguez said he wants to fight Sakio Bika for the WBC super middleweight title. That would be an all-action affair, and I'm all for it.


Robert Steiglitz retained his WBO super middleweight on Saturday. The question for Steiglitz now is where does he go from here? He is a very popular draw in Germany, so it might take big money to get him to leave. A trilogy fight with Arthur Abraham would make financial sense since both men have huge German followings, but Steiglitz's knocked out Abraham in March in their rematch affair. Mikkel Kessler is an interesting name, but he hasn't fought in Germany since before the Super Six Tournament, and it would take big money to bring him over. Maybe one of the Dirrell brothers (Andre or Anthony, assuming Anthony gets past his July 27th test). One name who should be in the running, and is definitely deserving after his last performance, is Brandon Gonzales. After fighting to a disputed draw with Thomas Oosthuzien last month (Gonzales was the clear winner in the fight), Gonzales put himself on the map. Steiglitz might want to bring him in thinking it will be an easy night for a sizable payday. George Groves is the #1 contender, but he has his sights set on Carl Froch who seems more than willing to oblige and step into the ring with his fellow countryman. There are a lot of options in the super middleweight division. Unfortunately, none of them seem to lead into the direct path of the noted division kingpin, Andre Ward.


Has anyone found anything special about "The Special One" Kell Brook? He has yet to do anything all that impressive, and I'm interested to see who Eddie Hearn has in mind for Brook's September return. Hearn says it will be a big name. Could it be that "Sugar" Shane Mosley will be traveling across the pond to challenge Brook's undefeated record?


How seriously should we be taking junior welterweight contender Khabib Allakhverdiev? In my estimation, we should be taking him very seriously. When Top Rank initially signed the undefeated Russian, I thought it was just a way to get their fighters some credible opposition with no real threat to their marketability. The more I watch Allakhverdiev, the more I am impressed, however. After a fairly successful amateur career, Allakhverdiev has already beaten names like Nate Campbell, Kaizer Mabuza, and Joan Guzman. He currently holds the WBA world title (Danny Garcia is the Super Champion), and I think he is ready for a giant step up in competition. I would love to see him in a fight with Zab Judah next.


I'm still flabbergasted at HBO's decision to reject Guillermo Rigondeaux's next fight. I know he was boring as hell in his win over Nonito Donaire, but Rigondeaux is capable of delivering a one-punch knockout. If he is matched well, Rigondeax, who is the best super bantamweight in the world, can deliver action. This would be the perfect opportunity for a network like NBC to try and take advantage of Rigondeaux's skills.


Please let Mike Alvarado sign for the fight with Ruslan Provodnikov! Please let Mike Alvarado sign for the fight with Ruslan Provodnikov! Please let Mike Alvarado sign for the fight with Ruslan Provodnikov! Maybe if I wish for it enough, it will happen.


Who is going to win the fight between David Haye and Tyson Fury? Who cares?! Neither one is going to win a world title by beating a Klitschko.


In case you missed the co-feature on ESPN's Friday Night Fights this past weekend, I highly recommend you check it out. Glen Tapia and Abie Han laid it all on the line as neither wanted to give up his undefeated record. It was Tapia who came out victorious, but it's worth watching in case you missed it.


This weekend brings a lot of excellent action, even though it's not HBO or Showtime Championship Boxing. Friday night may have a better slate of fights than Saturday. The ESPN main event between Ajose Olusegun and Hank Lundy will be a can't-miss affair. I do like the ShoBox main event between Mickey Bey and John Molina along with the co-feature between Badou Jack and Farah Ennis in a fight card featuring Mayweather Promotions fighters. An interesting heavyweight match-up between Dereck Chisora and Malik Scott takes place in London on Saturday. The exciting Randy Caballero returns, and an interesting fight takes place between the undefeated Chris Algieri and Mike Arnaoutis. Should be a worthwhile weekend on the couch for sure.

That's all I've got for this week. Email any questions or comments to
dkassel@fighthype.com
and I will answer them throughout the week. Your email may be featured in the next "Observe and Fight." Follow me on Twitter @BoxingObserver, and be sure to "Like" The Boxing Observer on Facebook.
[ Follow David Kassel on Twitter @BoxingObserver ]