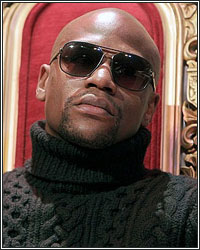 "Floyd is putting his money where his mouth is, creating the single biggest pay-per-view event of all time by adding, after Mayweather vs. Canelo, the next most anticipated fight in the sport of boxing on the September 14th pay-per-view," stated Golden Boy Promotions CEO Richard Schaefer, who credited undefeated pound-for-pound king Floyd Mayweather for making the decision to add the highly-anticipated clash between jr. welterweight champion Danny Garcia and top jr. welterweight contender Lucas Matthysse as the co-main event to his September 14 showdown with undefeated jr. middleweight champion Saul "Canelo" Alvarez. "Thank you to Flody Mayweather for your commitment to the sport as a fighter and now as a promoter," Schaefer added.

According to both Schaefer and Mayweather Promotions CEO Leonard Ellerbe, Mayweather was instrumental in the decision. "Floyd made it very clear to us that he wanted to give the fans the biggest and the best fight on his card. It's just another example of how Floyd has put the sport on his back. He's trying to bring awareness to the sport with this fight getting the world-wide platform it truly deserves, and in my eyes, it's another step in the right direction of making boxing a mainstream sport," Ellerbe explained. "Floyd made a commitment to make this fight happen and he wanted to get it done because he wanted the fans to be able to come away from watching this whole event and say, 'Wow! We got our money's worth and some.'"

Schaefer would echo Ellerbe's comments regarding Mayweather making the decision. "On a personal note, I just want to reiterate again my deepest and sincere thank yous to Floyd and to Showtime. We did not have to do this. We did not have to add this fight on September the 14th. The tickets are sold out, records are being broken, and yet we added this fight to this amazing night of boxing," he added. "Floyd had to approve it because, you know, he's overall captain of the ship, so he has to approve it, but it was up to us to try and find, as well, additional revenue sources...it was done because Floyd wants to get it done; Floyd wanted to have it on this card and that's why it was done."
[ Follow Ben Thompson on Twitter @fighthype ]