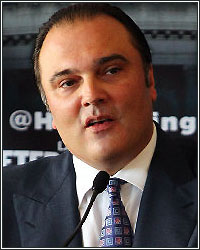 "This is by far, and by very, very, very far, the most expensive fight ever put as the second fight on a pay-per-view," stated Golden Boy Promotions CEO Richard Schaefer shortly after announcing that undefeated jr. welterweight champion Danny Garcia will defend his titles against top contender Lucas Matthysse in the co-main event of "The One: Mayweather vs. Canelo". Speaking to several members of the media during a conference call, Schaefer revealed that one of the reasons why it took so long to finalize the fight was because they had to find additional revenue sources to ensure both fighters were paid accordingly.

"That took a lot of maneuvering, and a lot of negotiations, and a lot of other things, a lot of money, to get it done, and that really was the main reason why it took so long," Schaefer explained. "It was up to us to try to find, as well, additional revenue sources, being it sponsors, being it from foreing television sales and so on, so that some of the purse associated with this fight could be carried by other revenue sources."

Schaefer added, "This is really for the fans to put that on there, because I believe with the kind of exposure this fight is getting worldwide, record numbers everywhere, that Danny Garcia and Lucas Matthysse deserve the kind of attention they will get by being on this card."
[ Follow Ben Thompson on Twitter @fighthype ]