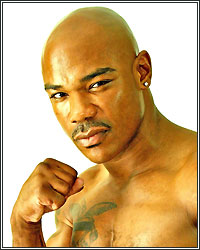 Upon hearing the news that Tony Grano pulled out of his scheduled August 3rd bout against Tomasz Adamek due to back issues, undefeated heavyweight contender Amir Mansour immediately offered to take his place. After all, facing Adamek has long been on Mansour's to do list. Although Adamek's promoter, Main Events, seemed very interested in the fight, Mansour says it was Adamek who flat out turned down the opportunity, instead preferring Dominick Guinn, who was easily defeated by Mansour back in 2011.

"Main Events told my people Adamek refuses to fight me," Mansour explained to FightHype.com, claiming that they offered Adamek nearly three times what he'll be making to face Guinn. "Adamek is only making $30,000 to fight Guinn and we were offering him a minimum of $75,000. All of these dudes would rather wait in line and get another crack at one of those brothers than to get this work. When have you ever seen the heavyweight division where you see the same guys who got their ass whipped keep getting recycled," Mansour added.

Mansour will instead have to settle for Maurice Harris, who he'll be facing on August 23.
[ Follow Percy Crawford on Twitter @MrFighthype ]