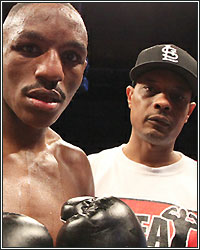 "Virgil is one of the best trainers in the game. How in the fuck is Khan disrespecting him like this? They are so confused, they're disrespecting a world-class trainer. You know, Virg is my man, but the fact that they would bring another trainer into Virgil's camp to do the mitt work is basically the beginning of the end for their relationship with Virg," stated world-class trainer Kevin Cunningham, who was surprised when he heard about some of the changes that former jr. welterweight champion Amir Khan has made to team as he presumably trains for a proposed bout with IBF welterweight champion Devon Alexander. Earlier this week, Khan revealed on Twitter that he's added Rick Coward, also known as Coach Rick The Mittologist, to his team. According to Khan, Coward will be handling all the mitt work during training while head trainer Virgil Hunter gives instructions "from the side".


Gym session in an hour. We have a new mitt man @COACHRICK23 to the gym and vigil give instructions from the side. #Teamwork

— Amir Khan (@AmirKingKhan) September 24, 2013
For those that are unfamiliar with the name, Coach Rick is best known for his ability to emulate the same padwork made famous by world-class trainer Roger Mayweather and his nephew, undefeated pound-for-pound king Floyd "Money" Mayweather. Although Coach Rick has never worked with the Mayweathers before, he reportedly broke down and learned the technique after watching an old training video of Roger teaching it. Seemingly unsatisfied with the mitt work he was getting from Hunter, it appears Khan decided to make the change after working with Coach Rick over the summer. It's a move that Cunningham believes is the beginning of the end as far as the relationship between Khan and Hunter is concerned. "Once Devon get to whoopin' his ass, they'll be trying to get rid of Virg. They that arrogant and disrespectful to bring a Roger Mayweather wannabe mitt man into virgil's camp, Virg might as well get ready to lose the Khan account after Devon gets to whoopin' his ass because they'll say it's Virgil's fault and they'll be looking for a new trainer," Cunningham continued.
More importantly, Cunningham also believes that the move could be a clear sign that Team Khan is having second thoughts about a potential December 7 showdown with Devon Alexander. "When I see this guy tweetin' things like he's bringing in some Roger Mayweather copycat trainer when he's already got a respected, well-known, world-class trainer like Virgil Hunter, it seems crazy. It's so disrespectful. Being that Virgil Hunter is a friend of mine, it's crazy to even see something like this. I'm surprised that Virg would even accept this type of slap in the face from a clown like Amir Khan, bringing some Roger Mayweather wannabe trainer into his camp to prepare a fighter that came on board with him," Cunningham explained. "This guy is trying the Nonito Donaire shit with that hypoxia shit; he's bringing in a Roger Mayweather wannabe mitt man (laughing). I can understand why this fight hasn't been signed yet because really they're so damn confused and nervous and scared. They're doing all this new and different shit, trying this and trying that; they done changed trainers six different times. Instead of all this new confusing shit that you're doing, sign the damn contract!"
As far as Cunningham is concerned, if Khan is indeed hoping to land a Mayweather bout some time in 2014, his only option is to face Alexander to try and earn the right for the opportunity. "First of all, this clown calls Devon out and says he's coming up to welterweight and he wants a shot at the welterweight tile. Devon's willing to oblige him, ready to give him a shot at the title, and now all of a sudden, rumors are swirling that this guy is looking for an easier fight in hopes of landing a Mayweather fight, which is crazy. The bottom line is this, there's no way in hell that boxing fans and the media will accept Amir Khan as an opponent for Floyd Mayweather without him taking on a meaningful challenge against a true welterweight champion like Devon Alexander prior to fighting Floyd," Cunningham added.
[ Follow Ben Thompson on Twitter @fighthype ]