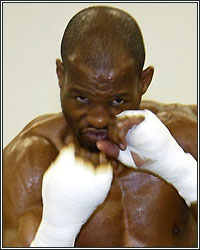 It's Monday. Welcome back for another edition of Observe and Fight, The Boxing Observer's compilation of observations and random thoughts from the week that was in boxing. Get caught up on some of the most recent events you may have missed out on, including Bernard Hopkins continuing to defy the odds, a recap of Alvarado vs. Provodnikov, two more boxing legends continuing to hang on, and much more. Without further ado, check out the latest observations from the Boxing Observer, David Kassel.



Bernard Hopkins is proving that boxing is no longer "No Country for Old Men." The #1 rated light heavyweight in the world (according to Boxrec) turns 49-years-old in January, but is showing no signs of slowing down. Currently, there is not a single 175-lb fighter whom I believe "The Alien" cannot beat. I actually like Hopkins' idea to switch his nickname from "The Executioner" to "The Alien" because he no longer executes his opponents. Hopkins has been winning in a very methodical way, but it is working for him. The more I watch Hopkins fight, the more I believe we will one day see Will Smith and Tommy Lee Jones show up during a fight, in their Men in Black suits, and shoot Hopkins with their ray guns proving that he truly is from another planet. I have no other logical way to explain how Hopkins remains at the top of his game when he is nearly half a century old. I don't see Karo Murat giving Hopkins any problems this Saturday. Expect the old man to retain his light heavyweight crown and call out Floyd Mayweather after the fight.


How would a fight between Hopkins and Mayweather play out? This is truly a fun question to think about because Mayweather is considered the fighter with the most experience in boxing outside of Hopkins. The question about a potential Mayweather fight was recently posed to Hopkins and he said he would absolutely take the challenge. First off, Hopkins would clearly take the payday as it would be his largest purse ever. Secondly, if there is one fighter who can drop from 175lbs to 160lbs, it's Hopkins. He may be the only man to dedicate himself to the sport of boxing as much as "Money" Mayweather. Mayweather hasn't fought an older opponent since Shane Mosley. Hopkins and Mosley are two completely different fighters, but Hopkins would have a 5-inch height, and 3-inch reach advantage over Mayweather. On top of that, if this fight was to take place at middleweight, Hopkins would outweigh Mayweather by a solid 20lbs come fight night (which would be solid muscle, not water weight). Chad Dawson was able to outbox Hopkins because of his speed, but I think we would see Hopkins give Mayweather a tough fight because Bernard, who knows his way around the ring as well as Mayweather, would use his superior size and strength to his advantage. In the end, Mayweather's speed would be the difference, but Hopkins would use every tactic in the book in order to get Mayweather off his game. It's an interesting fight, and it's one fight that is not totally out of the realm of possibility for May 3, 2014. There is no other fighter, other than Timothy Bradley or Manny Pacquiao, who would draw more interest for a Mayweather fight than Hopkins. If Hopkins gets by Murat on Saturday night, expect the Mayweather-Hopkins chatter to ramp up a few notches.


Ruslan Provodnikov is an absolute beast at 140lbs, but he should stay at 140. Yes, Provodnikov looked great against Timothy Bradley at welterweight, but when Bradley boxed Provodnikov, concussion and all, Bradley won those rounds decisively. Against Mike Alvarado, Provodnikov was getting outboxed, at times, against an average boxer who is a much better brawler. Provodnikov was winning most of the rounds because he did the most damage, but when Alvarado was boxing, Provodnikov had little success. Against a much slicker boxer, Provodnikov would struggle. His power and relentlessness won him the fight against Alvarado, but I don't think he would have the same success as a welterweight. At 140lbs, Provodnikov can beat anybody because of his power, but at 147lbs, against the best in the world, I don't know if he can sustain that type of punishment for much longer. A solid body attack could be crippling to Provodnikov.


Mike Alvarado has nothing to be ashamed of. Alvarado made a choice, and on Saturday night, it was the right choice. Alvarado was not going to break Provodnikov. Alvarado showed many signs that he wasn't willing to engage in an all-out war with Provodnikov leading up to the fight. Alvarado will be back, but he will not be matched up with a warrior. Alvarado will come back against a counter-puncher whom he can continue to hone his boxing skills.


"Legendary Nights: Gatti vs. Ward" was one of the best documentaries ever produced. Micky Ward and Arturo Gatti will forever be linked because of their trilogy. The interviews with everyone, including Ward, Pat Lynch, Lou Dibella, Kathy Duva, Jim Lampley, etc., were the real reasons this documentary was so candid. I appreciated how the focus of the documentary was not on Gatti's death, but rather on the fights with Ward. This film could very easily shifted to focus on Gatti's mysterious death, but HBO did a fantastic job putting this together.


"No Mas: Leonard vs. Duran" was another wonderful film which aired this past week. I felt it rather unsatisfying that Duran will not come clean after all these years about the real reason he quit in the 2nd fight with Leonard. It has been over 30 years. At this point, nobody is going to make a big stink about it anymore. The truth shall set you free, Roberto. "No Mas" with the lying.


Could we possibly see a Juan Diaz vs. Terence Crawford lightweight title fight? They say styles make fights, and these two guys clash, stylistically, as much as anyone. Diaz, who continued his comeback after a 2 1/2 year retirement, once again looked very impressive in the ring on Saturday. Diaz says he wants to win a lightweight title once again, but he might have to go through the division's best fighter, Crawford. I wouldn't be surprised to see Crawford win the lightweight crown in early 2014 and then face Diaz in the summer. That would be a great fight.


Shane Mosley vs. Anthony Mundine will be a disgrace of a fight. Mosley is trying to prove he still has what it takes to be an elite fighter while Mundine is trying to make himself relevant to the American boxing public. The fight is taking place in Australia on Wednesday (8am on ESPN3.com) and it will be 12 rounds of nothing. Australia is the place where American fighters go to cash out. Plain and simple. This will be Shane Mosley's last big payday and I expect him to win a close decision over the very overrated Mundine.


The undercard of Hopkins vs. Murat is a can't miss! The opening bout on the Showtime-televised card features undefeated knockout artist Deontay Wilder (29-0, 29 KO's) taking on Nicolai Firtha in what should be knockout win #30 for the 2008 Olympic bronze medalist. The co-feature should be another Fight of the Year contender as WBO middleweight champion Peter "Kid Chocolate" Quillin takes on the always game and competitive "King" Gabriel Rosado. This fight should be a war.


We'll see what Kell Brook is really made of on Saturday. Brook, who twice pulled out of a title opportunity with Devon Alexander due to injury (Alexander also pulled out of the fight one time), faces former world titlist, and the man who retired Ricky Hatton for the 2nd time, Vyacheslav Senchenko. Brook's speed should be the difference, but if he decides to engage with Senchenko, it might be the end of "Special K's" run to a welterweight belt. Senchenko does have knockout power, and Brook's chin is susceptible to danger.


Robert Steiglitz vs. Isaac Ekpo was an absolute joke. Steiglitz successfully defended his super middleweight title against the over-matched Ekpo in what was nothing more than a payday. Steiglitz needs to fight Arthur Abraham in a trilogy fight and both should retire because the Steiglitz fight was a disgrace to his championship.


Arthur Abraham makes his return, as does IBF lightweight champion Miguel Vazquez. Both men should win convincingly, but Abraham especially is close to the end of his career. I wouldn't be surprised if Abraham gets knocked out. If Abraham wins, however, expect a rubbermatch with Steiglitz in Germany.


Antonio Tarver and Roy Jones Jr. are making comebacks. Tarver, who is coming back from suspension due to a positive steroid test following his June 2012 fight with Lateef Kayode, will be fighting Mike Sheppard in a heavyweight attraction on November 26th. Jones Jr. will be facing bare-knuckle boxer turned former cruiserweight titlist Bobby Gunn in December. While I think both of these fighters are WAY past their primes, Tarver is the only one who still has any business being in the ring. Jones' skills have diminished so much that I fear for his life when he steps in the ring. I don't know Jones' financial situation, but he has to be short on money to be facing a guy like Gunn. Tarver, on the other hand, can still hold his own in the ring, but his hopes to make a run at a heavyweight title are somewhat preposterous as long as the Klitschko brothers are still in the picture. Tarver still has some boxing skills, but his performance against Kayode (steroids and all) did nothing to show me he can win a title at heavyweight.


Each week, I feature an email from a fan on Observe and Fight. This week's email comes to us from Louis T. regarding Timothy Bradley's chances at being Floyd Mayweather's next opponent...


"Don't you think Bradley would be the best opponent next for Mayweather?! I know he's with Top Rank so it's complicated, but after that fight I thought he's obviously the sharpest fighter today at welterweight, after Mayweather. I mean, this guy deserves a shot at Mayweather much more than Khan or any other guy in this division, don't you believe so? I'm tired of people trying to diminish Bradley's performances. Beristain has shit in his eyes. Marquez complaining he's been roobed again...what the f***?? Heredia saying Bradley got another Christmas gift...what the f*** is wrong with those guys? All the commentators on TV gave Bradley the victory easily, even though some rounds were very close."


I agree with you 100%. As I wrote last week, Bradley is, by far, the best contender for Floyd Mayweather's welterweight crown. I know it's not usually pretty, but when a guy keeps winning, no matter how ugly it may be, people have to start realizing this guy has what it takes to be a legitimate candidate. Bradley's skills are nowhere on the level of Mayweather, and if the two fought, I believe Mayweather would take him to school, but Bradley at least deserves the opportunity. Nobody in and around 147lbs has a better resume than Bradley (other than Mayweather). I can't fault Bradley for signing with Top Rank because in his 3 of his last 4 fights (excluding Provodnikov) his guaranteed purse money has totaled more than $10 million. That's not bad at all for a guy with a very small, limited fan base. I'm not sure when Bradley's contract is up with Top Rank (I've heard he only has one more fight but that could just be a rumor), but Arum has treated Bradley well. Even though the majority of fighters (including Floyd Mayweather) currently reside outside of the Top Rank stable, Bradley may consider resigning with TR because they have treated him well, and Arum has made good on delivering big fights, and big money for Bradley.

That's all I've got for this week. Email any questions or comments to
dkassel@fighthype.com
and I will answer them throughout the week. Your email may be featured in the next "Observe and Fight." Follow me on Twitter @BoxingObserver, and be sure to "Like" The Boxing Observer on Facebook.
[ Follow David Kassel on Twitter @BoxingObserver ]