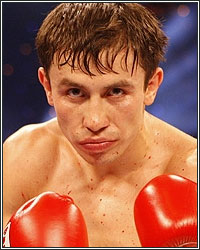 It's Monday. Welcome back for another edition of Observe and Fight, The Boxing Observer's compilation of observations and random thoughts from the week that was in boxing. Get caught up on some of the most recent events you may have missed out on, including another potentially tragic close call, Gennady Golovkin's continued dominance, another Fight of the Year candidate, the "Face Off" between Manny Pacquiao and Brandon Rios, Adrien Broner's questionable marketing tactics, and much more. Without further ado, check out the latest observations from the Boxing Observer, David Kassel.

Thoughts and prayers go out to heavyweight contender Magomed Abdusalamov. In what is considered to be one of the best heavyweight fights in recent memory, Abdusalamov and Mike Perez battled to an entertaining, hard fought, 10-round decision victory for Perez on HBO's Boxing After Dark as the co-featured attraction to Gennady Golovkin vs. Curtis Stevens. Those in attendance, and those watching at home, were pleasantly surprised to see two heavyweight hopefuls putting it all on the line in the biggest fight of each man's respective career. Unfortunately, what turned out to be very exciting could turn tragic very quickly. Both men took a beating, but Abdusalamov took the worst of it (as evidenced by the rearranging of his face). After the fight, Abdusalamov was not automatically sent to the hospital by physicians in the arena. His team took it upon themselves to take him. According to his manager, Boris Grinberg, Abdusalamov complained of bad headaches and doctors placed Abdusalamov in a medically induced coma stemming from a small blood clot found on his brain (his reps confirm he is in stable condition now, but is still in the coma). Whether or not people believe the fight should have been stopped is irrelevant. Yes, he took a ton of punishment, but that's boxing. Fighters have taking far worse punishment and gone on to live healthy lives. Nobody truly knows if the punishment he took from the fight with Perez was the cause of the blood clot or if it had been building for quite some time and the beating from Perez sent it over the edge. The sad thing to note is that boxing always has been, and always will be, the most violent, brutal sport in the world. You don't play boxing. Just a few weeks ago, Frankie Leal died from injuries sustained in a fight. Every time a fighter steps through those ropes, he puts himself or herself in danger of losing his/her life. When people ask why Wladimir Klitschko is boring to watch, Magomed Abdusalamov should be Exhibit A. Fans need to take a good look at themselves when they question the heart of a fighter because it's easy to call someone a "coward" or "chicken" or "ducker" from behind a computer screen. Fans are not the ones stepping into the ring. Fighters deserve every penny they earn and should be rewarded for entertaining fans who love combat sports. If the trend of fighters severely injured in the ring, or dying in the ring, continues, we could be looking at full headgear for professional fights in the not so distant future. As a fan, I would hate to see professionals have to wear headgear in the ring. As a human being, I am in favor of it because anything more than 1 death in boxing is far too many, in my opinion. Boxing may be a corrupt sport, at times, but incidents like the one Magomed Abdusalamov is currently experiencing shows the real sour side to The Sweet Science.

I love Mike Perez's heart, but he isn't on Wladimir's level. Perez showed me some skills I didn't think he had, and he showed a toughness that only a brutal fight can sometimes unveil, but his best option might be to continue building his name and wait for Wladimir Klitschko to retire. Should Perez decide to try and go after one of the big names in the heavyweight division, his best bet might be someone like fellow Cuban defector, Odlanier Solis. Should he get by that test, maybe a fight with Alexander Povetkin would prove his true worth.

Gennady Golovkin reminds me of the Incredible Hulk. You don't want to make the Hulk angry! That's exactly what Curtis Stevens did in the lead-up to the fight with Golovkin. GGG, who has always been very respectful and mild-mannered, was visibly, and verbally, irritated even after his TKO victory over Stevens on Saturday night. GGG is already one of the biggest punchers in the sport, and he proved what I've been saying all along about his chin. He can take a punch as well. Stevens, a huge puncher himself, hit Golovkin flush a few times and it didn't faze the champion as he went on to win his 15th straight fight via knockout. Golovkin's promoter, Tom Loeffler, says GGG will fight again on Febraury 1st in Monte Carlo, and he will be defending both of his titles. Don't expect the opponent to be a world-beater. No legitimate middleweight is going to take on Golovkin in February in Monte Carlo because it isn't enough time to build a fight. Caleb Truax and David Lemieux are names that come to mind for a February showdown with Golovkin. Don't rule out the possibility of Alfredo Angulo moving up to middleweight for a fight with Golovkin. The only thing that would make Angulo a tricky option for Golovkin is his affiliation with Golden Boy Promotions. HBO has not committed to broadcasting the fight in February, but I'm not sure Loeffler is willing to upset the apple cart that is HBO's brass.

As for Curtis Stevens, his future back on a major network looks bright. Stevens put up a heck of a fight against Golovkin, but he proved he just isn't on that level. Someone on Twitter posed the possibility of a Curtis Stevens vs. Gabriel Rosado match-up. Sign me up for that one. That's a main event worthy Fight of the Year candidate!

No surprise that the fight of the weekend came from the little men. In case you missed last week's Observe and Fight, I mentioned to everyone that they didn't want to miss the Giovani Segura vs. Hernan "Tyson" Marquez. The fight certainly didn't disappoint and was one of the top 5 Fights of the Year in 2013. The action was frenetic from the opening bell as bombs were flying from both men. Marquez was knocked down early in the fight before ultimately being stopped with just over a minute to go in the 12th, and final, round. Both fighters had the other man hurt during the fight, but it was Segura who won the war. Segura is now in line to face titlist Juan Estrada. Marquez, who has been in numerous Fight of the Year contenders over the past few years, was carried off on a stretcher due to the hellacious nature of the fight and the knockout he suffered. If you are a fan of firefights, you need to start watching more of the little men.

Brandon Rios looks like he is getting under Manny Pacquiao's skin a bit. In the latest installment of "Face Off with Max Kellerman," Rios was as respectful as I have ever seen him in an interview, but his language and tone seemed to irk Manny Pacquiao. If we see both fighters at their best, Pacquiao wins the fight. We all know Rios is coming prepared to win, but Pacquiao seemed more focused during this interview than he did in the entire lead-up to the 4th fight with Marquez. Pacquiao vs. Rios still has the potential to be a Fight of the Year candidate, but if Pacquiao comes to the ring in peak condition, Rios will be no match for him.

Adrien Broner is walking a very fine line right now. In case you missed the news this week, an Adrien Broner sex tape was leaked to the public and features Broner engaged in coitus (thank you Sheldon Cooper from The Big Bang Theory) with two females. I believe there are many ways to market yourself as an athlete, and every athlete has the right to do what he/she wants with his/her career. With that being said, Broner has been a marketing genius recently because his name is constantly in the headlines for both good and bad reasons. Broner is quickly becoming one of boxing's, and sports', biggest stars. His talent is limitless, and he is in for a fight on December 14th against Marcos Maidana (a fight I believe Broner will dominate). Anyone who questions Broner's work ethic is a fool. The guy is in great shape and works his tail off. Like him or hate, you cannot question Broner's talent. The only thing that should be a red flag for Broner is if he does not go on to continue his undefeated campaign, and if he does lose anytime in the near future before he becomes a superstar, will all of this crazy hype be his downfall? Once an athlete reaches a certain level of success, history has proven that fans can forgive just about anything. Broner is not there yet. If Broner somehow loses a fight in the near future, he may very well regret all the antics he has pulled lately because he will always have the label of "Problem Child" and "Troublemaker." Broner is walking a fine line, and if he keeps on winning, all will be well. However, if he loses, he and his team will have to go into damage control mode very quickly, and it may be impossible to get out of that mess.

Mikey Garcia is going to steamroll Rocky Martinez on Saturday night. Garcia is going for his first title at junior lightweight, and while Martinez is a solid champion, he will be no match for the much more skilled Garcia. I expect this fight to end by knockout around the 8th round.

Nonito Donaire makes his much-anticipated return as well. Donaire takes on past his prime, former champion Vic Darchinyan in a rematch of their first fight where Donaire knocked Darchinyan out. Expect Donaire to get off to a slow start before stopping Darchinyan in the middle rounds.

The most competitive fight could be the opening bout of the HBO card. Vanes Martirosyan takes on Demetrius Andrade for the vacant WBO junior middleweight title. Martirosyan has been waiting for this opportunity for a long time, and Andrade, who is a former amateur world champion, has been criticized for being brought along at a snail's pace. This is the chance for Andrade to prove he is truly one of the best fighters in the world. The potential is there, but now he's on the big stage with the chance to prove it.

There is a very strong fight card taking place in Tokyo this week as well. A bantamweight title will be on the line in the main event as Shinsuke Yamanaka defends against Alberto Guevara. The co-feature was supposed to be lightweight titlist Richar Abril defending against Jorge Linares, but Abril withdrew from the fight last week because of an ankle injury. Flyweight Roman Gonzalez is also scheduled for action. This should be a very entertaining fight card.

Oleg Maskaev and Danny Williams are fighting in Russia this week. Williams has lost 9 of his last 10 fights, and 8 in a row. Maskaev, who once held a heavyweight title, is way past his prime. Both men are in their 40's and are clearly doing this for the payday. All this fight proves is that if you are an over-the-hill fighter in your 40's and you had some sort of success in your career at any point, go to Russia because they will make it worth your while to continue getting your brains beat in.

In case you missed Golden Boy Promotions' Monday Night Fights this week, the co-feature was a dandy! Paul Mendez and Louis Rose fought to a very exciting, competitive, 10-round draw which featured two professional fighters going to toe-to-toe on national television. I would love to see these two guys get in the ring with one another again, and I would love to see them in the ring again regardless of who they fight.

Each week, I feature an email from a fan on Observe and Fight. This week's email comes to us from Phillip M. regarding a potential Floyd Mayweather vs. Bernard Hopkins match-up...

"Hey Dkassel, I was on lunch when I nearly spit out my water from reading your comment about Hopkins being a opponent for Floyd Mayweather. But as I read further I realized that it might not be such a bad idea for Floyd to match up with the ageless Hopkins. Lets just face the reality of the Boxing world, TR and Hbo will not do bizz with GBP and Showtime, so you can just erase the possibilities of a Bradley, Pacquiao, or Chavez match up with Mayweather. I would love to see Floyd fight Martinez or Broner, but AB and Floyd are both on the Al Haymon team, and Martinez seems to be locked in a match up with Cotto next summer. So who is really left to give a threat to Floyd? Maybe it is Hopkins. But then again the rule of thumb in Boxing is to never call out a fighter 3 weight classes below you let alone 4. If BHop wants a super fight go to the UK and fight Froch , or Canada to fight Bute, or fight in my Opinion the number 2 P4P Andre Ward. Even though I think at this point BHop gets destroyed by Ward. In beating BHop what does Floyd gain? Middleweight tittle? No. Middleweight ranking? No. Beating a legend? Yes. What do you thhink D? Does Mayweather vs Hopkins really happen?"

In the end, I think we're going to see Mayweather vs. Khan, but Hopkins is another possible choice. Richard Schaefer is talking now about the possibility of Mayweather vs. Hopkins when Hopkins is 50 and Mayweather is trying to go for 50-0. We'll have to see, but it all depends on what Mayweather says and wants to do.

That's all I've got for this week. Email any questions or comments to dkassel@fighthype.com and I will answer them throughout the week. Your email may be featured in the next "Observe and Fight." Follow me on Twitter @BoxingObserver, and be sure to "Like" The Boxing Observer on Facebook.
[ Follow David Kassel on Twitter @BoxingObserver ]