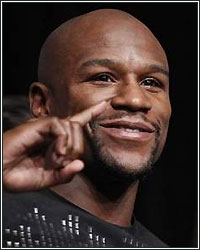 WBC superwelter and welterweight champion Floyd Mayweather was declared WBC Supreme Champion" during the 51st WBC Convention, to honor his successful career.

This is an honorific title that will be awarded only this time after it was voted by unanimity by the 165 countries that form the WBC.

The WBC will have a special event in Las Vegas to present the award to Floyd Mayweather in Las Vegas.

In regards of this unique recongnition, WBC Executive Secretary Mauricio Sulaiman said:

"Is a recognition of our admiration to a champion who has conquered 5 titles in the same amount of divisions, plus he has earned the WBC diamond and emeritus titles and the golden belt. He also has break all boxing records" Sulaiman said.

He also explained that this title is not "another championship" is an honorific award to Floyd Mayweather who is now among the best fighters in history beside the King of Boxing Muhammad Ali, Sugar Ray Leonard, Duran and more".

Floyd "Money" Mayweather is a five time world champion and he's considered the best P4P in the world with a record of 45-0.