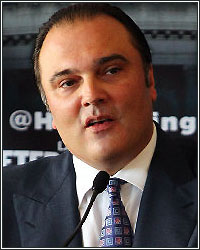 "I think, by the way, the one guy who gave Floyd Mayweather the most trouble in his last, I don't know, 10 years or so is Zab Judah," stated Golden Boy Promotions CEO Richard Schaefer, who gave two-division world champion Zab Judah high praise ahead of his anticipated showdown with fellow two-division world champion Paulie Malignaggi on December 7 at the Barclays Center in Brooklyn, New York. Is there validity in Schaefer's claim, or is he simply saying that in order to promote the upcoming Battle of Brooklyn?

During the 10-year span that Schaefer is referring to, most would agree that Mayweather's most competitive opponents included Miguel Cotto, Oscar De La Hoya, and Zab Judah. While De La Hoya came the closest to victory on the scorecards, losing a split decision to the pound-for-pound king, it was Cotto who seemingly did more damage, bloodying the face of Mayweather. So where does that put Judah, who some believe was not credited for a knockdown when Mayweather's glove touched the canvas after he landed a short right hook in the 2nd round?

For those that like to reference CompuBox, the numbers show that of the three opponents, Judah was the least effective:

COMPUBOX NUMBERS VS. FLOYD MAYWEATHER

Zab Judah total punches landed: 82/444
Miguel Cotto total punches landed: 105/506
Oscard De La Hoya total punches landed: 122/587

Zab Judah power punches landed: 59/162
Miguel Cotto power punches landed: 75/329
Oscard De La Hoya power punches landed: 82/341

Judging from those stats, it appears that Oscar De La Hoya was able to get more work down against Mayweather, followed by Miguel Cotto and then Zab Judah. Still though, when you watch the fights, it does indeed seem like Judah was able to trouble Mayweather more than both Cotto and De La Hoya, as evidenced by the fact that it took Mayweather nearly four rounds to adjust to Judah's speed before he took control of the fight. So the question remains, is Richard Schaefer right? Did Zab Judah give Floyd Mayweather the most trouble in the past 10 years? Let us know your thoughts in the comments below.


[ Follow Ben Thompson on Twitter @fighthype ]