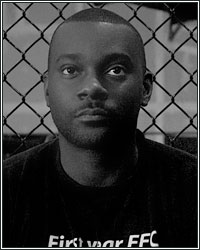 "I feel like we want the opportunity to win the title in our next fight, no matter who it is against. We truly believe that it is gonna be GSP again. I do believe that they are gonna work that situation out and we are gonna get the opportunity to finish what we started. And now that Johny got 5 rounds under his belt, I think next time, we will be a lot more aggressive. We will definitely be more aggressive next time," stated world-class striking coach Steven "The Warman" Wright, who shared his thoughts about Johny Hendricks' performance against UFC welterweight champion Georges St-Pierre and discussed their future plans. Check it out!

PC: Before we get into the actual fight against Georges St-Pierre, how was Johny Hendricks' preparation for that fight?

SW: We wanted to mix it up. Johny went to OSU, where he wrestled in college. He was a four-time All American and a two-time national champion and one-time runner up. There we have a lot of young guys - 18,19, 20 and 21 - who are young and in their physical prime. They walk in every day and they see Johny's picture on the wall and they want a shot at the guy who had a lot of success at the school, and for 6 weeks we began our camp up there, 3 days a week, and these young lions just went after him. If one guy looked to be injured, 3 more guys would creep up to the wrestling mat and want to jump in on Johny. So we really wanted to focus on that. And then we just wanted Johny to continue to do things that he had always done well in practice, but he hadn't showed it in the fight because he just kept scoring all of these knockouts. So people didn't really see it. So we just kept him sharp, kept him in the pocket, and he performed well.

PC: Being that he was knocking a lot of people out, was there any concerns about him going 5 rounds?

SW: In truth, just like in anything, boxing or kickboxing, anytime someone goes rounds that is more than what they are used to, you don't know until you know. Clearly wrestling out there helped him a lot with his cardio, but with that said, you can clearly see that during the fight, where he made decisions like, "Okay, we'll take a break here and then turn it up here." He wasn't fighting as if he wasn't used to doing it. That was definitely an advantage that GSP had going into it because no matter how much we prepared for it, GSP had done it. I definitely think that it helped us, our training, because Johny was on fire in that 4th round. I really felt that the KO's kept people from seeing his skill level, which was good for us as coaches because that means when he got to the top, we could surprise GSP. And I think it changed his mind because I think going in, GSP felt he was the superior fighter and we completely changed his mind about that.

PC: Most felt like Johny won the fight. During the course of the fight, how did it feel it was going? What were you telling him in between rounds?

SW: The feel of the fight is so much different. I had a chance to re-watch it, but during the fight, it seemed so one-sided. I felt like Johny came out, took the 1st round, really dominated the 2nd, and really the mouthpiece falling out was a great moment for GSP because Johny was on his way to really having GSP in trouble before the mouthpiece fell out. I thought we had those two rounds. The 3rd was the one I felt like was close, and then Johny got the takedown at the end of the 3rd. But between rounds, we just wanted stick to certain things and throw the hook-uppercut, but throw the hook straight because GSP was trying to go underneath it. And then as we got to that last round, I thought we were up and then I said to him in the corner, "I want this round!" I said, "Go out there and don't fight for victory, but rip the throne from this guy." I really felt that Johny was competitive the last round, but I could see them going against us in the 5th round and the 3rd round. But I still think they did it by a small margin. But I felt like Johny did some good stuff on the ground, he responded every time he got taken down, he got back up, and really, as an athlete, you couldn't have asked for anymore.

PC: At what point did you start to think it was headed into a draw or GSP victory?

SW: When the first score was read 48-47 for Hendricks, that's when I knew there was a chance. I don't know if you were watching me, but when they say 48-47 for Hendricks, I literally said, "What?" I knew it was going to be a split decision. I'm sure people are thinking, shouldn't you be excited if they said the first score for Hendricks? I thought we had won clearly, so when I saw it had went to a split decision, that meant there was a chance we could lose. So then after they said the second card, I was like, "Don't do this." And when they said, "And still," I was like, "You gotta be kidding me." But it is what it is.

PC: When you heard "And still," what was that moment like for you?

SW: I'm a huge boxing fan and I've seen it happen to so many different guys. You got a guy who believes in a game plan and believes you're going to go out there and execute it, and you believe that most people are picking the other guy and your guy does everything that's asked of him, and that one moment, it's all taken away. And I think that's the first thing I felt was just disbelief that it happened. It was the perfect performance. Even for the UFC, or we're just going to say it's for the company, it was a changing of the guard type of fight. It's not like Johny went out there and just eaked it out or scored a quick KO right away; he showed himself to be he superior fighter. So when that card was read, I was just sitting there thinking, they took it from us. That was the first thing I thought, and then after a day or two passed, I thought, I watched this happen to so many different guys in boxing, in MMA, and kickboxing throughout the years, you can't describe it until you're there.

PC: As Johny's trainer, do you feel the only satisfaction is to take the title from GSP, or if he was to ride off into the sunset, would you be content with beating someone else to earn the title?

SW: The strap is our goal. We want the title. GSP had it; we really wanted that win and we feel we beat him. We really do. If they were to be like, "Okay, GSP is retiring. We are gonna put this title up and you two are gonna go at it," I wouldn't feel like GSP is the best guy out there, so we gotta take it from him. I feel like we want the opportunity to win the title in our next fight, no matter who it is against. We truly believe that it is gonna be GSP again. I do believe that they are gonna work that situation out and we are gonna get the opportunity to finish what we started. And now that Johny got 5 rounds under his belt, I think next time, we will be a lot more aggressive. We will definitely be more aggressive next time.

PC: Aside from being more aggressive, is there anything that you feel Johny can do differently if it's a rematch with GSP, and as a coach, do you feel you guys can do something differently?

SW: Not too much that I want to give away, but I do want to say that there were moments in that fight where we let him off the hook. I'm not sure if your core audience is boxing or MMA, but to let somebody off the hook means that there are opportunities that you could have made them pay that you didn't take advantage of. You get to a dominant position as far as where my feet are, but you don't let your hands go and hurt them. I think that Johny did a good job of putting stuff together, but he could have been way meaner. So I'm definitely looking forward to getting rid of those gaps and not giving up breaks; not going straight back at times we did that. But I really think next fight, we will put on a better performance and leave no doubt in the next one.

PC: I thought it was a great performance and I hope there is a rematch because despite the controversy, it was a great fight. Is there anything you want to say in closing?

SW: I can assure you guys Johny won't be out for 6 months. They are just taking the normal medical precautions. I'm sure an orthopedic will pass him before that. But I want to say shout out to Team Takedown and the Earnhardt's who put this together. I really appreciate all of the people who have been making kind of an uproar for this sport and feel it was an injustice because this individual won. Even if you feel it was close, you still don't feel GSP beat Johny Hendricks. I appreciate the uproar and people reaching out. It honors us as a coaching staff and Johny as a fighter and we will do our best to turn it up even more in our next one.
[ Follow Percy Crawford on Twitter @MrFighthype ]