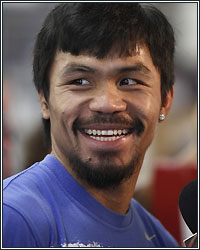 "He really looks like he does not want to fight me, so I think there's nothing we can do about it already," stated multi-division world champion Manny Pacquiao, who appears to be tired of talking about a potential clash with undefeated pound-for-pound king Floyd Mayweather. During a recent interview on the SCOOP Sa Kamayan On Air radio program, Pacquiao made it clear that although he would like to make the fight a reality, he has no intention of violating his promotional contract by attempting to leave promoter Bob Arum, as Mayweather has insisted he do.

"Let's forget about it for the meantime. For the last four years, negotiations for the fight have been on and off and nothing had come out. He's been asking for so many conditions which we have expressed intentions to abide by, like drug testing, purse split and everything. Now he wants me to separate myself from my promoter [Bob Arum] which I cannot possibly do without violating my contract," Pacquiao explained.

The fighting congressman of Sarangani also addressed recent comments made by Mayweather, who suggested that he was only desperate for the fight now because he's looking for a payday to solve his current tax issues. "First, I would like to make it clear that I am not chasing him. If ever, I want to face him in the ring for boxing fans, in particular, and sports fans, in general. That fight is what everybody wants. That's history in the making and I want both of us to be part of history," he continued. "History which cannot happen without either of us. Nevermind legacy...History is different. To make an expected record of most number of people to watch the actual fight and on television, heard over radio and read in the newspapers is what will remain in the history of boxing."

Pacquiao added, "Rather than a dog running with its tail wrapped between his legs in utter show of fear, at least I look for more fights; I don't run away from them.
[ Follow Ben Thompson on Twitter @fighthype ]