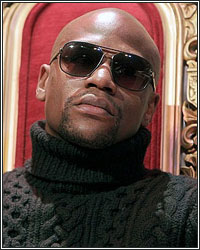 "I don't have an easy fight on May 3, 2014, so I can't over look @ChinoMaidana but @AmirKingKhan, if you and @AdrienBroner end up fighting ... each other on my show and you win (which you won't)... I'll fight you," wrote undefeated pound-for-pound king Floyd "Money" Mayweather, who took to Twitter to respond to a challenge by former jr. welterweight champion Amir Khan.

Yesterday, Khan himself took to Twitter to essentially throw down the gauntlet, offering to fight Mayweather's self-proclaimed "little brother", former welterweight champion Adrien Broner, on the undercard of the highly-anticipated Mayweather vs. Maidana event. "@FloydMayweather, tell @AdrienBroner to fight me on your card and when I beat him, you fight me next," Khan wrote, making it crystal clear that he's willing to do whatever it takes to start hyping up a future showdown with Mayweather.

Evidently, Mayweather agrees with Khan's idea so much that he's now guaranteeing him a fight provided Khan is able to get past Broner. It should be noted, however, that for whatever reason, Showtime Sports Executive Vice President Stephen Espinoza seemed to be strongly against the idea, previously telling his followers on Twitter that there was no possibility of Khan vs. Broner taking place on May 3.


I don't have an easy fight on May 3, 2014, so I can't over look @ChinoMaidana but @AmirKingKhan, if you and @AdrienBroner end up fighting...

— Floyd Mayweather (@FloydMayweather) March 3, 2014
... each other on my show and you win (which you won't)... I'll fight you. pic.twitter.com/7sZIKYWq1D

— Floyd Mayweather (@FloydMayweather) March 3, 2014
[ Follow Ben Thompson on Twitter @fighthype ]