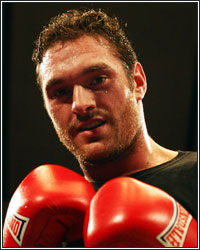 The Heavyweight division has been in a slumber for so long that most fans of the sport don't bother following it anymore. The dominance of the division by two brothers who refuse to entertain the idea of facing each other has dealt a severe blow to the appeal of the heavyweights. It doesn't help that the Klitschko brothers, though boasting impressive knockout records, fight in a style as boring as it is effective. In the last few years, the level of competition has become so bad that the Klitschkos have taken to fighting boxers who should have no business fighting for what used to be the most prestigious title in all sports. The heavyweight division is crying out for a savior, and I believe Tyson Fury may be the man to answer that call.

The heavyweight division doesn't need another dominant champion. We've spent the last decade or so matching under-armed fighter after under-armed fighter against the Klitschko brothers and watching them put on dominating performances. What the heavyweight division needs most are matchups that capture the imagination. Tyson Fury's ability and style is such that he can be matched against any of the other top contenders - Wilder, Haye, Povetkin, Chisora, Arreola, Stiverne, Solis, etc. - and it would make for a genuinely intriguing matchup. The sheer size of Fury - 6'9" and 255 lbs. - and his approach to fights guarantees excitement. He is a fighter with so much confidence that he believes that he can physically impose himself on any fighter facing off against him. As a result of that mentality, Fury takes the kind of risks that give the fans interesting fights.

There is also a vulnerability to Tyson Fury that adds an extra level of intrigue to his fights. He has been knocked down in fights against non-punchers Neven Pajkic 17-1 (5 KOs) and former cruiserweight champion Steve Cunningham 26-6 (12 KOs). What does that say about his punch resistance? Not much if you ask me, but David Haye, Wladimir Klitschko and Lennox Lewis are recent heavyweights who have gone on to good things despite being knocked OUT by boxers who weren't exactly ferocious punchers. Look down the divisions and you'll observe that Andre Ward and Guillermo Rigondeaux - two fighters sitting high on the pound-for-pound list - have also been knocked down in their early fights only to prove sure-chinned at the highest level.

Admittedly, there is a lengthier list of fighters whose bad punch resistance has limited their achievements, but the point here is that there's no telling how a Tyson Fury fight is going to go. That established, it is clear that it would take more than a bit of luck on the end of a punch to defeat Tyson Fury. The man has guts; he is the kind of fighter that will get up as many times as his body will allow and still look to win the fight. In some ways, he embodies the spirit of heavyweight boxing in its hey day.

Add all of that to the eccentricity he displays in the ring - fighting Martin Rogan in the southpaw stance, the singing after his fight with Cunningham, and even punching himself in the face. Like him or loathe him, Fury does and says things that command attention, and that is exactly what the heavyweight division needs right now.

Outside the ring, Fury has a Mike Tyson-esque penchant for the bizarre that stands him out. The countless hilarious interviews, endless goading of his rivals on twitter, the press conference antics and the quotables he gives us every time he opens his mouth, including my personal favorite Fury quote "[I am] the best fighter on the planet - those Broners and Mayweathers would get knocked out by me if we fought." Really Tyson? How any fight fan could not love a man with as many funny (or dumb) things to say as Tyson Fury does, I don't know. David Haye aside, no other current heavy weight has the same ability to engage the casual fans.

I am not claiming that Fury is going to be a great, or that he is going to dominate the division. All of that remains to be seen. What is clear is that the heavyweight division has none of the luster it had during it's golden era in the 70s. After a lull in the Larry Holmes era, the division needed a unique fighter to bring the excitement back and up popped Mike Tyson. Now, after the lull in the Klitschko era, the division needs its next star, but this is an era like none before it. For the first time, European fighters are dominating the Heavyweight division. There have been more heavyweight title fights held in Germany than anywhere else in the last decade; a historical first.

This gives Fury another incidental claim to being the heavyweight division's best bet of re-emergence (in this era.) Fury is well placed to appeal to audiences on both sides of the Atlantic. Because of his fighting style and willingness to give the media the headlines they crave, the barriers that prevented the Klitschkos conquering America should not hold Fury back, while he'll always have a strong UK/European fanbase.

However it plays out for the heavyweight division over the next few years, Fury's fortunes should be quite closely tied to those of the division. If he lives up to his potential and continues to entertain, then he just might turn out to be the heavyweight division's savior. If not, then the burden falls onto Deontay Wilder and others, who, though capable of shouldering the load, don't have what Tyson Fury has.