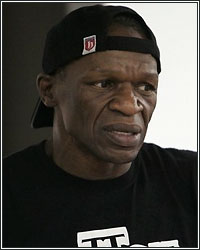 FightHype.com was recently contacted by publicist Mark McCoy, who had a fired up Floyd Mayweather Sr. on the line eager to release some choice words Hall of Fame trainer Freddie Roach. Evidently, he was none too pleased when he was informed of recent comments made by Roach, who suggested that Mayweather Sr. stutters and is unable to give clear, competent instructions to his son in the corner during fights.

"We were enjoying a beautiful day until we heard what Freddie 'The Joke Coach' Roach had to say. He had the nerve and the audacity to say some shit like that? Freddie, you have the problem, not me. Why are you not training all of your fighters anymore? Why do other people have to hold the mitts and speak for you," Mayweather Sr. commented. Although he didn't specify exaclty what he meant by "problem", Mayweather Sr. was likely referring to Roach's ongoing battle with Parkinson's Disease.

"How can you be a trainer when you can't even hold the mitts. You ain't talking about shit. Nobody knows what you're saying anyway. You have others talking for you and holding the mitts for you. That's why I call you a roach. You're talking about me, but I sure as hell know Manny don't know what in the hell you're talking about. Manny don't know if you're talking about boxing or talking about taking a walk in the store. Freddie don't want Floyd Mayweather Sr. in the corner because he knows I'm the master. He don't want the master in the corner," he continued.

When asked what he thought about Roach's comments regarding Justin Bieber showing up at the press conference to support his son, Mayweather Sr. added, "Stars hang out with stars. Freddie Roach is not a star. No celebrity wants to hang out with Freddie? Why? Because he's a roach. Who wants to hang out with the roach. He's a roach blowing smoke with no hope."

Mayweather Sr. went on to remind Roach about the encounters he had with his brother, Roger Mayweather, inside the ring before issuing a stern wraning. "All you did as a fighter was take numerous, heavy, hard blows to the head, and Roger [Mayweather] was part of it. Roger used to beat the shit out of you daily in the 80's at the Golden Gloves gym in Las Vegas. You might hide in the back of the arena when Roger hears what you had to say because you don't want no more punches upside your damn head. You're still scared of Roger Mayweather to this very day from all those 1980's ass whoopin's. When we get done whooping your ass, then you don't have to worry about anymore accolades. It's gonna be hasta la vista, baby! If you keep talking shit, I'm gonna start a world war. I might make Roger come down there and whoop your ass some more."
[ Follow Ben Thompson on Twitter @fighthype ]