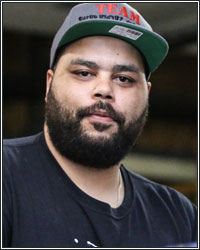 About 60 miles south of Detroit, in northwest Ohio, sits the small city of Toledo; in that city is a burgeoning boxing hub called Glass City Boxing Gym. Lamar Wright trains fighters here, which was where current IBF lightweight world champion, Robert Easter, Jr., got his start. Now, Wright works with up-and-coming boxers including Sonny Fredrickson (15-0, 9 KOs) and Tyler McCreary (13-0, 6 KOs), both of whom are now promoted by Jay Z's Roc Nation.

Wright started out as an amateur boxer before he transitioned to coaching. Said Coach Wright, "I boxed from around the age of 9, in Monterrey, California. I jumped around-my parents were in the military. So I boxed there, and came back to Ohio, stayed out for a couple years, got back in it, jumped out, got back in it. Overall I had about 65 fights. But it was nothing major because I was never really dedicated to it, jumping in and out.

"My uncle was an outstanding amateur boxer. He ended up opening a gym on the side of town where I was. I was maybe 23, 24 at the time. And I thought maybe I'd jump back in there and give [boxing] another run. I ended up going to the gym, and I started helping him, like correcting mistakes on the other boxers who were hitting the bags or whatever. He actually talked me into not training to fight anymore, but to help him with the amateurs. I got tricked into coaching," he added with a chuckle.

In the sport, each trainer can have a completely different coaching style from the next. Some trainers teach all of their charges a specific style (like Emanuel Steward and Cus D'Amato), while with others, their direction is based on fundamentals combined with his or her strengths (like Freddie Roach and Ismael Salas). Wright has chosen the latter coaching style. "I got several fighters and if you were to see them all in one night you wouldn't think they had the same trainer, because they're all like night and day. So I try to build what they have instead of trying to make them fight with what they don't have."

When Coach Wright first begins working with a young fighter, he begins with one of the most important of the fundamentals: "The jab. You can ask any one of my boxers, you can ask them what's the number 1 punch in boxing. That's the most important. We work a lot on the jab, and basic footwork, being able to maintain a correct stance."

The boxers under Wright's guidance watch a lot of tape on other boxers as part of the learning process. "From the beginning, we watch all the good fighters and all the bad fighters. You can take stuff from the bad fighters as well.

"We watch a lot of Sweet Pea [Pernell Whitaker], Diego Corrales, Oscar de la Hoya, a lot of their stuff. With Sonny [Fredrickson], I tell him to watch a lot of de la Hoya, Corrales, and Trinidad, because he has some of their traits. And with Tyler [McCreary], I tell him to watch a lot of [Guillermo] Rigondeaux, or Gary Russell, or Floyd [Mayweather, Jr.], because he has some of those skillsets."

When asked if there are specific fighters he and his boxers study for certain techniques, Wright said, "Yeah, from the corner I'll yell stuff like, 'Canelo [Alvarez],' or 'Bunny, [Robert Easter, Jr.]'; those are all codes that my fighters know for setup shots that maybe Canelo or Andre Ward or Robert Easter or Chocolatito, stuff that they would do. And I would yell that out and they can recognize the situation that they're in and get that combination off."

Like all of us, boxing trainers all have specific strengths that set them apart. Wright considers his greatest strengths to be his experience as a boxer, as well as his understanding of and empathy for his individual fighters. "The ability to understand as a boxer [is a strength as a trainer]. Being able to understand where he's coming from, knowing when he's had enough or when he hasn't had enough to push him more, or when to let up on him."

In light of that, the question had to be asked: Does someone need to have boxed in order to be a good trainer?

"You know what, we have this discussion a lot," said Wright. "Because I've seen some very great trainers who've never boxed before. I believe Angelo Dundee was one of them, maybe Lou Duva, so…I don't know. I'll say this. We've all been to the fifth grade, and we've all completed the fifth grade-or most of us have-but that doesn't mean I can go back and teach the fifth grade. So I think if you get the concepts of boxing, you understand the strategy of it, I think someone could become a great trainer. It's happened a lot. Virgil Hunter-how can I knock him? I've never had an Olympic gold medalist, and I've never had a world champion. I'm trying to get to where he's at. Even though I boxed, he's on a higher level than I've ever been-he's on a level I'm trying to get to. So no, I don't think that you need to have boxed to be a trainer. Do I think everyone can do it? No. But there are trainers who have done it better than trainers who have been world champions."

One can hear the emotion in Wright's voice when he speaks about the trainer who inspired him the most. "Emanuel Steward…with me only being 45 minutes away [from Detroit], I knew him personally. I wish I could've gotten to know him better. Coming up through the amateurs, I was just starting to meet a lot of coaches. I met him and talked to him, and I still remember we were in Hammond, Indiana, and I was on the B-side with a professional boxer, and I came to him and asked him, 'Emanuel, how can I be as great as you?' He only responded to me with, 'Stay basic.' He walked away. I was young at the time; I thought he was being arrogant to me-I was thinking, Why would he tell me that? But now, I see what he means. That was the best advice he could've ever given me. I know what he means. Stick to your foundation, stick to your system, stick to the basics, and you'll start creating a world champion.

"Every boxer that's a world champion now, they got to be a world champion by simplicity. Just sticking to basic stuff-doubling up on the jab, things like that, is what got them to be world champions."

A lot of things in the boxing world has changed over the years, including some of the training techniques and points of focus utilized by trainers. When asked what the biggest problem areas are in boxing training these days, Wright commented, "As far as training, every trainer and every fighter need to realize they're their own trainer, and they're their own fighter. You need to do what works for you,and you can't necessarily do what works for everyone else.

"So, I went to Vegas and I seen training camps and I thought they aren't doing too much more than we are. I may take something if I see Virgil Hunter do something I like; I may take something and rearrange it to where it fits in the system of my coaching style. But I think that's the biggest thing-fighters and coaches need to understand that we need to do what works for us as trainers, and we need to do what works for the fighter as a fighter. We can't just take someone's blueprint and just apply it to someone who doesn't have the skill set for it."

On fight night, everything a fighter and his trainer have been working for in that camp comes to a head. When asked whether he focuses on practical instruction or more on motivation when speaking with his fighter in his corner, Coach Wright said, "It depends. I like to keep my instructions short and simple. I don't like to overwhelm him. If I see something, we need to make that change, and that's what I emphasize. Now if it's going the wrong way, then we gotta pick it up. So now we gotta get inside his head, and let him know who he is and what he needs to do. It's both ways-you gotta be practical, and then you gotta be at some points motivational, you gotta lift him up.

"You gotta break down everything. You got 3 minutes of a round to start catching habits [from the opponent]. And that's what I look for-when we're training for these guys, I don't look for mistakes because mistakes can be fixed. When we watch tape I try to find the habits in a fighter. We all got habits and they're not gonna be fixed. So that's what we try to exploit."
[ Follow Caryn A. Tate on Twitter @carynatate ]