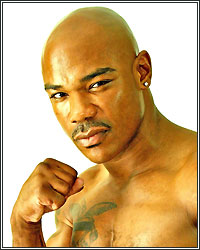 Exciting heavyweights Travis Kauffman and Amir Mansour went face-to-face Wednesday at the final press conference before they enter the ring Friday, March 17 in the main event of Premier Boxing Champions: The Next Round on Bounce from Santander Arena in Reading, PA.

Televised coverage begins at 9 p.m. ET/6 p.m. PT and features former champion Kermit Cintron battling once-beaten David Grayton plus undefeated prospects Chordale Booker and Moshea Aleem squaring-off in a super welterweight contest.

Tickets for the live event, which is promoted by King's Promotions, start at $20 and are on sale now. Tickets are available at the VF Outlet Box Office at the Santander Arena, by phone at 800-745-3000, or online at Ticketmaster.com.

The heavyweight brawlers Kauffman and Mansour will look to go through each other on their way to the top of the division. Here is what the fighters and their trainers had to say Thursday in Reading:

TRAVIS KAUFFMAN

"This is a fight that has been building for a while. There will be fireworks in the ring on Friday night.

"I accepted this fight because of the caliber of fighter that Amir is. Come fight night, it is going to be a war.

"I made a lot of sacrifices for this fight. We have prepared for the best Mansour to show up in the ring. I can't fall asleep for five seconds in this fight or else I can get stopped. I think that Amir is one of the most feared and avoided heavyweights in the world."

AMIR MANSOUR

"I got myself a bottle of anti-aging juice. I'm ready for this fight and excited to give the fans another show.

"I love boxing. I don't fight bums. I love to make sparks fly every time I step in there. Everyone knows what they're going to see on Friday night.

"This is a great opportunity for me as I continue my quest for the heavyweight championship of the world. Travis is a tough guy, and he has a scientist in his corner, but it won't be enough on Friday.

NAAZIM RICHARDSON, Kauffman's Trainer

"Mansour is one word...dangerous. He is dangerous at all times.

"This is not a comfortable fight. You have to be prepared to deal with a man like Mansour. We put together a plan to negate his attributes.

"I am trying to fine tune Travis' weapons. The Arreola fight opened eyes, this fight will open doors."

DANNY DAVIS, Mansour's Trainer

"Amir and Travis have sparred each other in the past and those sessions were very exciting and I'm expecting that same type of action in the ring on Friday night.

"This is going to be a great heavyweight brawl. These styles are going to clash for something great for the fans."

# # #

For more information visit www.premierboxingchampions.com, follow on Twitter @PremierBoxing, @, @BounceTV, and @Swanson_Comm and follow the conversation using #PBConBounce, become a fan on Facebook at www.Facebook.com/PremierBoxingChampions and www.Facebook.com/BounceTV. PBC on Bounce is sponsored by Corona: La Cerveza Mas Fina.

Bounce is the fastest-growing African-American (AA) network on television and airs on the broadcast signals of local television stations and corresponding cable carriage. The network features a programming mix of original and off-network series, theatrical motion pictures, specials, live sports and more. Bounce has grown to be available in more than 94 million homes across the United States and 93% of all African American television homes, including all of the top AA television markets. Among the founders of Bounce are iconic American figures Martin Luther King, III and Ambassador Andrew Young.

For local channel location, visit BounceTV.com.