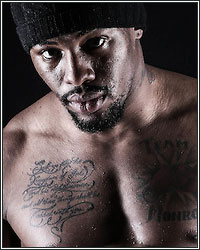 "I think this fight is going to come down to who can do what they do best that night. Triple G knows how to stalk guys and cut the ring off well, but Jacobs has enough power. Jacobs is a big middleweight and I think he's strong enough to make Triple G take a half a step back and say, "Wait a minute. I might not be able to run up in there like that." Jacobs is going to have to be able to smart fight," stated middleweight contender Willie Monroe Jr., who shared his thoughts on the upcoming middleweight showdown between champion Gennady Golovkin and Daniel Jacobs. Check out what else he had to say!

WILLIE MONROE JR. ON GOLOVKIN VS. JACOBS:

There is a difference between boxing, smart boxing, fighting, and smart fighting. He's going to have to smart fight this guy, and what I mean by smart fighting, he's going to have to pick and choose when to box, when to bang, and he's gotta be on point with all of it. He's going to have to know when to do it, when not to do it, and be on point because one slip up with someone as sharp and as strong as Triple G, it could be night night. I'll be there for the fight and I actually can't wait to see it.

Triple G is just a strong guy. He's resilient. He takes it just as well as he gives it. But I would definitely say punch with him because in rounds 3, 4, and 5, when I was landing punches, it was when I decided to stand right there and fight him and punch in between his punches. When I was moving and boxing, he would cut the ring off...and Triple G is smart. If he's not close enough to you...he knows distance very well, so if you're moving on him and you're not close enough for him to hit you, he's not even going to try and hit you. He's just going to walk the ring and throw feints, which is smart. People talk about his power all the time and he does have power, but he's actually a very smart guy in the ring too.

I think the perception is that Jacobs has to fight the perfect fight and Triple G can make a few mistakes and still win. You can lean towards that, but then again, if Triple G makes a mistake and Jacobs catches him, Jacobs has shown that he has a lot of power. He has a lot of knockouts as well. Jacobs is 32-1 with 29 knockouts and Golovkin is 36-0 with 33 knockouts, so no matter who you look at as the bigger puncher, only 3 of both of their opponents made it to the final bell! So it's not like Triple G is going to be able to take constant shots and continuously make mistakes against someone like Danny Jacobs just because he's strong. I mean, it could be him laying on the canvas.
[ Follow Percy Crawford on Twitter @MrFighthype ]