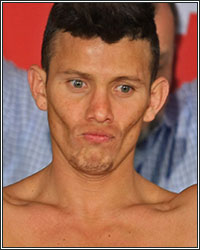 Featherweight world champion Gary Russell Jr. and top challenger Oscar Escandon went face-to-face Thursday at the final press conference before they square-off in the main event of SHOWTIME CHAMPIONSHIP BOXING this Saturday, May 20 from MGM National Harbor in Maryland.

Also in attendance at Thursday's press conference and competing in action on SHOWTIME were super middleweight contenders Andre Dirrell and Jose Uzcategui, who battle for the IBF Super Middleweight World Championship, plus two-division world champion Rances Barthelemy and former title challenger Kiryl Relikh, who meet in a 140-pound title eliminator. The telecast begins at 6 p.m. ET/3 p.m. PT with Gervonta Davis putting his IBF Jr. Lightweight Title on the line against Liam Walsh from Copper Box Arena in London.

Tickets for the live event at MGM National Harbor, promoted by TGB Promotions, are priced at $200, $150, $100 and $50, and are now on sale. To purchase tickets go to http://mgmnationalharbor.com/.

Russell Jr. was joined by his brothers, 2016 U.S. Olympian Gary Antuanne Russell and unbeaten prospect Gary Antonio Russell, as the trio of brothers look to pick up a hat trick of victories in their hometown Saturday night and on the birthday of their father and trainer, Gary Russell Sr.

Here is what some of the participants had to say Thursday from MGM National Harbor:

OSCAR ESCANDON

"This is a very important fight for my career. This is going to elevate me to where I want to be and give me the platform to do anything in the sport. I'm very well prepared for this.

"I feel strong and healthy at 126-pounds. I'm focused on this fight Saturday night. I'll fight anyone but right now I have to get past Gary Russell Jr.

"In my last fight I was the underdog. People counted me out. Same thing applies here. I've done the work and I'm confident that I'm going to win.

"I didn't have complete training camps with my past trainers, but now I'm with Ruben Guerrero. I'm learning so much. You can look at me in my previous fights and you'll see a vast improvement now.

"I want that green (WBC) belt a lot. Green is my favorite color. I want to be the best and to me, winning that title signifies that I am the best. To do that I have to beat the best, and that is Gary Russell Jr.

"I don't like to talk much but I will say that I'm coming to bring this world title back to Colombia. I respect Gary but my mindset is that I'm taking this title home."

JOSE UZCATEGUI

"You won't want to miss any of these fights on Saturday night. It's a great card and I'm planning to steal the show.

"I like when my opponent talks a lot. None of the stuff my opponent says can help him in the ring. It's just me, him and our fists.

"It's a lot of responsibility to be the top contender for the belt. I have to make it clear that we deserve this so that I can move on to bigger and better things.

"People are going to get to see my power on display Saturday night, but also my other skills. I can do it all in the ring and I'm going to prove it.

"After this I want to take on James DeGale and Gilberto Ramirez. I'm coming to clean out this whole division and be undisputed. It starts on Saturday."

KIRYL RELIKH

"I'm very happy to be here and be a part of this great show. I will do my best to give a great fight on Saturday.

"Camp was perfect. I have a great team and I'm ready for anything. We worked hard and it's going to be a great performance.

"I'm ready for any style that that Rances Barthelemy can bring into the ring. We thought that we got the win in Scotland against Ricky Burns, but it is very hard to win on points on the road.

"I always fight in different countries so this is just another one on my list. It's normal for me. I'm very ready for the challenge and I'm expecting a great fight.

"I hope that people like my style. I'm going to entertain the fans and get a victory over Rances Barthelemy on Saturday night."

RUBEN GUERRERO, Escandon's Trainer

"We're ready over here. We're going to do what it takes. We know what we're up against. He's one of the best. We'll prove who is the best on Saturday. This is going to come down to a war. Gary knows what he's going against.

"I helped Escandon set up a camp in Las Vegas for this fight because this was a huge opportunity. We were up in the mountains and that's where I wanted him. He's going to be great on fight night. He'll be ready to go. It's not easy to train in Vegas.

"We're coming to win. We can't control the judges but we know they're fair. We're expecting a fair shake. We're going to control what we can."

# # #

ABOUT RUSSELL JR. vs. ESCANDON

Gary Russell Jr. vs. Oscar Escandon is a featherweight world championship showdown that headlines SHOWTIME CHAMPIONSHIP BOXING on Saturday, May 20 from MGM National Harbor in Maryland. Televised coverage begins on SHOWTIME at 6 p.m. ET/3 p.m. PT and features super middleweight contenders Andre Dirrell and Jose Uzcategui in a matchup for the Interim IBF Super Middleweight World Championship plus two-division world champion Rances Barthelemy in a WBA 140-pound world title eliminator against Kiryl Relikh. In the telecast opener, from Copper Box Arena in London, Gervonta Davis puts his IBF Jr. Lightweight Title on the line against Liam Walsh.

For more information, follow on Twitter @MrGaryRussellJr, @TGBPromotions, @MGMNatlHarbor and @Swanson_Comm or become a fan on Facebook at www.Facebook.com/SHOBoxing and www.Facebook.com/MGMNationalHarbor. The event is sponsored by Corona Extra, La Cerveza Mas Fina.