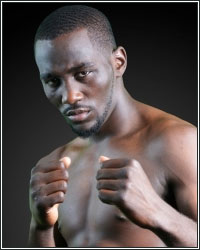 Undefeated World Junior Welterweight Champion and top pound for pound fighter TERENCE "Bud" CRAWFORD (30-0, 21 KOs), of Omaha, Neb., will make his 2017 debut, This Saturday! May 20, at the Mecca of Boxing, Madison Square Garden. This will also be his debut headlining in the big room -- a testament both to his talent and his growing popularity. Crawford will be defending his unified World Boxing Organization (WBO) / World Boxing Council (WBC) / Ring magazine titles against former Olympic gold medalist and top-rated contender FÉLIX DÍAZ (19-1, 9 KOs), of Brooklyn by way of Santo Domingo, Dominican Republic, in a marquee all-action fight. It will be televised live on HBO World Championship Boxing®, beginning at 10:15 p.m. ET/PT.

Crawford, Díaz, the Pride of Newark and 2016 U.S. Olympic silver medalist SHAKUR STEVENSON, world-rated lightweight contenders RAY "Sugar" BELTRAN and JONATHAN "The Last Inca" MAICELO hosted a Final Press Conference at Madison Square Garden. Here is what some of the fighters had to say:

TERENCE CRAWFORD

"I'm excited to be fighting in The Garden's main arena and following in the steps of great fighters – legends. I am proud to continue the tradition. I don't feel any pressure fighting at The Garden. The ring, no matter where it is, always feels like home to me. I just have to keep winning. If I keep winning then the opportunities for even bigger fights will present themselves. But this is a really big fight to me. Diaz is a worthy challenger and you can't bring just any fight to The Garden. I didn't get this far without winning. I 'm ready for any opportunities at 140 or 147 pounds. I want to put a show on for everyone on Saturday night. I WILL make a statement."

RAY BELTRAN

"This fight is so important to me. It's for a shot at world title and for my Green Card. If I win this fight, my next stop is Trump Tower where I can wave my Green Card at the building for everyone in there to see it. I've had so many struggles to get here today. My family's future depends on my winning the fight. Everything is riding on this."

SHAKUR STEVENSON

"I'm excited and ready to put on a show. I want to prove to everyone that I'm the best prospect to come out of the 2016 Olympics. The Olympics was a great experience because I was seen by a lot of people. It was great being in training camp with Terence [Crawford]. I learned a lot from sparring with him. Every punch he threw, even the narrow misses were like, 'WOW!' It's been a long time since I have fought this close to home. Newark will be in The Garden in a big way on Saturday"

********************************

The HBO telecast will open with Beltran (32-7-1, 20 KOs), of Phoenix, AZ by way of Los Mochis, Mexico, and Maicelo (25-2, 12 KOs), of North Bergen, New Jersey by way of Callao, Peru, going mano a mano in a high-stakes battle of world-rated lightweight contenders. Sanctioned by the International Boxing Federation (IBF) as a world lightweight title elimination bout, the winner of the 12-round rumble will also lay claim to the vacant World Boxing Association (WBA) International and the NABF and NABO lightweight titles, currently held by Beltran. The world championship event will also feature the Pride of Newark and 2016 U.S. Olympic silver medalist SHAKUR STEVENSON (1-0) on the non-televised undercard. All the non-HBO televised undercard bouts will be streamed live exclusively via www.toprank.tv.

Promoted by Top Rank®, in association with DiBella Entertainment, Tecate and Madison Square Garden, remaining tickets to the Crawford vs. Díaz world championship event are priced at $250, $150, $100, $75, $50 and $35. They can be purchased at the Madison Square Garden Box Office, all Ticketmaster outlets, Ticketmaster charge by phone (866-858-0008), and online at www.ticketmaster.com and www.thegarden.com.

For fight updates go to www.toprank.com, or www.hbo.com/boxing, on Facebook at facebook.com/trboxing, facebook.com/trboxeo Facebook.com/dibellaentertainment, https://www.facebook.com/felixmanuel.diazguzman, https://www.facebook.com/profile.php?id=100014790258442 or facebook.com/hboboxing, and on Twitter at twitter.com/trboxing, twitter.com/trboxeo, www.twitter.com/LouDiBella, www.twitter.com/felixmldiaz or twitter.com/hboboxing. Use the Hashtag #CrawfordDiaz to join the conversation on Twitter.