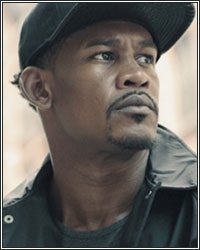 Many of us make promises when we're in the midst of a crisis. In the moment, we really believe that we mean it. But all too often, once we make it out the other side, that vow falls by the wayside.

When Daniel "Miracle Man" Jacobs was undergoing a life-and-death battle versus osteosarcoma (bone cancer), he swore to himself that when--not if--he made it through, he would find a way to help other people battling cancer. Despite his world-class doctors telling him he may never walk again, that he'd certainly never box again--that everything he'd dreamt of, bled and sweat for, was for naught--he held onto his vision. He was determined to make it out, to fight again and become a world champion, and to help other people who went through that same hell.

Unlike many of us, Daniel kept his promise. In 2013, the year after he returned to the ring, he founded Get in the Ring Foundation. The foundation focuses on assisting children with cancer and their families, including the rarely discussed aspects of the struggles that those with health issues often have to deal with, like the financial hardships. Get in the Ring also helps kids with issues like bullying and obesity.

"I'm really excited about my foundation," said Daniel. "What we focus on is children with cancer-and health and nutrition. Obesity. Those are the things that we target. For me, the philanthropy work is more heartfelt because I'm a survivor myself. I know the struggles firsthand so it's a bit personal for me, and more gratifying."

Jacobs makes time for his foundation and its work-between world level fights and working as a boxing commentator on television when his schedule allows it, he participates in as many events as possible that will help further the generous and vital cause of Get in the Ring.

"I've been trying to do my best with the busy schedule that I do have to put in as much work as I can and try to make a difference and make a change, and influence as many people as I can. Obviously being active, you have to kind of plan things around your busy schedule. Luckily for us, we've had a lot of success as of late with the breaks that we've had. I've been building it up, I've been doing my own personal events-National Cancer Survivors Day, and two other events with NewYork-Presbyterian. There's been some success and I'm really excited about it because now I feel like I'm starting to build this thing.

"With the platform I have, that's my goal. I want to be able to use my celebrity to be able to take this thing and not only bring some awareness, but to change some lives and make some effects in peoples' lives."

Despite having the self-belief that goes along with being a former world champion and a natural fighter, Daniel is humble and down-to-earth. When he participates in the hospital visits and special events his foundation does for the benefit of children with cancer, occasionally a superhero theme is chosen to help reach the kids and inspire them with characters they have read about and can aspire to be like.

Daniel understands what the superheroes represent, and he's more than happy to dress up to help inspire the kids. When asked who his favorite superhero to dress up as was, he said, "I think my favorite was Captain America. For me he just symbolizes not only the American dream but being able to take charge. That's why I always loved him."

July is Sarcoma Awareness Month, and Get in the Ring has a busy month ahead. "It's for all different types of sarcomas. I had osteosarcoma," Jacobs said. "We're going to be doing an awareness event in New Jersey on July 12." The free event will feature raffles and the ability to win a private boxing training session with Daniel, as well as VIP tickets to his next fight at Barclay's Center in Brooklyn.

In addition, on July 25, Get in the Ring Foundation will take part in the Brooklyn Cyclones' Minor League baseball game versus the Aberdeen IronBirds. Daniel will throw the first pitch of the game, and the foundation will be on-site with an info booth with more information about Get in the Ring's mission.

"Going to our website, you can get a lot of information about the events we have coming up and ways you can help," Daniel said. Even if you're not in the New York area, supporting Get in the Ring's mission is easy to do. "People can donate-whether it's financially, or volunteering. If anyone has anything they want to donate-that's another thing that can help. You can follow us at @GIR_Knockout on Twitter, @girknockout on Instagram, and @GetInTheRingFoundation on Facebook."

Last year, Jacobs was named the face of Brooklyn Boxing, the boxing platform for Barclays Center. In support of the alliance, Brooklyn Boxing will make an annual donation to the Get in the Ring Foundation, so purchasing the eye-catching merchandise at Brooklyn Boxing is another way to help support Daniel's foundation.

Aside from his busy schedule with the Get in the Ring Foundation and his world level fights, Daniel was invited to the International Boxing Hall of Fame induction weekend in Canastota, New York in early June. "It was the most phenomenal experience that I have felt in such a very long time," Jacobs said with much feeling. "When I was an amateur I felt that energy and bond of teammates going through the same struggles I was going through, and it was a brotherhood. So to be at the Hall of Fame, and all those years had passed that I'd missed those bonds, and being around those championship boxers in the same room, I missed that energy. So to be at the Hall of Fame with guys I've looked up to and never met and always had admiration for, was the most incredible feeling ever.

"I met some of my heroes like Marvin Hagler, I got a chance to meet fellow Brooklynite Riddick Bowe, and so many other different champions. And come to find out, a lot of these guys were fans of me, which is so gratifying.

"But the weekend in general, that town is [full of] such great big boxing fans that they all took part in the activities. We had marathon runs, and different events that people could be a part of and participate in. And the parade, the whole town was involved in it. I would say it was 3-4 miles of nothing but thousands of fans supporting us boxers. For me, having that experience and having those people there-it means everything. Because, you know, boxing isn't celebrated like it used to be. So the fact that these fans flew out from different places, and that town was nothing but boxing fans, I felt as if that was my home. I'm very grateful for that experience."

Jacobs' most recent fight saw him take on the middleweight king, Gennady "GGG" Golovkin, in March. Despite a narrow points win for Golovkin, many fans and pundits saw Jacobs winning the bout. When asked how it feels to hear from so many who thought he won, Jacobs said, "Oh man, it's rewarding. Because in my heart I really truly feel like I won the fight. And to know that the majority of not only the general public, but the hard core true boxing fans, the majority of those people consider me to be the winner...even though I didn't get the win on paper, I still feel that victory feeling, that accomplishment. In boxing sometimes decisions don't go your way but I think the majority of people know how boxing works. So I really can stand proud and lift my head high and feel like a champion."

Daniel elaborated with surprising detail and honesty about what the whole experience was like for him when he went up against GGG, particularly facing him and coming out with the win (despite what the scorecards read). "It's kind of eerie to be honest with you. Because you never really know where you stand amongst the best unless you actually experience that. To know that they had put so much praise on this guy, put extra pressure, and some fear, in the equation. To know that my back, once again, was on the wall, I stood firm and I prevailed. So I'm just really--knowing that I can build myself up in my heart, as a champion, never giving up, win lose or draw, I really felt like...regardless of the decision I felt like I had self victory.

"I mean I couldn't sleep at night. The way they made this man out to be, I really felt like I was in with Goliath. And it was gonna take a miracle to beat this guy. So it was a lot of pressure, and that mental battle that was won is so gratifying."

Jacobs discussed a specific moment during the Golovkin fight when he felt he'd hurt the champion, and how that changed the flow of the bout. "I believe it was the third round where I caught him with a counter left hook. He threw an overhand right, I blocked it, and immediately threw my left hook. And I just remember him kind of [backing] off. And he never came forward the same after that. So I think that left hook kind of let him know, 'this guy has a little bit of power--let me be on guard and not just recklessly come in.'"

In response to a question about whether Golovkin ever forced him to change things up during the fight, Daniel said, "I definitely had to switch up certain things. The southpaw [stance] for me was always an intent. Going off the history of his fights, he's had trouble with a lot of southpaws he's fought. He hadn't fought an A-class southpaw so that's why we hadn't really seen it that bad. I knew that if I could switch it up and give him different angles, and southpaw-orthodox [switching], I could definitely confuse him. So that was the game plan.

"But did I have to switch it up? A little bit. His jab was definitely an untiming jab. Not that it was hard, not that it was strong, and not that it was fast, it's just that it was very untiming-you couldn't really time it. That was the only thing that I can say kind of caught me off guard."

Daniel elaborated a bit on his ability to switch stances, and how sometimes television commentators don't understand why he switches or think it's actually detrimental for him in specific fights. "I've been doing southpaw-orthodox switching since I was an amateur. I can remember doing a fight on ESPN, National Golden Gloves, back in 2006 if I'm not mistaken. Al Bernstein was covering it and he said, 'I don't understand why this kid Danny Jacobs is turning southpaw, but we'll see what happens.' And by the end of the fight, he was saying, 'I don't know, but this guy Jacobs is doing such a marvelous job with southpaw!' It's so hilarious.

"For me, boxing is of the impossible. Nothing that you can do is wrong. Manny Pacquiao is a prime example because he does everything wrong from a technical standpoint, but he has so much success. A lot of people are stuck in their ways of thinking you have to perform in a certain type of way, or whatever way you know how. But for me it's about exploring, doing the unorthodox, and just doing what works. Because you can always pull an old trick out of the bag, you know?"

When asked about the knockdown in round 4, and whether he felt it was a legitimate knockdown or if it was caused mostly by the tangling of the fighters' feet, Jacobs said, "The knockdown happened because of me being southpaw, and I'm not the greatest at being southpaw. So sometimes my feet might get a little tangled, or it might trip me up just a little bit. And it was one of those situations where I was at the wrong place at the wrong time. He actually landed a punch but it wasn't hard enough to put me down. But me being off balance, I kind of tripped and slipped up, and we both kind of fell.

"So I knew I wasn't hurt, but I had to respect the fact that the referee called it a knockdown. That's why I really didn't complain. Because I knew he seen a punch, and even though I knew it wasn't enough to put me down, I had to play fair."

Regarding a potential rematch with Golovkin, Daniel is realistic yet optimistic. "I'm very hopeful of that. I think if I continue to do what I need to do, and be victorious each time I'm in the ring, then I think it'll be kind of like, Hey Golovkin, you have no [choice]. You can't really retire unless you give that guy his rematch. I think I'll be kind of putting him in a corner. But this is boxing, he could say he doesn't want to fight me. In my heart I don't feel he wants to. But if I do what I have to do, it'll kind of be forced upon him."

"The Miracle Man" isn't sure yet what his next fight will be, but he knows he has what's important. "The greatest thing for me was that we won the hearts of the fans. Even in taking this L, it still was a W for me. Because people still want to see me in the ring, and they're still willing to pay their money to come support and come to fights, or see me on television. And that is great.

"Boxing is like...these fans are gonna be real. They're gonna be unforgiving. And to know that I still captured the hearts of a lot of these boxing fans is really great. So I'm just looking forward to the future.

"Since this fight we have had a lot of different talks with a lot of different people, and knowing so many people are interested in seeing me and allowing me to display my skills to the world is great."

When asked specifically about whether a fight will happen with WBO middleweight champion Billy Joe Saunders, whom Jacobs called out on social media, Daniel responded immediately. "Absolutely not. He's [normally] been very vocal and aggressive. He's a personality in the sport of boxing. Anytime someone has said something to him about wanting to fight him, he's been very vocal, and it hasn't been very nice.

"Me, on the other hand, I just wanted to test the waters and see where he was coming from, and I called him out. And to my surprise he didn't really take the bait. He was a nice guy, it kind of threw me off guard. I was expecting him to be the mean Billy Joe Saunders that we all know. I was kind of taken aback, like, I don't know how to take this. I feel like the bad guy now [laughs].

"I think he's actually signed up to fight Willie Monroe now. That this is the first world champion fighter to 'duck' me, it makes me feel good. Because I know I'm a threat and people really respect me now."

On top of being a professional fighter, "The Miracle Man" is a huge boxing fan himself. He looks forward to big fights just like the rest of us. "I'm super excited about the GGG-Canelo fight," he said. "Aside from wanting to be in there with those guys, I think they're very talented and this is a great fight competitively. I think it's all down to whether Canelo can take those shots, and if he can, it'll be back and forth action. That's what I'm hoping for.

In interviews, Jacobs has stated he is picking Golovkin to win the fight against Canelo. "I do think he's the bigger power puncher. He's been in the middleweight division for some time now, so he's acclimated to these types of punches and power. I don't think Canelo has really had a true middleweight test him yet, and I think this will be a good test so we'll see."

Daniel was also an interested observer of Andre Ward's recent TKO win against Sergey Kovalev on June 17. "I'm one of the hugest fans of Andre Ward, inside and out of the ring, and to see him take his destiny in his own hands as he did, it was very motivating for me and inspiring. I was just happy for him."

Recently, Jacobs shared an enormous personal accomplishment with his followers on social media when he purchased a home. Obviously grateful and somewhat in awe of the achievement, he explained how it feels to him personally to have been able to do this after everything he's been through--from growing up in poverty in Brownsville to battling osteosarcoma to climbing between the ropes and putting himself in physical danger every time he goes to work. "It feels great because I know I have an opportunity to give my son things I never had. But I have been totally different with my finances, and my mindset, and the way I handle business, post-cancer. So to know I have made a very good investment and I'm taking care of the most important things in my life, it makes me feel so proud that I've turned into a responsible man. To know I get to experience this with my family, it is the greatest accomplishment that I've had and the greatest purchase I could possibly make.

"This is such a heart-warming feeling that I can't even describe. Growing up with my older brother, my mom, my grandmother and a bunch of family all in one building, we never had access to our own luxuries if you want to consider it that. So, to know I can have this house, this is literally heaven for me. To know I worked and put my life on the line for this, it was the greatest sacrifice."

Finally, Daniel gave a brief update and offered a personal message for his fans. "I am about to start training next week, because I want to be able to stay ready and not get that late call to get ready. So my plans are to be ready for that phone call, and when they say this is the time, place, and fight, as soon as I get that news, the fans will too.

"Thank you overall for the support and the continued uplifting that everyone's been giving me."

Stay up-to-date with Daniel on Twitter @DanielJacobsTKO, on Instagram @danieljacobstko and on Facebook @DanielJacobsTKO.
[ Follow Caryn A. Tate on Twitter @carynatate ]