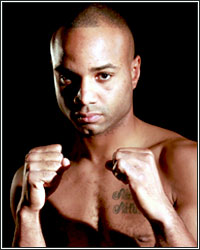 "I felt I was coming on strong. I didn't think they were going to screw me in that manner. He pretty much quit on the stool and they still found a way to give him the decision. That was just unheard of," stated Carson Jones, who had a lot to say about his controversial loss to Antonio Margarito. Check it out!

PC: You are a 55-fight veteran and I'm sure you never experienced anything close to what happened to you in Mexico against Antonio Margarito on Saturday night.

CJ: No! Obviously, I have had some bad decisions go against me, but I think this is by far the worst I have ever experienced.

PC: You were headed over to Mexico to fight him, did you know in the back of your mind that some foul play could happen or did you approach this thing hoping that if you did your job, the judges and everyone else involved would do theirs?

CJ: Well, going to Mexico we were already expecting not to win a decision, but I felt I was coming on strong. I didn't think they were going to screw me in that manner. He pretty much quit on the stool and they still found a way to give him the decision. That was just unheard of.

PC: When it was all playing out, what were you thinking because at some point you went from thinking the fight was over to having to continue to fight?

CJ: Initially when they waived it off, I raised my hands. I thought I won the fight. I saw him smiling and raising his hands and I was like, "What's going on. How does he know he's won the fight when they are stopping it?" So I knew there had to be some sort of corruption going on because you quit; how do you automatically know you won? That was just crazy and I couldn't believe it.

PC: Are you expecting to file for some form of appeal or do you plan on just moving forward?

CJ: I've just been kind of chilling and waiting on my manager to see what they are talking about doing because, it's Mexico and they kind of have their own rules and their own thing going on over there, so I really don't know how we could get the decision changed. I'm just going to keep talking to you guys and get it out there. This is a wrong and these types of decisions and this type of corruption is what gives boxing a blackeye.

PC: This loss ended a 3-fight winning streak for you and I'm sure you were hoping a win would bring on bigger opportunities, so this wasn't just any loss; it was a momentum stopper.

CJ: Yeah! Margarito still had a big name regardless of what stage of his career he was at. Now he might get a bigger fight. Now he has the possibility of a bigger payday and now a bigger fight and a bigger opportunity. I gotta go back to the drawing board. Hopefully everybody kind of seen what happened and it won't hurt my career so much even though it is a loss on my record.

PC: Were you concerned at all to take a fight with Margarito given his past and being that they are a little more laxed in Mexico?

CJ: I wasn't worried because I watched his recent fights where he didn't look that great. I wasn't really impressed with the level that he's at right now. He was 39 years old, but like I said, he still had a name. I really wasn't tripping over some of the stuff he had done in the past. It was a no-brainer. It was a good fight. The only thing we had to worry about was it being in Mexico and how the commission handle things over there. But I always go for knockouts anyways, so I just assumed I would be able to go over there and stop him. I was on my way to a stoppage because he was done. He has nothing left and they found a way to give it to him.

PC: What was your game plan going into the fight and how do you feel the fight was playing out?

CJ: My trainer told me, "You gotta stay on him. He's older and he's ready to go." I wanted to keep that pressure on him. That's kind of what I always do anyway. I'm a pressure fighter. We wanted to do that more so in this situation because it was in Mexico and because of his age. If we kept that pressure on him we knew he would likely fold and like I just said, he was on his way out. In the 7th round he had nothing left and I was landing some serious bombs on him, so one or two more rounds and he might not have been able to continue.

PC: Did you sense some shady treatment throughout the week or was it just fight night where they did you dirty like this? What was the treatment like during fight week for you?

CJ: As far as the people there I was being treated really well. I didn't sense any "I'm about to get screwed" type of vibe. Fight night was a different story. It was kind of messed up all around. I never expected them to screw me in that way. That took some masterminding and some thought.

PC: Would you like to have a rematch with Margarito or is this a situation where you want the decision reversed or at the very least a no-contest and you move past Margarito?

CJ: I would love to rematch him, but I want to be treated fairly. I don't want to have to worry about being screwed again, but if the decision can be overturned to a no-contest I would settle for that. I'll fight him again, but I want an even playing field. I don't want to have to go into a fight 4 rounds down already.

PC: Sorry that happened to you, you definitely deserved better and hopefully they do what's right. Is there something else you would like to say before I let you go?

CJ: Apparently the fans liked me over there, so we might be going back over there and fighting somebody else and hopefully we can work on getting a rematch for later on in the year or something. But, just stay tuned for the announcement whenever we can get things situated for this next fight; possibly in November.
[ Follow Percy Crawford on Twitter @MrFighthype ]