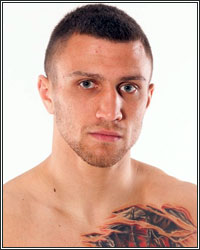 Thursday is here and, once again, that means it's time for me to dig into my bulging sack of awesomeness for questions, complaints, and the occasional much-appreciated compliment.

Due to some rather long, involved emails this past week (and in an effort to avoid a 50,000-word mail sack), I've decided to make this particular edition of the mail sack full of short and sweet—and incredibly edited—questions and/or comments that get right to the point.

So, here we go:

Is Mayweather really done or are we going to hear about yet another comeback in a year or so? I hope he's finished.

-- Double G

I think Mayweather would've been finished with the Andre Berto fight, but then McGregor popped up—and who turns down an easy nine-figure payday? Unless another easy nine-figure payday pops up, I think Mayweather is finally done for good.

How come no mentions of the WBSS cruiserweight and super middleweight tournaments? These are nice little editions to the boxing scene. Good stuff there if you ask me! Yet not a peep from you!

-- Joseph Gardner

Honestly, I haven't talked much about these tournaments because I'm not all that interested. I mean, yeah, I'm watching and I do think they are a good thing for boxing, but, again, I'm really not all that interested. And if we're being honest here, neither are most of you. If I wrote a series of articles on the World Boxing Super Series tournaments, they would generate almost no traffic whatsoever. Ultimately, as someone not paid to promote any particular product or company, I have to decide how I spend my time here on this site. Do I reach out to the largest possible audience and share my perspective and insight ( for whatever that's worth) with them or do I play to the comparatively small number of readers seeking out info on fights and fighters like those featured so far in the WBSS? I'm not writing to promote anyone or anything, so, again, I need to worry about things like traffic and about being able to reach the most people possible at any given time. Good luck to the WBSS folks, though. I'm not writing them off, I just don't have the time to write them UP.

Do you actually think you are non-biased? Because you're the most biased writer on the internet.

-- David L.

Everyone brings their own life experiences and personal biases into whatever they do. Fairness is not the ABSENCE of perspective and opinion; Fairness is the willingness to hold all parties to the same standards—and I think I do that. But I also really don't care if you think I don't. In the big picture of boxing media, where many guy are directly employed by those they are supposed to cover, there's absolutely no way that anything I write, on my worst day, could be as ethically corrupt as what they do on a regular basis.

Crawford vs. Spence. Who wins?

-- Anthony Taylor

I like Terence Crawford vs. any 140-147-pounder in the sport right now. I am definitely a true believer in Crawford and I think the guy is, without question, the most complete fighter in the game today. Spence is outstanding, too, but just not in Crawford's league at the moment. Crawford-Spence would be a tough fight, but I can't see anyone beating "Bud" any time soon.

Any early predictions for Lomachenko-Rigondeaux?

-- Juan Diego Juarez

I like both fighters, but this is clearly a case of Rigondeaux being set up to lose. At some point, even a great fighter falls victim to age and/or the pull to fight well above his ideal weight. A Lomachenko fight is too lucrative to pass up, but it also may prove to be too much of a task for the Cuban master boxer. As good as he is, Rigondeaux IS still human and to ask him to move up two weight classes at 37 years of age (with a real age of, likely, well into his 40's—because Cuban imports often shave a few years off their actual age when they start fighting in the States or Europe) against a fighter who is, legitimately, one of the very best in the game? Well, damn, that's just too much to ask. I think Lomachenko beats Rigondeaux via fairly decisive unanimous decision.

Got a question (or hate mail) for Magno's Bulging Mail Sack? The best of the best gets included in the weekly mailbag segment right here at FightHype. Send your stuff here: paulmagno@theboxingtribune.com.