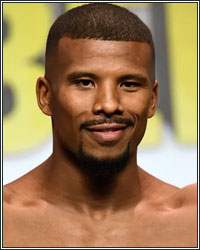 I have to admit that I've stopped trying to figure out why some fighters with modest achievements get fawning acclaim from media and fans while others, with much greater bodies of work, seem to always be outsiders, struggling to extract the least bit of recognition.

Mostly, I've stopped trying to figure these things out because I know the answer—and it's an ugly answer better left for another day and another article.

For right now, though, the topic is Badou Jack and why, exactly, the boxing world has been so damn slow to acknowledge what the two-division champ has accomplished thus far in his career.

To be honest, I was not a fan of Jack's when I first saw him fight. He looked stiff and awkward with not much of a ring presence or IQ. The only thing that seemed to be going for him was his professional relationship with Floyd Mayweather and Mayweather Promotions. As late as 2014, I remained on the "thoroughly unconvinced" side of any Badou Jack discussion.

But the man definitely proved me wrong. From one fight to the next, Jack seemed to be picking up tricks of the trade and an overall level of maturity-- at a greater rate and faster pace than I ever recall seeing in a fighter before. Little by little, Jack worked himself to world class level.

And with the fast-developing skill set came a bump up in level of opposition.

Actually, from April of 2015 to the present, you'd have a tough time finding any fighter with a better overall resume than Jack.

The Vegas-based native of Sweden, in his most recent fights, holds wins over Anthony Dirrell, George Groves, Lucian Bute, and Nathan Cleverly, as well as a draw against James DeGale. This is certainly the kind of resume and, more importantly, the kind of "fight-anyone" mentality American fight fans claim to want from their boxing heroes.

However, American fight fans have not embraced Jack, certainly not to the extent that he should be embraced for both his resume and his development as a pro. The chronically befuddled media, which spends way too much time thinking about fantasy pound-for-pound lists, seems to give Jack little to no thought or acknowledgement.

Being a fairly modest, soft-spoken character doesn't help Jack draw attention and being affiliated with the well-targeted Floyd Mayweather certainly doesn't help in his quest to get positive media coverage.

But, still, what's right is right, right?

Wrong.

Boxing stardom is not necessarily a meritocracy and the best of the best do not always receive the best of the best when it comes to recognition and/or star treatment.

But, geez, come on. Let's give Badou the credit he deserves for the road he has traveled. The fact that his name isn't right up there with guys like Lomachenko and Alvarez and Golovkin is a testament to just how fickle fans and media can be with who they choose to honor.