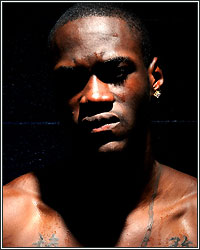 If you follow that jumbled mess called the boxing media, you can see the drums of war starting to be beaten. Anthony Joshua vs. Deontay Wilder is something that will happen.

In recent weeks, we've seen plenty of buzz about this eventual meeting of giants with lots of back and forth of the "I'm gonna mess you up" variety. And there's little doubt that the two WILL meet at some point...even if one, or both, gets pushed off the rails and has to be propped back up long enough to get into the ring. There's just too much money in getting these two personalities into the ring.

Ideally for both parties, though, they will meet soon and in a mega-bucks title unification bout with Joshua putting up his WBA and IBF belts against Wilder's WBC strap.

Fans will respond. Any stadium of their choosing will be filled and PPV revenue will be huge. It will likely be the most lucrative heavyweight title fight since Lennox Lewis-Mike Tyson. The media will feast on the buzz coming from two headline-friendly quote machines pitted against one another in a bout that's actually "important."

But this "superfight" won't be all that super once the opening bell rings.

An early (but safe) prediction goes like this:

Joshua and Wilder come out swinging. Joshua lands a big shot that buzzes Wilder very early into the fight. Wilder tries to go into a shell, half-drunk from being hit and half-fearful of being hit again, but realizes that he doesn't know enough to get into any sort of self-defensive shell for survival. Joshua then lands the eventual kill shot that sends Wilder tumbling to the canvas and back on the road to fighting obese construction workers on PBC undercards.

And then, almost immediately, all of the splendor surrounding this heavyweight battle of towering, undefeated champions will disappear. Deontay Wilder will just be a name on Joshua's growing resume with history probably rating it just ahead of a Kubrat Pulev win in terms of significance.

Realistically, Wilder has done nothing to become one-half of a "superfight."

Forget about fights with Povetkin and Ortiz and why they didn't happen, the only truth that matters is what finds its way to the black and white of what actually happened. And when he does eventually meet Joshua, Wilder's resume will feature nothing but pointless victories over no-hopers and soft touches and dubious wins over the small handful of opposition that COULD be considered better than awful. There's just nothing there to validate the existence of Wilder as anything other than a fringe character in a high-profile division.

To be fair, the exact same thing could've been said about Anthony Joshua up until his TKO of Wladimir Klitschko this past April. Joshua, also, hadn't distinguished himself as anything other than a killer who could kill those already preparing for death.

However, unlike Wilder, Joshua has improved and has shown a willingness to step into deeper waters. While Wilder has remained the same basic boxer since he was devouring club fighters—and has actually regressed in some areas—Joshua has made huge leaps forward in both style and temperament. And as time passes, the gap between the two big men will become more and more evident.

By the time this fight happens in 2019, Joshua will be even more seasoned, better-grounded as an athlete, and even more sure of himself as a special, elite-level fighter. Wilder, on the other hand, will likely have regressed even further, buried in his own publicity, and unaware of just how much more he needs to improve before truly being considered "world class."

Looking on the heavyweight landscape, it appears that maybe Joshua won't have that legacy-defining challenger in his career, at least not in the foreseeable future. Like Klitschko before him, there may be nobody against whom Joshua can measure his greatness while still in his prime.

One can dispute the above or not, but few can make the case that Deontay Wilder is the Frazier to Joshua's Ali or even the Evander Holyfield to Joshua's Riddick Bowe.

When Joshua-Wilder actually happens, lots of money will be made, titles will change hands…but Joshua will move on and Deontay Wilder will become the next Seth Mitchell or Michael Grant—another forgotten Next Great American Heavyweight.