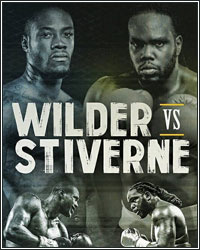 Moments ago at the Barclays Center in Brooklyn, New york, undefeated heavyweight champion Deontay Wilder made quick work of mandatory challenger Bermane Stiverne, dropping him two times and ultimately folding him for the third and final knockdown in the first round. Wilder came out establishing a stiff jab as Stiverne seemed content to play peek-a-boo behind his guard. It didn't take long for Wilder to land his vaunted crushing right hand that put Stiverne flat on his back for the first time.

Although Stiverne beat the count, Wilder wasted no time in jumping on him again, landing a series of powerful shots that pummeled Stiverne to the canvas for the second time. Another barrage of shots from Wilder left Stiverne crumpling to the canvas for the third time, prompting the referee to immediately jump in and stop the fight. Official time of the stoppage was 2:59 of round 1.

POST-FIGHT QUOTES:

DEONTAY WILDER

"So much frustration, it just seemed like my career, it's been crazy… so many guys using PED's. I just want to prove that I am the best. I know I am the best but I wanna prove I am the best.

"One champion, one face, one name, he goes by Deontay Wilder."

On Anthony Joshua:

"I've been waiting on that fight for a long time now… I declare war upon you. Do you accept my challenge?... I've been waiting for a long time, I know I'm the champion, I know I'm the best. Are you up for the test?"

"You gotta give props to Stiverne for getting in the ring. It takes a lot of courage, it takes a lot of pride to step in the ring with someone like me… we do what we gotta do in the ring and at least he stepped up. He was a clean fighter."

On Dillian Whyte & Joshua Fights

"A king don't chase the peasants. A king takes kings. I want Joshua. If he don't give me the fight we have other plans… why should I go to England to fight a peasant without the king on the contract… The world want Joshua, the world want wilder, I want Joshua. Joshua come and see me baby. No more dodging, no more dodging, no more excuses… make the date, don't wait."

"I'm too athletic. I told y'all I'm mobile, I'm hostile, I am the king baby and no heavyweight can compare to me… I'm very confident in what I do and tonight I showed that."

MUCH MORE TO FOLLOW...
[ Follow Ben Thompson on Twitter @fighthype ]