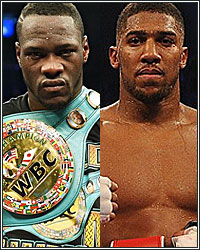 "I just met with Eddie and with Al and it was a very, very good meeting. I'm optimistic that something will get done and we'll either fight him in the next fight or we'll take an iterim, he will, and we'll fight him after that, but I'm optimistic we'll get it in '18," stated Shelly Finkel, manager of undefeated WBC heavyweight champion Deontay Wilder, who revealed details from his meeting with advisor Al Haymon and promoter Eddie Hearn about the possibility of a unification bout with undefeated IBF & WBA heavyweight champion Anthony Joshua. According to Finkel, the ball is now in Team Joshua's court, as Hearn will next meet with his fighter to discuss the particulars before getting back to Finkel.

"It was a very good meeting. He has to get back to me because he's going to meet with Joshua after the fight with Jacobs. He said he's going to meet him Dubai, he'll go over the whole story, and then he'll come back to us," Finkel explained during a conversation with FightHype.com shortly after the meeting took place. "He has to come back; whether we do an interim first and then the fight or a fight right direct. My gut is it will be an interim and then we'll fight. They will come back. They want the fight. Here's what it looks like you could make if you fight in Vegas, here's what you can make if you fight in London, and then here's what we'll split it."

When asked to clarify if the fight could indeed take place in Las Vegas, Nevada as opposed to Joshua's home court of London, England, where a record-breaking 90,000 fans were in attendance for his epic victory with former champion Wladimir Klitschko, Finkel emphatically replied, "Oh definitely."
[ Follow Ben Thompson on Twitter @fighthype ]