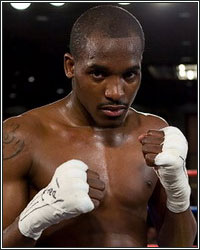 "Now Ray is tired. Now Ray is going to start talking that shit and start telling people how it is. These guys that I see on TV making millions, I feel as though I belong up there with these guys... I need my opportunity. It can't just be me. I can't become what I want to be just by myself. I need a dance partner. I need someone to fight me. I need someone to showcase my talent against...I'm not being Mr. Nice Guy no more. It's time to rumble," stated welterweight contender Ray Robinson, who talked about his future plans and much more. Check it out!

PC: Amir Mansour has been telling me how good you've been looking and he went as far as to say you may be the best kept secret in the welterweight division.

RR: Yeah, Amir is like my big brother. I have been knowing him since I was like 8, so I've been knowing him for a while.

PC: You fought 3 times this year, most recently in June stopping Breidis Prescott. How did you feel in there?

RR: I felt great; so great. Every time I step in the ring, I make sure I'm 100%. I make sure that I come there to make a statement and put on a show for the fans.

PC: When fans ask where have you been, what's the answer to that question? You've been fighting, but kind of off the grid as of late.

RR: A lot of bad luck. Some has to do with managers and promoters, but I'm pushing forward. It's really not the fighter's fault. It's not my fault because my goal is to fight. I want to make money, make history, and become a world champion. I've been dreaming of that since I was 8 years old. If that could happen for me as quick as possible, I would love that. Last year, I got into a car accident and the year before that, I was held up by promoters. It's always something and that's why my career really never took off like I wanted it to.

PC: Has that adversity made you stronger or has it been discouraging?

RR: It's made me stronger. One thing I can say is that I am a strong person. It's really hard to break me and part of that is how I grew up. I grew up rough and with adversity and my back against the wall. So when things like this happen to me, in my head, it's just another bump in the road and I'll get past it. I always make sure I stayed around fighting or boxing, so if I'm not fighting, that doesn't mean I'm not in the gym. It doesn't mean that at all. I might be training someone or things like that. I need to be around this sport because it's something I love. And I do miss it when I'm not inside of the ring or if I go to a few fights. It keeps the fire burning when I see these guys like Christian Carto and Jaron Ennis fighting. It pumps me up and keeps me going.

PC: We grabbed you at the fights recently and got an interview, and that always helps to jump in front of a few cameras and just be seen again.

RR: Definitely! That was my goal. I felt as though I have been winning and just been keeping quiet and nothing has been happening. I'm winning. I just destroyed the guy that knocked out Amir Khan. I get praise for a week and then it's no big deal after that. I'm getting sick of it, so it's like I need to win and almost start talking trash to get someone to listen to me. I need to start acting out now. That's what I feel I need to do because no one is listening to me. Do I get frustrated and am I acting out right now? Absolutely! Everyone that you ever talk to me about, it's like, "Ray is a cool guy, he's very humble, blah blah, blah." Shit, now Ray is tired. Now Ray is going to start talking that shit and start telling people how it is. These guys that I see on TV making millions, I feel as though I belong up there with these guys. It's so funny because you go on the internet after I get done talking shit and people are like, "You gotta wait your turn." How do you think they got up there? They had to fight someone to get them up there. Someone gave them an opportunity. You think they just became big? No, someone gave them an opportunity. How did they get their opportunity? Now I need my opportunity. It can't just be me. I can't become what I want to be just by myself. I need a dance partner. I need someone to fight me. I need someone to showcase my talent against. When Terence Crawford stepped in on short notice to fight Breidis Prescott, he was like, "Hell yeah, I need that fight." It's funny when people say, "You don't belong in there with Terence Crawford." Don't tell me where I belong. I beat him before and I can do it again. It's only one way to find out and it's to actually go in there and do it. We have to get in there and fight; it's simple.

PC: You want to see everyone make it in this game because it's such a tough sport, but it's gotta be frustrating for you to feel you belong up there with Danny Garcia and Terence Crawford and you're not.

RR: Exactly! It is frustrating. People don't understand, I just wrote on my Instagram, "Do not confuse me being hungry for hating." I want to see Danny Garcia succeed, he's from Philly. I want to see Terence Crawford make money. They young and making money, I'm happy for them, but now it's time...I don't want to hear, "Wait your turn!" No, I'm not waiting my turn. If there is no more room left at that table, then you gotta get up. It's that simple. I'm not being Mr. Nice Guy no more. It's time to rumble. I wish I could have shared the ring with Tim Bradley. Tim Bradley is my guy, we were in college together, but I would have loved to had a chance to fight Tim Bradley only because I knew he would've brought the best out of me. I love Tim Bradley's style; always did. I had a chance to spar him once. These are the type of guys that I need to fight. I need to fight guys that almost force the best out of you. I like that type of competition. That's what real fighters do. I want to fight the best. I'm getting hit on my hand and being called crazy because I'm asking to fight the best. Fans ask for good fights and they think it's not a good fight because my name ain't popping yet. At one point, none of these guys' name was popping. I had to tell Terence Crawford and Danny Garcia, your fans think you're going to beat me only because you got more fans than me. That doesn't mean nothing. You can't bring them fans into the ring with you.

PC: Fans are quick to say someone is cherrypicking, but when a guy calls out the best, they want to say how crazy or undeserving someone is of the opportunity.

RR: Yeah! It's like a candle in the sunlight, that shit don't make sense. Do you want guys calling out nobodies or do you want guys calling out and willing to fight the best? I'm ranked across the board, so I'm not asking for no favors. I'm not asking for no handouts. When I ask for Terence Crawford or Danny Garcia, I'm not asking for nothing that I don't deserve. The only thing that I'm asking for is an opportunity that somebody gave them. That's all I'm asking for. Do I seem pissed off and irritated? Yeah, because I'm like...in my eyes, and I've heard it before, I'm like the Winky Wright of the game. No one wants to fight a tall southpaw, slick, and I got a little power now. No one wants to deal with that issue. It's frustrating. I was ranked #4 in the world at one time. No one mentions my name. When they talk about the top welterweights, no one is like, "What about that kid Ray Robinson? Why is no one ever calling out that kid?" Do I get irritated when I'm looking at TV and I hear people that I know I can beat getting shots? Absolutely because I know I can beat these guys. They getting paid well and not even putting on a good show.

PC: When would you like to be back in the ring?

RR: Honestly, I'm just waiting on a call. I'm staying ready. I'm waiting on my manager and my promoter, once them guys connect up and we can get someone to actually sit down and sign a contract. People wanna talk shit all day long, but I'll be the first one to sign that contract. See, Danny Garcia is smart. I can say anything I want to about Danny Garcia and he's going to keep his mouth quiet. He's quieter than a church mouse. I know how Terence Crawford is. I knew he was going to say something back to me only because he's a hot head. When I beat him in the amateurs, he jumped up in my face all pissed off. So I knew once I started that with Terence Crawford, I was going to get a reaction. At the end of the day, I don't care about the internet war. If they really want to do it and prove some shit, they'll sign that contract in a heartbeat. But no one is rushing to sign that contract. They would rather say I'm not ready and all this other bullshit. If I'm not ready, then prove me wrong, shut me up, knock me out, and send me on my way.

PC: I appreciate the time and hopefully you can get some of these guys in the ring who you want to fight. Is there anything else before I let you go?

RR: Everyone can find me on social media @TheNewRayRobinson. Thank you!
[ Follow Percy Crawford on Twitter @MrFighthype ]