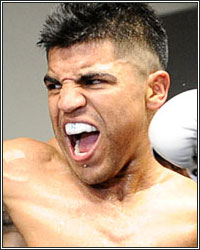 Former welterweight world champions "Vicious" Victor Ortiz and Devon Alexander "The Great" went face-to-face for the first time Wednesday at a press conference in El Paso, Texas to discuss their showdown that headlines Premier Boxing Champions on FOX and FOX Deportes Saturday, Feb. 17 from Don Haskins Center on the UTEP campus in El Paso.

Televised coverage begins at 8 p.m. ET/5 p.m. PT and features unbeaten contender Caleb "Sweethands" Plant battling Rogelio "Porky" Medina in a 12-round 168-pound world title eliminator.

Tickets for the event, which is promoted by TGB Promotions, are priced at $200, $100, $60, $40, $25 and will go on sale Friday. Tickets can be purchased through Ticketmaster.

Also in attendance at Thursday's press conference was former world champion Austin "No Doubt" Trout and women's featherweight world champion Jennifer Han from El Paso, who will both compete in undercard attractions on Feb. 17.

Here is what some of the participants had to say Wednesday from the Wyndham El Paso Hotel:

VICTOR ORTIZ

"We're warriors up here. Devon is not going to like me much come February 17 and I know I won't like him much. This is business, because I'm here for the victory.

"I've been counted out many times in this sport. I'm not going to take any shortcuts in training, I'm just going to keep listening to what my coach wants me to do so I can be at my best.

"Being on this stage is very significant for me. Thankfully I have people who don't stop believing in me. I've seen both sides and been in the middle. At this point, the only place I'm focused on going is up. It's all in front of me.

"We have mutual respect for each other. He's a tremendous fighter just like me. Everyone knows it will be two warriors stepping into the ring on February 17. We're going to go all out. I'm going for a victory just like him.

"I'm going to keep coming forward until my hand is raised in victory. One day I will be the champion again and it starts February 17 in El Paso."

JOSEPH JANIK, Ortiz's Trainer

"I know that there is a great boxing community here in El Paso. Boxing is a part of the culture here and we're glad to be a part of it.

"One of these fighters is about to take a big step forward in their career, but it doesn't happen without a win on February 17. We've been in camp training hard and Victor will be ready.

"Victor is never in a bad fight and I expect this will be another great one. We have some new things coming and Victor is going to show you something you've never seen before. We plan on being victorious on February 17."

AUSTIN TROUT

"I'm looking forward to fighting close to home. Many of you know I was born here in El Paso and grew up right across the road in Las Cruces, New Mexico. To be here again is surreal and it's even more special being on a great card like this.

"This is where it all started for me. I'm going back to the roots of where I won a championship. It feels good to bring everything full circle. I'm blessed to be a part of this event.

"I'm really proud to be part of this card and this great night of boxing. I can't wait to fight next to "The El Paso Sweetheart" Jennifer Han. I'll be the "Las Cruces Tough Guy" on fight night and give everyone a great show."

# # #

Fans can live stream the fights on FOX Sports GO, available in English or Spanish through the FOX or FOX Deportes feeds. The fights are available on desktop at FOXSportsGO.com and through the app store, or connected devices including Apple TV, Android TV, Fire TV, Xbox One and Roku. In addition, all programs are also available on FOX Sports on SiriusXM channel 83 on satellite radios and on the SiriusXM app.

For more information visit www.premierboxingchampions.com, www.tgbpromotions.com, http://www.foxsports.com/presspass/homepage and www.foxdeportes.com. Follow on Twitter @PremierBoxing, @TGBPromotions, @FOX, @FOXDeportes and @Swanson_Comm and become a fan on Facebook at www.Facebook.com/PremierBoxingChampions and www.facebook.com/foxdeportes. Highlights available at www.youtube.com/premierboxingchampions.PBC on FOX & FOX Deportes is sponsored by Corona Extra, La Cerveza Mas Fina.