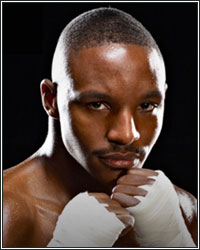 Former welterweight world champions "Vicious" Victor Ortiz and Devon Alexander "The Great" went face-to-face for the first time Wednesday at a press conference in El Paso, Texas to discuss their showdown that headlines Premier Boxing Champions on FOX and FOX Deportes Saturday, Feb. 17 from Don Haskins Center on the UTEP campus in El Paso.

Televised coverage begins at 8 p.m. ET/5 p.m. PT and features unbeaten contender Caleb "Sweethands" Plant battling Rogelio "Porky" Medina in a 12-round 168-pound world title eliminator.

Tickets for the event, which is promoted by TGB Promotions, are priced at $200, $100, $60, $40, $25 and will go on sale Friday. Tickets can be purchased through Ticketmaster.

Also in attendance at Thursday's press conference was former world champion Austin "No Doubt" Trout and women's featherweight world champion Jennifer Han from El Paso, who will both compete in undercard attractions on Feb. 17.

Here is what some of the participants had to say Wednesday from the Wyndham El Paso Hotel:

DEVON ALEXANDER

"Both of us are very good, skillful boxers and that should make for a great matchup. Everyone knows we both come to fight and have been world champions so it's going to be exciting on fight night.

"This is going to be an excellent fight. I've known Victor for a long time, but this is going to be business on February 17. I think I'm the best fighter in the world, and I have to go prove that.

"Boxing is what I love to do. This is what I was born to do. I'm so thankful to my coach, Kevin Cunningham, for sticking by me these last few years and helping get me back to this point.

"I'm excited about this fight and I know Victor is too. The fans in Texas are always fantastic and they should expect an action packed night. It's an awesome feeling to be able to showcase my talent. This is what I've been working hard for.

"I'm an all-around good fighter and I think my speed and quickness will be the difference. No one can hit me when I'm at the top of my game.

"I don't see this one going the distance. We're both very hungry. We know that a loss puts us at the back of the line and neither of us can afford that.

"I'm really thankful to El Paso for hosting this fight. It's going to be a great night and I'm happy to be the main event. Everyone should come out for a great show. It's going to be lots of fire and fury. Victor and I are really coming to fight."

KEVIN CUNNINGHAM, Alexander's Trainer

"This is definitely a crossroads fight for both guys. We've known Victor since he was like nine-years-old, fighting in the same region as him. This is business, because this is a crossroads fight for both guys in their careers and their lives.

"The winner of this fight will go on to bigger and better things and the loser has to get back at the end of the line. That's not the plan for Devon, and Victor is in the way right now. Devon is going to be well prepared and I expect it will be an action packed fight."

JENNIFER HAN

"I'm so excited to be part of this card. There is so much talent and it's going to be an amazing show. We're going to make El Paso extremely proud on February 17.

"I've been training very hard to fight my mandatory. She's coming from Argentina to take my title so I need everyone to come out and support me on fight night.

"I'm a professional fighter and I love what I do. This is what I was born to do. I'm so excited to do this in front of my friends and my family and peers. Without the support of the El Paso community, I wouldn't be here.

"Women's boxing is growing and growing and I'm proud to be a part of it. Come out and support us and we won't let you down. It's going to be a great show."

TOM BROWN, President of TGB Promotions

"It's great to be back in El Paso with a big fight like this. It is truly a great fight town. I'm really looking forward to this card and I think the fans here are going to love it.

"Our main event is a true crossroads fight. Victor Ortiz and Devon Alexander are battle-tested in one of the toughest and deepest divisions in boxing. The winner of this fight will be back on the path to a world title.

"Victor Ortiz brings an exciting, aggressive style and he always comes to fight. That's why he's one of the most entertaining fighters in the sport today. Devon Alexander has overcome some health issues and is back in the ring with one thing on his mind, to regain a world title."

# # #

Fans can live stream the fights on FOX Sports GO, available in English or Spanish through the FOX or FOX Deportes feeds. The fights are available on desktop at FOXSportsGO.com and through the app store, or connected devices including Apple TV, Android TV, Fire TV, Xbox One and Roku. In addition, all programs are also available on FOX Sports on SiriusXM channel 83 on satellite radios and on the SiriusXM app.

For more information visit www.premierboxingchampions.com, www.tgbpromotions.com, http://www.foxsports.com/presspass/homepage and www.foxdeportes.com. Follow on Twitter @PremierBoxing, @TGBPromotions, @FOX, @FOXDeportes and @Swanson_Comm and become a fan on Facebook at www.Facebook.com/PremierBoxingChampions and www.facebook.com/foxdeportes. Highlights available at www.youtube.com/premierboxingchampions.PBC on FOX & FOX Deportes is sponsored by Corona Extra, La Cerveza Mas Fina.