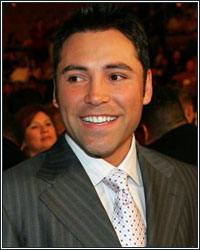 On Thursday, Lance Pugmire of the LA Times posted an article quoting Golden Boy president Eric Gomez. According to the piece, Saul "Canelo" Alvarez had agreed to terms for a rematch with Gennady Golovkin this May 5.

The piece never actually said that the fight was a done deal-- just that Alvarez was on board with the terms, which included the exclusion of a rematch clause. But the implication was that this fight was as official as can be and that it would be just a "few days" before announcements were made.

But then Golden Boy owner and founder, Oscar De la Hoya, said this via his verified Twitter account:

"@Canelo vs @GGGBoxing is not done and not close to being done considering reports. I promise all the fans it will get done soon if and when @GGGBoxing agrees to the rematch."

What gives?

If one didn't know better, you'd swear that GBP was channeling Bob Arum, who, when under pressure to engage Floyd Mayweather for a potential Manny Pacquiao bout a few years back, famously negotiated with a Mayweather who had never even been contacted. Arum would even issue a time limit for his target to come to terms, complete with a countdown clock on his Top Rank website.

In Arum's case, his selectively publicized negotiations with an empty chair were ploys to appease Pacquiao and to clear the way for easier matchmaking paths for his fighter. In the case of GBP/Alvarez vs. Golovkin, there may be other motives beyond public relations.

Perhaps, this is a way for Golden Boy to force Team Golovkin into signing a contract packed with pro-Alvarez terms and conditions. It would actually be smart business to make a preemptive strike when it comes to Alvarez-Golovkin negotiations that always seem to produce pro-Golovkin leaks to a mostly pro-Golovkin media.

By floating this "Alvarez is on board" story out to the media, Gomez and GBP are forcing the hand of Team Golovkin-- who is always portrayed as almost giddy at the chance to tear into Canelo again at any cost. If Golovkin balks at this Canelo "willingness" to fight, he's the bad guy and risks being portrayed as the one preventing the fight from happening. And, more importantly, it opens up the possibility of Alvarez being able to move away from the fight without suffering the full brunt of the public scorn.

So, all we currently know is that Canelo Alvarez is pleased with the terms that his people have proposed for the rematch. That's good to know. But what terms are in this contract and can we reasonably expect those terms to be agreeable to Team Golovkin? That would be even better to know.

The cynical boxing observer would be inclined to think that this story being floated to the media is not a good thing at all. Like in the case of Arum and his efforts to sell non-existent negotiations with Mayweather, this could be more about bowing out of a bout easily and unscathed than working towards an actual contract signing.

Time will tell, though, whether Thursday's well-placed media bomb was the first step in making the Golovkin bout or the first step in moving away from it.