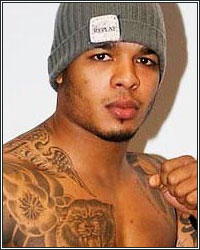 "I'm a boxer now. My record speaks for itself, I come to fight...I always like the knockout, but don't get it twisted, I work on my boxing ability...You will never see a boring fight from me ever...Wilder, Fury, and Joshua are all great champions. They prove themselves and I will get the chance to prove myself and I'll get the chance to prove it against them," stated combat sports star Tyrone Spong, who talked about his latest victory in the boxing ring, his future plans, and much more. Check it out!

PC: You recently became 11-0 in your pro boxing career. How do you feel about your performance?

TS: I felt good, man. The fight went well. I started a little slow because it was 10 rounds and it was a title fight, so I wanted to check out what he had. I didn't know too much about him, but the guy was a decent boxer. He could box for sure. I'm happy with the performance. I won and that's what counts.

PC: You stopped him in the 5th round, which was the longest amount of time you had been in a boxing ring during the course of your 11-fight career. How did you feel physically?

TS: Oh, I felt great, man. Even though I had a short camp for this fight, I felt well prepared and it showed. My gas was good. I didn't feel any fatigue or signs of tiring. It was nothing out of the ordinary like, "Oh, I'm tired." I felt I was in good shape and I could have gone the other 5 rounds if needed easily.

PC: You have made the move from 4 rounds to 6 to 8 and now 10 rather quickly. Is that largely due to the amount of experience you have in combat sports that you've been able to do that?

TS: I think it's the way I prepare myself, to be honest. Since the moment that I started preparing for boxing...to me, boxing is 10 or 12 rounds period, in my mind. The moment my coach started preparing me for boxing fights, we have always prepared for that high level 10 to 12 rounds. Even when I was preparing for my beginning fights, I was prepared for 10 rounds preparation-wise. Now of course experience helps. I think a lot of people, a lot of athletes underestimate boxing. Boxing is a totally different animal. Boxing is something you gotta respect.

PC: You have been very busy in boxing. Is it safe to say that you're putting MMA and kickboxing on the backburner to solely focus on your boxing career?

TS: Oh yeah, for sure! I'm a full-time boxer right now. If you remember the moment I moved to the States, you and I got in touch through our good friend King Mo and at that time, we were talking about me getting into boxing because I had got some training in with Floyd [Mayweather] Sr., which is a good friend of mine and Floyd at that time. Bob Arum wanted to sign me to Top Rank because I was training in Top Rank's Gym in Vegas. I never really went for it because I was flying high with my kickboxing career. My career had took off and I was making a decent payday for a young kid. I was scared to make that big change, that big move at that age. Later on in my career, when I moved to Florida and I started training with Rashad [Evans] and the BlackZillians and everything, the second year I was there, I started to train with Pedro Diaz and the same thing happened again. They all said, "Man, your talent is enough. You should try out boxing." And that's when it started becoming more serious. I was doing everything at once, man. I was doing MMA, kickboxing, and boxing, but to answer your question, now it's just strictly boxing.

PC: Was that a scary feeling for you to make that move? Like you said, boxing is a totally different animal and to leave a sport like kickboxing where you were so good and had so much experience, to try something new could be scary.

TS: One thing that nobody will ever have to teach me is how to be a fighter. I'm a natural born fighter. I actually love fighting. No, it's not scary for me because like I said, I'm experienced. I've been a high level athlete and fighter for the biggest part of my life. For all of my adult life, I have been a fighter and fighting on big stages and the big screen. I've been carrying main events since I was 18 when I turned pro. I have been a world champion since I was 18. It was in a different discipline, but still, it teaches you how to deal with the pressure and the responsibility that comes with being a main event fighter and the fighter that carries the event. So it's not scary, but as I said, boxing as a whole is a completely different animal; politics with promoters and management. It's totally different than MMA and kickboxing.

PC: Now that you are 11 fights into your career, what have you learned the most about yourself as a boxer?

TS: Boxing is definitely a thinking man's sport. I'm not saying that other combat sports aren't because fighting in general is a thinking man's sport. You can't just go out there, be a rampaging wild person, and just swing for the fences. It might work to a certain point, but eventually it will catch up to you. What I learned about myself is pace myself, take my time because I was used to fighting shorter rounds. Now, it's like, don't worry, you got 10 rounds, man. You don't have to rush it, it will come. Take your time. So things like that and boxers hit more accurate. You have to be sharp. You can't lose focus for one second, man.

PC: Was there anything surprising about Carlos Nascimento that perhaps you weren't expecting from what you had seen from him, or had you not seen anything of him?

TS: I don't really look at footage of my opponents. I always try to be focused on myself and making sure that I'm prepared for whatever. I have a philosophy about the fight game. Listen, I could study somebody, but that doesn't mean that that person is going to show up. It may not be the same guy that was fighting one or two fights prior to the fight with me. He might have gotten better or worse. You don't know. You don't know what may be going on in someone's personal life or whatever. So what I try to do is prepare myself physically and mentally to the best ability that I can, so I prepare myself for what he's bringing. You understand what I'm saying.

PC: Most definitely! That makes perfect sense. At the end of the day, what you're doing in there could make your opponent a different fighter.

TS: That's what I'm saying. Someone could have an amazing jab or right hand. But for this fight, him and his team worked on his left hook and he hits you with left hooks all night. Or he wasn't known for having a good jab and they worked on that and he jabs the shit out of you because you're not prepared for it because you were only thinking about his powerful right hand. You never know, so as a fighter, you should be prepared physically and mentally for whatever your opponent brings. Be prepared, have good cardio, make sure that your power is there, make sure you're sharp and mentally strong.

PC: What would be the ideal year for you?

TS: Man, I would for sure like to get at least three more fights in. You never know how that goes with injuries and training for fights or a tough fight. But I would like to get 3 in.

PC: For people who are trying to get familiar with Tyrone Spong, what can they expect and what do you feel you add to the division?

TS: The people that don't know me won't know, but if I'm talking about myself, my record in fighting shows. But I don't want to talk about that anymore because I'm a boxer now. My record speaks for itself, I come to fight. When you see Tyrone, most likely I'm prepared physically and mentally for the fight, like I said before, and I always like the knockout, but don't get it twisted, I work on my boxing ability. Like I said, you don't go in and just knock somebody out; you gotta work for it. I've prepared to the best of my ability to put in the work in the ring for the people to see it and give them a good fight. You will never see a boring fight from me ever.

PC: Although you said you don't want to talk about your kickboxing or MMA days, I just wanted to point out that your combined record in kickboxing, MMA, and boxing is 87-7-1 with 59 knockouts. That's an outstanding accomplishment, but the landscape of the heavyweight division right now is gigantic. All of the guys at the top are giants. You have never been afraid to be in the land of giants in any of your other combat endeavors. How do you overcome the physical disadvantages you face in boxing?

TS: I got two challenges. One is that I come from a totally different discipline and the second is that, like you said, I'm 6'3 and these guys are 6'6, 6'7 and 6'9; big guys. That's a challenge as well, but hey, it's not about the size of the dog in the fight. It's about what you bring. Being big isn't a sport; you gotta be able to fight. Wilder, Fury, and Joshua are all great champions. They prove themselves and I will get the chance to prove myself and I'll get the chance to prove it against them.

PC: I cannot wait for boxing fans to get a look at you and what you bring to the table. Definitely keep me posted on your next move and we will be in touch. Is there anything else you want to add?

TS: Thank you. I appreciate it. Always a big shout out to FightHype for always being there. You're one of the realest in the game and I appreciate you. Also, all of my fans that support me, thank you and to the new fans on the boxing scene, keep an eye out for me, follow me on my social media @Tyrone_spong, and I will make sure that you guys are entertained.
[ Follow Percy Crawford on Twitter @MrFighthype ]