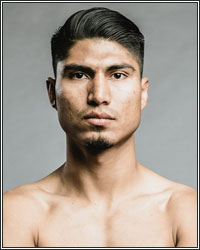 Following his impressive victory over defending IBF junior welterweight champ Sergey Lipinets last Saturday night, a world of possibilities lays at the feet of Mikey Garcia. Claiming he can fight anywhere within the 135 lb. and 147 lb. range, the now four-division world champ has a plethora of big fight options available to him.

Here are some of the better and/or more likely possibilities for the talented boxer-puncher:

Vasyl Lomachenko -- This is the longshot of the bunch, but definitely the biggest fight for Garcia and a true legacy-defining bout. The WBO super featherweight champ from the Ukraine will soon be moving up to lightweight, but at this point, because of boxing politics, a fight with Garcia doesn't look like a possibility any time soon.

Jorge Linares -- The WBA lightweight champ may or may not be on a collision course with Vasyl Lomachenko, but a bout with Garcia would be a big one and a compelling match-up for fans.

Robert Easter -- The IBF lightweight champ is not in the same league as Garcia and would likely receive an ungodly beating for taking the risk of meeting Mikey. Still, he has a belt and would provide for a solid payday.

The Winner of Jose Ramirez-Amir Imam -- Facing the winner of this upcoming bout for the vacant WBC junior welterweight title would be a no-brainer in terms of making a quick-score title grab. If a Top Rank-promoted Ramirez beats Don King's Imam, however, it's unlikely that Top Rank bossman Bob Arum would allow for his quick-rising hot prospect to get anywhere near Garcia right now.

Viktor Postol -- The former world junior welterweight champ recently pulled out of a bout with emerging star Regis Prograis, but with the right money involved and under the right circumstances, he could possibly be wrangled as a Garcia opponent. Postol would bring some name recognition and extra weight to Garcia's resume while Team Mikey ponders their next move.

Regis Prograis -- The heavy-handed, mega-confident Prograis proved the he belongs on the short list of bankable future stars with back-to-back blowouts of Joel Diaz and Julius Indongo. A fight with Garcia would be a huge step up in class and maybe not the best business decision at this stage of his career, but there's no doubt that he would leap at the possibility and, probably, would account well for himself.

Kiryl Relikh -- The battler from Belarus captured the vacant WBA junior welterweight title via one-sided decision over Cuba's Rances Barthelemy on last Saturday's Mikey Garcia-Sergey Lipinets undercard. With a belt around his waist and a fan-pleasing style that plays to Garcia's strengths, Relikh is an ideal second tier opponent if Garcia can't get a big name in the ring next.

The Winner of Terry Flanagan-Maurice Hooker -- The winner of the vacant WBO junior welterweight belt would be another solid option for Garcia -- especially if the UK's Flanagan wins and allows for some extra international attention for Mikey.

Lamont Peterson -- If Garcia is serious about making waves at welterweight, a bout against Peterson may be the way to test those waters. Peterson is skilled and tough, but is not a next-level talent at 147 and has fallen into the role of solid, but not overwhelmingly dangerous gatekeeper. Garcia's future welterweight aspirations would depend on how well he performs against Peterson.

Antonio DeMarco -- Another 147 lb. trial horse, but this one less complex than Lamont Peterson and better-suited to Garcia's strengths. The tough Mexican battler would go down swinging against Garcia and provide for some excellent highlight reel material.