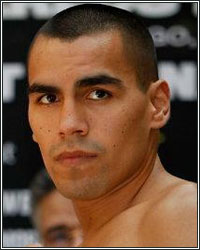 It was 2014 and world champ Carlos "King" Molina, at the height of his career, was in handcuffs, in the company of federal agents on a plane to Mexico City. After two months of detention, the junior middleweight champ was being deported for an issue stemming from a teenage arrest that, ironically enough, would be expunged and erased from his criminal record not too long after the deportation.

Landing in his birth country—one that he had not really known since migrating to the United States when he was two—Molina knew that everything had changed.

"It was tough for me," Molina recalled. "I'm a positive person and always try to stay calm and I said to myself 'nothing can faze me and I can recuperate from anything, no matter how much it was'...but this whole deportation and being down here [in Mexico]...especially how they don't treat you like you're even a human being at the detention center...it was rough."

Arrested just days before he was to defend his IBF title against Jermall Charlo on the Canelo Alvarez-Alfredo Angulo undercard, Molina faced the possibility that, maybe, his career was over.

But a fighter fights and the tenacious battler never hesitated in resuming a life interrupted. Bringing his wife and child to Mexico City, Molina set about re-making order in his life, although it would mean his family having to learn a new language and adapt to a different culture."

"It's rough, but we want to be together, be a family...not break the family up."

After seven straight fights in Mexico, Molina ventured abroad to the Dominican Republic and lost a decision to home country favorite Carlos Adames. Two months later, his world would be shaken again—literally.

A massive 7.1 magnitude earthquake would tear apart Mexico City in September of 2017, on the thirty-second anniversary of the stronger, even deadlier 1985 Mexico City earthquake.

"I was just leaving the gym...and I got home and Christian, my son, was by himself there...I got there right on time...I sat down, I looked at my phone and like 5, 10 minutes later the earthquake started shaking...I told Christian "earthquake" and, bam, he was ready...we had a warning like two weeks before that...a big one [earthquake] two weeks before that...it was pretty bad, too...it shoved our whole building and that made us more aware of it...so as soon as this happened, we were quick, like the first ones out...out in like 20, 25 seconds, just Christian the dog and me...Sarah [my wife] was at the grocery store, she was scared because she didn't know I was with Christian...she left the store, turned the corner and that's where one of the buildings fell...she dropped the groceries on the floor, she ran home...but I already had Christian with me."

With his home ruined and uninhabitable, Molina went off to battle again, this time to Paris, France where he would suffer another decision defeat against a local favorite, Ahmed El Mousaoui, and then return to the reality that he and his family had no real place to live.

But, once again, Molina took a negative in his life and made it a positive—returning to the city of his birth, Patzcuaro, in the plush, mountainous Central Mexican state of Michoacan.

"My mom was telling me for a long time, 'go to Michoacan, you got family there,' but...this kinda forced me...after my fight in Paris, I didn't have an apartment [to go back to], so why not do it...I went back to Michoacan and we've been good down there...I was finally pushed to leave and I did...and I'm happier now.

"Training in the mountains is cool, down here [in Patzcuaro] the mountains are literally in my back yard...seriously, where I live at, just cross one big street...and right there the mountain starts...it's just comfortable, more than anything...my family is more relaxed, they're happy...it makes your job easier...to just work out and not worry about other things...every day just train, rest, train, rest..."

After the long journey that has been the last four years of his life, Molina, in the Heartland of Mexico, with his loved ones at his side, is finally getting back to where he wants to be, both as a man and as a fighter.

"I still hadn't recuperated until just now...being in Michoacan with the family, I finally feel like myself again."

But a working prizefighter can't afford to rest and get too comfortable. At 34 years of age, the career clock is ticking and the time has come for boldly pushing forward.

On March 31, on the Anthony Joshua-Joseph Parker undercard at Principality Stadium in Cardiff, Wales, Molina is set to face 24-year-old, 5-fight pro and British "next big thing" Josh Kelly in a bout for the WBA international welterweight title. And it doesn't take a genius to realize that Kelly's people are picking on Molina, hoping to add a veteran "name" and former world champ on the downside of a long career to their kid's paper-thin resume.

Molina, however, was more than a bit surprised to get the call from a fighter with big potential, but only five pro fights.

"At first I was thinking like, maybe, they didn't approve it yet, maybe they were just looking around for fighters," Molina said. "But I guess they wanted me, they're confident, they saw my last two fights and that's probably what they're going on."

This is definitely a role Molina has played before—the opponent/trial horse. Actually, almost his entire career has been defined as the blue collar battler taking the bright, shiny "A-side" to task.

"I've always been that guy they call to take the toughest fights. I fought Lara when he was undefeated, I fought Mike Alvarado when he was undefeated, I fought Kirkland after he beat Angulo, Kermit Cintron when he first came back and they didn't know how he was going to be...it's always been like that for me...'test them with Carlos and see what happens.'"

And, mostly, he's come out on top.

"I'm planning on doing it again for this fight...I got my mind right...going back to Michoacan has just changed me completely. "I feel like that's what I needed...I needed to recoup...I'm not [just an opponent]..."

After dealing with the bright and shiny Kelly, Molina plans on staying in the UK for a bit.

"I just want to get into the UK and take over the welterweight division there. I'm thinking after this fight maybe Amir Khan or Kell Brook."

Then, he plans on fighting through immigration red tape to get back to the US—the only country he ever knew as home.

"I'm never gonna give up on that, boxing or not. Family is there, my friends...I got my life there...All my life I lived there...so, I'm not gonna give up on that."

The first step before the rest of his life, though, is Josh Kelly on March 31.

Molina comes into the bout 10 years older and nowhere near as physically gifted as the British prospect, but the veteran spoiler has rarely been the slickest, most gifted fighter in any of his major fights. An old school battler who wins on toughness, grit, and the innate ability to nullify his opponent's best assets, he has frustrated and discouraged a whole slew of hotshot fighters over the course of his fifteen years as a pro. A fighter like Molina can never be counted out until someone finds a way to actually put him away—something which has yet to happen.

And if the tumultuous life events of the last four years of his life couldn't put Molina down for the count, there's more than a fair chance that Josh Kelly won't be able to do it, either.