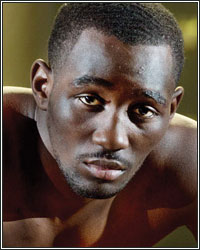 Thursdays are about sack-- my sack. And this week my sack is extra bulging with questions and comments about Mayweather-McGregor 2, Terence Crawford, the welterweights, Davis-Lomachenko, and the eternal quest for boxing reform.

Terence Crawford is Being Screwed

Whats Up Paul?

Is it time for Terence Crawford to give up on Bob Arum and Top Rank? Seriously! Terence Crawford is probably the least popular among all up and coming American fighters. Like most boxing fans, we all talk to sports fans who typically don't watch boxing. When I talk to average sports fans, none of them know who Terence Crawford is. Now that Terrance Crawford will be fighting exclusively on the new ESPN+ app, It doesn't give Crawford the exposure that he needs. The fact that that Crawford's first fight at 147 will only be available through an app is very disrespectful to his career and it goes to show you what Top Rank really thinks about his future. In my opinion they're using him as a guinea pig, and for someone who is considered the top P4.

-- Nail Rahman

Hey Nail.

You're absolutely right. Sticking Crawford on a new streaming app is blatant disrespect and a virtual crotch shot to his career earning potential. This guy should be a mainstream star, but I understand the realities of the boxing business in America right now and I acknowledge the fact that Manny Pacquiao's flat-out refusal to even acknowledge his existence has hurt his chances to grow as a name and attraction. But to put him on a new app with maybe (MAYBE) a few thousand watching, arguably, the biggest fight of his career? That's fucking wrong. I don't know what his contract status is with Top Rank, but if I were him, I'd be looking for the nearest exit ASAP. An athlete's physical prime is a very short window of opportunity and Crawford's there right now. He's going nowhere at Top Rank and they seem to have stopped trying to push him. It's ridiculous. So, what's going to happen if he beats Horn? There's nobody lined up for him, nowhere to go, and his marketability will be diminished from having performed on a fringe streaming service. He needs to be in the mix with guys like Spence, Thurman, Porter, and Garcia—not losing valuable time fighting for paper titles on a streaming app.

Mayweather-McGregor 2

Paul.

What's this nonsense about Mayweather-McGregor 2 being approved for the UFC Octagon with modified rules, like no kicking, no knees, no takedowns? I just saw this on Twitter and I had to run this by you. Is it legit? If yes, what do you think?

-- SR

SR.

It's about money, just like their first fight. Just an exhibition between two huge personalities who can (and will) make money from fans. I was not one of those "purists" outraged by their first fight and I won't be outraged about this one. I do think it amusing, though, that it was being hyped as Mayweather's first MMA match when it's really just barefoot boxing in the Octagon. And if it does happen, I think Mayweather is going to kill McGregor with the supposedly agreed-upon 4 oz. gloves. I mean, really, he might kill him. We'll see what happens. But I'm fine with the fight and I'll definitely be watching.

Fixing the Welterweights

Our 147 division should be the hottest division in boxing now, but somehow it's not. No one wants to fight Spence and everyone wants to fight Thurman. Now if I had my way I would order Danny [Garcia] to fight Porter, and the winner gets Errol and the winner of that fight gets Thurman since he is the unified champ. I would give Thurman 30days to sign a fight or lose his belt. And a mandatory fight of someone of the top 10 while waiting for the winner of Errol and whoever wins the eliminator between Porter and Danny. The winner of Errol and eliminator winner gets to fight Thurman. Let's say Buds beats Horn and becomes WBO champ, have him fight the loser of the Porter vs Garcia eliminator, to get his beak wet in the 147 division, which is still a world class fight, and the winner gets to fight the winner of the most likely Thurman vs Errol fight. In a perfect world, the last two standing would be Errol vs Bud.

-- Kelly Cars

That all sounds good to me. The problem is going to be in putting it all together, of course. Crawford is probably out of that mix. Thurman is injured again and seemed to be indifferent to boxing even when he was supposedly planning his return to the ring. Spence and Porter will fight anyone; Garcia doesn't appear as bold. I think you're right in that someone, somewhere is going to have to force some of these fights. If everyone could get their shit together, the welterweight division could be a real asset to the sport and to growing (and satisfying) the American base.

Gervonta Kills Vasyl?

I'll say this right now, but Gervonta Davis is gonna fuck up Vasyl Lomachenko. I know what the experts say and how everyone had a good laugh when Floyd said he was gonna get him that fight. But I think he beats Loma and he's gonna shock the world. The kid is faster than Loma, stronger than Loma and I don't think Loma has ever seen anyone like him. Not only is he gonna beat Loma, but I'll step out there on the ledge and say right now, he stops him!

-- Jerome W

I don't see it. Personally, I think this Lomachenko stuff that Mayweather floated out there is pure promotion. Davis took a public shot at Floyd for not promoting him enough and Floyd either put this out there to placate him or is maybe tossing him to the lions out of spite. Davis is a talented guy, but I don't think he's ready for this step up and, at this point, I feel that he would be picked apart by Lomachenko should the fight happen this year or next.

Cleaning Up Our Act

Hey Paul,

Do you think boxing needs to clean up its act? Boxing has always been the wild west of sports, which has been a huge part of its appeal for decades, but going into the future, does that need to change? When a boxer like Mayweather or Broner gets arrested for serious crimes, we shrug and move on. When people like Kovalev or Angel Garcia say something racist, we say "well that's just their personality". When a judge comes up with a bad card, we say "well that's boxing". This question didn't bother me until I started reading articles from journalists outside of boxing writing about their disgust for the sport. With constant bad publicity, can boxing last if it keeps up this "we can do whatever we want" mentality?

-- Amir Mustafaa

Hey Amir.

Boxing will probably always be around in one form or another. But society changes, things progress—and boxing is seemingly averse to change and progress. Ringling Bros. and Barnum & Bailey Circus was closed down because of changing public taste and sense of morality. Sea World is sinking for the same reason. We shouldn't be so smug, sitting in our trash dump, that our sport will always prevail and be here for us. The more boxing gets marginalized, the easier it will be to make it go away. I don't care how much spin boxing people put out there, the American boxing scene is drying up and even marginal efforts to bring it back to the mainstream's attention have not really succeeded. Boxing has to invest in rebuilding a fan base—and a big part of that is shutting down all the corruption and nonsense that goes on. Mainstream sports people don't want to see the Patriots 17 points down at the end of a game, only to be given the victory by the NFL. Boxing fans have been conditioned to accept a lot of bullshit that simply won't fly in the "real" world of sports. This sport needs to clean up its act and, at the very least, create a pro-growth business atmosphere where the biggest and best fights actually get made, when they're supposed to get made.

Got a question (or hate mail) for Magno's Bulging Mail Sack? The best of the best gets included in the weekly mailbag segment right here at FightHype. Send your stuff here: paulmagno@theboxingtribune.com.