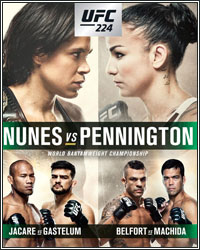 UFC women's bantamweight champion Amanda "The Lioness" Nunes said repeatedly during fight week leading up to UFC 224 in Rio de Janeiro that she wanted to put on a show for her Brazilian fans.

Saturday night the native Brazilian did just that, as Nunes (16-4) recorded the third defense of her bantamweight title over Raquel "Rocky" Pennington by using leg kicks all night and busting Pennington's nose with a knee in the fifth round to win via TKO. Nunes varied her striking attack the entire fight by smoothly switching between kicks and punches to keep Pennington (9-6) off balance the entire fight. Immediately after the fight, Nunes was very emotional in the cage because not only was she dealing with emotions of defending her belt on her native soil, but she was also fighting a person friend in Pennington who is the fiancé of her former train partner at American Top Team in South Florida Tecia Torres.

"I've never fought nobody as a friend, this is the first time," Nunes said during her in octagon post-fight interview. "I like and respect these girls so much, especially Tecia. She used to train with us. This was very hard for me. It was the hardest in my career.

"To defend this belt is something I dream, and I have to do it. But we are going to leave this cage and have a beer and celebrate our friendship. Tonight, was about my belt, but I respect the friendship we have."

Pennington (9-6) who is known as one of the most durable fighters in all of MMA was beaten so bad physically she told her corner prior to the start of the fifth she was done.

Camera's caught Pennington saying to her trainers "I'm done, I'm done, I want to be done."

Only for her trainers to irresponsibly talk her into going out for the fifth round where she was ultimately stopped via knockout for the first time in her 15-fight career.

Despite having highlight reel stoppages over UFC women's MMA legends Ronda Rousey and Miesha Tate on her resume. Nunes' win at UFC 224 might be her most dominate, according to Fightmetric, Nunes outlanded Pennington in total strikes 152-to-79 while dominating her in all phases of the fight and showing improved cardio to dominate the late rounds.

Though some observers were surprised by Nunes' dominant performance, the reigning champion knew she had the right mindset and gameplay to shine on the big stage.

"I told my trainers leading up to this fight that Rocky is very tough and we're going to take her serious and that all paid off tonight," Nunes said. "Our strategy was to pressure her and throw leg kicks until she couldn't take it no more and that's exactly what happened."

Many MMA fans want the bantamweight champion to move up and fight featherweight queen Cris Cyborg who many consider the best pound-for-pound women's fighter in MMA and is a fight the UFC is strongly leaning toward making happen. Her is some food for thought; if Nunes gets the Cyborg fight and defeats her she'll become the undisputed "GOAT" of women's MMA as she would be the only lady to have defeated Rousey, Tate, Cyborg and Valentina Shevchenko.
[ Follow Kendrick Johnson on Twitter @KendrickJohnso ]