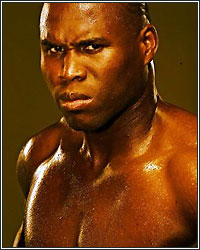 This Saturday, the 175 lb. class takes center stage again as WBC champ and current longest-reigning light heavyweight titlist, Adonis Stevenson, defends his title against former two-division champ Badou Jack at the Air Canada Centre in Toronto.

The 40-year-old Stevenson, who was showered with good will on his rise to the top, has done just about everything possible to kill those positive vibes over the course of a cynical five-year reign where he, literally, missed out on every possible legacy-defining opponent in the division.

But despite never having fought the likes of Sergey Kovalev, Bernard Hopkins, or Jean Pascal, Stevenson is still atop most 175 lb. ratings, losing the top spot but then regaining it when Kovalev-conqueror Andre Ward won three of the four belts and then subsequently retired.

At this point, Stevenson is no. 1 just by process of elimination. A win over Jack, however, keeps him there for real.

If Jack beats Stevenson, the top spot is completely up for grabs.

Jack, of course, would have a good case for claiming king-of-the-hill status with a win over Stevenson. But Kovalev could also make that claim with the deepest resume of wins in the division (including two dominant victories over Pascal and a one-sided beating of Hopkins).

Below Stevenson/Jack and Kovalev, though, there's a pack of hungry contenders quickly working their way towards the top.

27-year-old WBA champ Dmitry Bivol is heavy-handed, heavily-skilled, and just waiting for his chance to get at one of the top two or three of the division. Walking through Sullivan Barrera in his last fight speaks volumes about this Russian's up side and ability to hang with the big dogs at 175.

Artur Beterbiev was once the Bivol of the division, a brutal presence right below the division elite, chomping at the bit to get a shot at the major players. Injuries and business disputes conspired to keep the Russian puncher inactive, but things have been settled in his life and the IBF world title was recently offered up on a silver platter to him. With a belt around his waist, the 33-year-old Beterbiev is now a half-step away from where he wants to be.

Colombia-born Canadian resident Eleider Alvarez had been no. 1 contender to Stevenson for years and may hold the record for most step-aside offers received while waiting on a title shot. It wasn't that Alvarez was feared as much as dreaded as a ring technician with a fan-unfriendly style and little drawing power. But the 34-year-old is finally getting his shot at a world title, matched against WBO titlist Kovalev on August 4.

The Ukraine's tough and tenacious Oleksandr Gvozdyk is also lined up for a shot at the division elite and just recently became possible next in line for the winner of Stevenson-Jack by capturing the WBC interim title.

Below that bunch, there's yet another batch of rugged challengers and pretenders or contenders to the throne, led by heavy-handed battlers Marcus Browne and Joe Smith Jr. as well as well-rounded and rebound-minded Sullivan Barrera.

The fun is just starting at 175 and the next several months should be especially interesting as the top five or six fighters in the division jockey for position and try to make their case for light heavyweight supremacy.

The mad dash for no. 1 kicks off this Saturday with Stevenson-Jack.