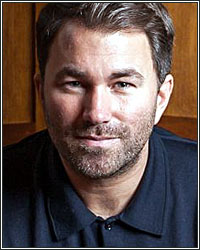 $125 million per year for 16 events.

Why does that sound so...retro?

Oh yeah...that's right. Nearly 20 years ago, HBO would exude an annual boxing budget of a virtually identical number. Based on the trajectory of most sports' rights over the past 2 decades, one would have presumed that the HBO boxing budget would have multiplied 3 times over, something akin to $300 million annually. Unfortunately for the U.S. boxing industry, "Sex and the City" and "The Sopranos" happened, changing the course of HBO programming forever.

After tallying the number of off-Pay-Per-View HBO Boxing events in 2017, the total number was 16 (17 if you include the delayed broadcast of Klitschko-Joshua) with a total purse estimate of roughly $20 million. When including production, marketing, HBO Pay-Per-View replay rights fees, and estimated administrative costs, the entire HBO Boxing budget would realistically be estimated to range in the $26 to $28 million level. Rival network Showtime is estimated to range a bit higher in the $40 million range.

This alludes to the fact that Eddie Hearn's new venture with Perform Sports Group is nearly double the budget of both HBO and Showtime combined.

While Al Haymon's Premier Boxing Champions (PBC) venture attempted to bring the sport back to the masses with a free-sponsorship centered focus, Hearn's venture appears to be subscription based. The PBC launched in 2015 with a wide array of networks (NBC, CBS, Spike, ESPN, Bounce, FOX, Showtime) in an attempt to generate the eyeballs necessary to garner attention from premium sponsors. Unfortunately, as of May 2018, it appears as though the venture has possibly stalled in terms of realizing it's goals.

Premium sponsorship dollars for U.S. boxing is a tough sell based on the inconsistent viewership figures, the violent reputation of the sport/participants, and the necessity to essentially start from scratch in generating premium sponsor interest. It would appear that the writing was on the wall that things were not going as planned when sports marketing agency SJX Partners fell out of the PBC fold within one year of the initial launch. One could presume that the conversations between SJX's rolodex of corporate sponsors regarding the "boxing conversation" did not fare well, which caused the timely dissolution of the partnership.

In the past 3 years, PBC has dissolved it's programming on NBC, Spike, and ESPN. At the moment, it appears as though a potential broadcast deal with FOX is possible, but nothing "game changing" in terms of finances could be projected. However, even a modest $20 million annual rights fee (20% of the UFC's current $100 million annual from FOX) would still be significant in terms of the U.S. boxing industry.

While Haymon should be credited for his attempt to bring boxing back to network television, it appears as though there were numerous factors he was fighting against; some obvious and others not so obvious. The obvious factors were the tough job of selling premium sponsors on boxing, generating substantial ratings on a consistent basis to draw their attention, and a certain relationship with Showtime that limited the ability of PBC to showcase their best product on free TV. It's as if Haymon was attempting to appease Showtime and grow their subscriber base while at the same time attempting to grow the audience on free television. This seemed like a dubious strategy at best that likely took place for financial and relationship reasons. To be honest, even if the PBC had generated 3 to 4 million viewers for each event, I don't believe that they would have had success in generating sponsorships. It's a significant figure for boxing, but not in terms of the big picture and the negative reputation that boxing has developed amongst the corporate figures. The less obvious factors that affected PBC's success were the television sports rights bubble burst taking place in recent times, as well as the surging emergence of high quality digital video subscription models and ingestion.

It seems as though the timing of it all was very difficult to surmount.

Looking forward, the emergence of 5G will ensure that HD quality mobile live streaming will have the physical support to broadcast to large audiences. The normalcy of ingesting video, and all content for that matter, on mobile devices has skyrocketed the past several years. Instead of people at the sports bar staring at the television, there is now a media device in everyone's pocket competing for everyone's attention. Cord cutting is rampant with television packages offering inefficiency that the customer disapproves from.

Timing is everything, and right now, the timing is perfect.

Enter Eddie "The Elephant" Hearn.

$125 million per year over 16 events.

That equals to nearly $8 million dollars an event if spread out evenly, although Hearn has alluded to 12 big shows and 4 monsters; something akin to $5 million a show for the 12 ($60M total) and $16 million per show for the monsters ($64M total). The largest license fee that HBO spent for for a single event was under $3.5 million for Miguel Cotto-Sadam Ali and Showtime's largest fee was $4 million for Thurman-Garcia on CBS. Nobody in U.S. boxing received more than a $2M purse to fight off pay-per-view in 2017.

This allows Mr. Hearn to dangle the proverbial carrot to the entire industry..."I'm willing to pay $2.25 million to the main event fighters on DAZN; have HBO or Showtime match me. If they do, add another $250k and let us keep the bidding going."

It's really as simple as that.

The truth of the matter is that the majority of the shows on both Showtime and HBO offer less than $2 million in purses per event, so Eddie is way out in front of the premium competition.

More importantly, there will be no hassle in attempting to coerce corporate sponsors that are used to prim and proper, politically correct athletes adorning their brands. Can you imagine the effect that companies like Coca-Cola or Nike would have on an event involving Adrien Broner or Floyd Mayweather? These fighters wouldn't be allowed to build up the heat for the fight as their words would be carefully monitored. There also will be no worries about initial low viewership since every viewer needs to pay a subscription fee for access to the content. Its a start-up venture, so any rational person wouldn't expect millions of subscribers from the outset. There is one job...put on the best boxing events money can buy.

It is in essence the opposite of what PBC attempted, which was much more challenging in many regards. While Haymon attempted to grow the viewership of boxing via free television, eventually leveraging sponsorship and a rights deal, Hearn will compress the audience initially by forcing the subscription model for high quality events. At this point in the ecosystem of sports entertainment, especially for niche sports like boxing, going the digital subscription model makes the most sense economically speaking. However, this is only feasible if you have a huge budget to interest the contingent of U.S. boxing fans that will pay for consistent high-quality events.

At $9.99 a month, 1 million subscriptions would just about be the break even point for the DAZN venture.

As of this moment (May 2018), comparable entities such as the WWE has 2.2 million estimated subscribers, while the UFC has 450,000 estimated subscribers (both charge $9.99 a month) for their digital broadcast ventures. UFC Fight Pass and WWE Network both essentially launched in the beginning of 2014. However, both companies have very different models being that the WWE has an all-inclusive platform that includes access to everything, including their biggest events, while UFC's Fight Pass appears more targeted for the hardcore UFC fanatic, leaving their big events to traditional pay-per-view. The numbers appear to partially reflect this.

From what it seems, there is a period of 2 years in which Hearn's product must deliver "X" amount of subscriptions for the venture to continue. Only insiders to the deal have any idea what that figure might be. Being that the consumer has become accustomed to ingesting content over mobile digital devices, generating 500,000 subscribers within 2 years is not completely out of reach for the venture.

The main thing lacking for Hearn in comparison to the WWE and UFC is that both of the latter entities had huge marketing lists (E-mail, social media) which they had access to in order to reach their targeted audience from the outset of their digital ventures. At the press of a button, they reached millions of their specifically targeted fan base in order to drive the subscription interest. By the end of 2014, WWE had generated an estimated 816,000 subscribers according to their annual report filing.

Hearn will essentially be starting from scratch and utilizing the interest of each event and the fighter's fan base in order to drive the subscriptions. This means that the events have to be of sufficient interest and magnitude to get the job done.

Anthony Joshua vs. Deontay Wilder sounds just like the type of event to generate that type of interest.

Unfortunately for Hearn, Joshua and Wilder can't fight each other every 3 months, so he will need cooperation from other players in the U.S. boxing industry that enjoy greenbacks in their pockets. Here is a short list of theoretical events that could possibly fit the bill, regardless of current contractual obligations, as DAZN would be able to offer more money than either HBO or Showtime (as well as offering more than what would be generated via theoretical PPV). These are just paper match-ups with no bearing on the current schedule of fights involving any of these contestants. It's a "thought experiment" so bear with me:

Mikey Garcia vs. Vasyl Lomachenko ($6 million)

Manny Pacquiao vs. Danny Garcia ($15 million)

Terence Crawford vs. Keith Thurman ($8 million)

Errol Spence vs. Shawn Porter ($5 million)

Danny Jacobs vs. Canelo Alvarez ($15 million)

Gennady Golovkin vs. Jermall Charlo ($8 million)

Gilberto Ramirez vs. George Groves ($3 million)

Sergey Kovalev vs. Adonis Stevenson ($4 million)

Amir Khan vs. Kell Brook ($4 million)

Carl Frampton vs. Leo Santa Cruz 3 ($3 million)

Jarrett Hurd vs Jermell Charlo ($3 million)

Adrien Broner vs. Jesse Vargas 2 ($3 million)

This is a total estimate of $77 million for 12 fights, not including Joshua-Wilder, which I assume would cost about $15 million or so. That total would equate to $92 million for 13 bouts. Another 8 million would easily cover the undercards for all these events, leaving the total at $100 million with $25 million to spare.

I would presume that the drawing power of Pacquiao, Canelo, and Joshua-Wilder alone could drive an estimated total subscription rate of about 400,000 (conservatively speaking). That would be an excellent start to the venture within the first year. These figures also depend on whether DAZN will stream globally or rely strictly on the United States market. It's clear that they are focused on producing U.S. based shows, but it isn't quite clear if they will open up the subscription opportunity to a global audience in the future, which could push the numbers much higher. Think Pacquiao in the Philippines and Canelo in Mexico. While it could be cost prohibitive in certain regions of the world based on economics, the sheer magnitude of interest could drive a significant percentage to purchase nonetheless. While the DAZN boxing venture will focus on the U.S. audience in digital format, it's been mentioned that international television rights will still be in play. This makes sense from a financial standpoint, but it would seem that retaining global digital rights would appear to make the most sense in the long run. In the future, it will be something like...boxing on DAZN, worldwide with no television distribution whatsoever, broadcasting to 5 million global subscribers simultaneously.

The circus that was Mayweather-McGregor generated 4.4 million PPV buys in the U.S. at a cost of $99.99. However, the number of global "pirates" that watched the event over the digital airwaves was estimated at 132 million by VFT solutions. According to their estimates, 42% of those viewers were located in the U.S. Obviously an event like that wouldn't be feasible within the DAZN model, but it's just a snapshot of the global interest for mega boxing events.

The biggest challenge that Eddie "The Elephant" Hearn faces in this venture is cooperation. He has the budget in hand and the platform to pull it off, but he doesn't have 90% of the names listed in the above schedule. This means that the fighters, managers, and their respective promoters will have to cooperate with Hearn by agreeing to fight on his platform for more money than they currently have access to. From an outsider's perspective, it's a no-brainer, but strange personalities abound in boxing that have sometimes cut off their face to spite their teeth. It wouldn't be completely out of the question for some of these weirdos to try and stall agreeing to loan their fighters to DAZN for the first 2 years while simultaneously attempting to displace Hearn as the "inside promoter" at DAZN. It sounds stupid, but unfortunately this mentality is not uncommon in the boxing industry.

An additional opportunity that lies for the venture is the purchase of U.S. digital rights for the newly launched World Boxing Super Series (WBSS) by Richard Schaefer/Comosa AG. The format is a single-elimination tournament that features the top contenders in each division. The first year of the WBSS featured the cruiserweight and super middleweight division. Unfortunately for U.S. fans, the television distribution was limited by a partnership with AT&T owned Audience network. It seems clear that Hearn and DAZN can offer a significant premium to whatever U.S. rights fees WBSS received from AT&T while receiving high quality content in a premium tournament format.

Hopefully Hearn can get the level of cooperation necessary to pull off this venture and launch successfully within the first 12 months.

While the DAZN venture is not the "perfect" model in the sense that it won't grow boxing in the short term when referring to viewership, it has brought a significant budget to help usher in a modern era of boxing broadcasts. What good is viewership if it's not built on a sustainable model?

I must admit to being overly optimistic in terms of analyzing the PBC in 2015. It seemed as though there was potential for sponsors to jump on board based on the number and distribution of events, but the truth of the matter is that most potential sponsors would rather avoid boxing altogether. There is no season and no rhyme or reason to the events that mainstream sports sponsors are comfortable with, in addition to the negative reputation of the sport, regardless of the price point. The DAZN model is straightforward and could definitely succeed with the right mix of events, 24/7 style promotions for them, and shoulder programming to tie it all in. The recent approval of legal sports gambling in the U.S. could also add another level of marketing and interest amongst sports fans for the DAZN boxing venture. As with all new ventures, there are risks and unseen hurdles involved, but regardless of what they are, it's always intriguing to watch it all develop.

It's a bit reminiscent of a startup company formed in 1972 that would go on to broadcast the infamous "Rumble in the Jungle" event between Muhammad Ali and George Foreman in 1974. The company realized that they could build a significant subscriber base by showcasing popular boxing events. That startup company's name was Home Box Office.

Now it's "The Elephant's" turn to shake up the game...let's see what he can do.